As Trustees staff and administration, we are lucky to see many of our Members through emails and social media posts. Their experiences are well worth sharing with everyone. The first in a new blog series highlighting some of them introduces us to Yuen.
Q: Do you have a favorite Trustees property?
A: This is so hard to pick a favorite! DeCordova Sculpture Park and Museum is a favorite because it is a perfect combination of art and nature. I also love Naumkeag because of the house, the gardens, and just being in Berkshires. Another perennial favorite of ours is Halibut Point in Rockport.
Q: Why did you choose to become a Member?
We were members over a decade ago when it was still called The Trustees of Reservations, but we stopped after (our son) was born because we were too harried as new parents to go anywhere. We restarted our membership a few years ago when he got older. This year we increased our membership level because we believe in your mission as stewards of nature conservation. During this pandemic year, we are especially grateful for the outdoor opportunities you provide (be it hiking trails or socially-distant events). We noticed that on your properties, trails are always very well-marked and well-maintained, and the interactive map on your app has saved us a few times from getting completely lost. We know all this costs money and we are happy to support you.
Q: Is there a Trustees program or event that you participated in that you especially loved?
A: Definitely the Naumkeag Pumpkin Show! It's magical.
Q: Where would you recommend a first-time Trustees visitor go?
A: I'd recommend based on a person's interests. If they are into hiking, then I suggest Noanet Woodlands or Noon Hill (lovely hikes and great views). Peaked Mountain is another fantastic destination if they don't mind the drive. We love the hike to the top but also the nearby Lunden Pond. If they like gardens and mansions then Naumkeag, Long Hill, and Crane Estate. For being close to the ocean, Halibut Point and Coolidge Reservation are great.
Q: Where will you be heading for your next outdoor adventure?
Possibly Whitney and Thayer Woods? We also can't wait to return to Long Hill for the spring flowers. (We actually have tickets for the Winterlights show at Bradley Estate tomorrow 🙂 )
p.s. Not yet a Member? Now is a great time to become one! Your year-end gift to The Trustees before midnight on December 31 is tax-deductible for 2020 and will be MATCHED dollar for dollar to help us protect the special places and experiences that make Massachusetts the place you want to call home.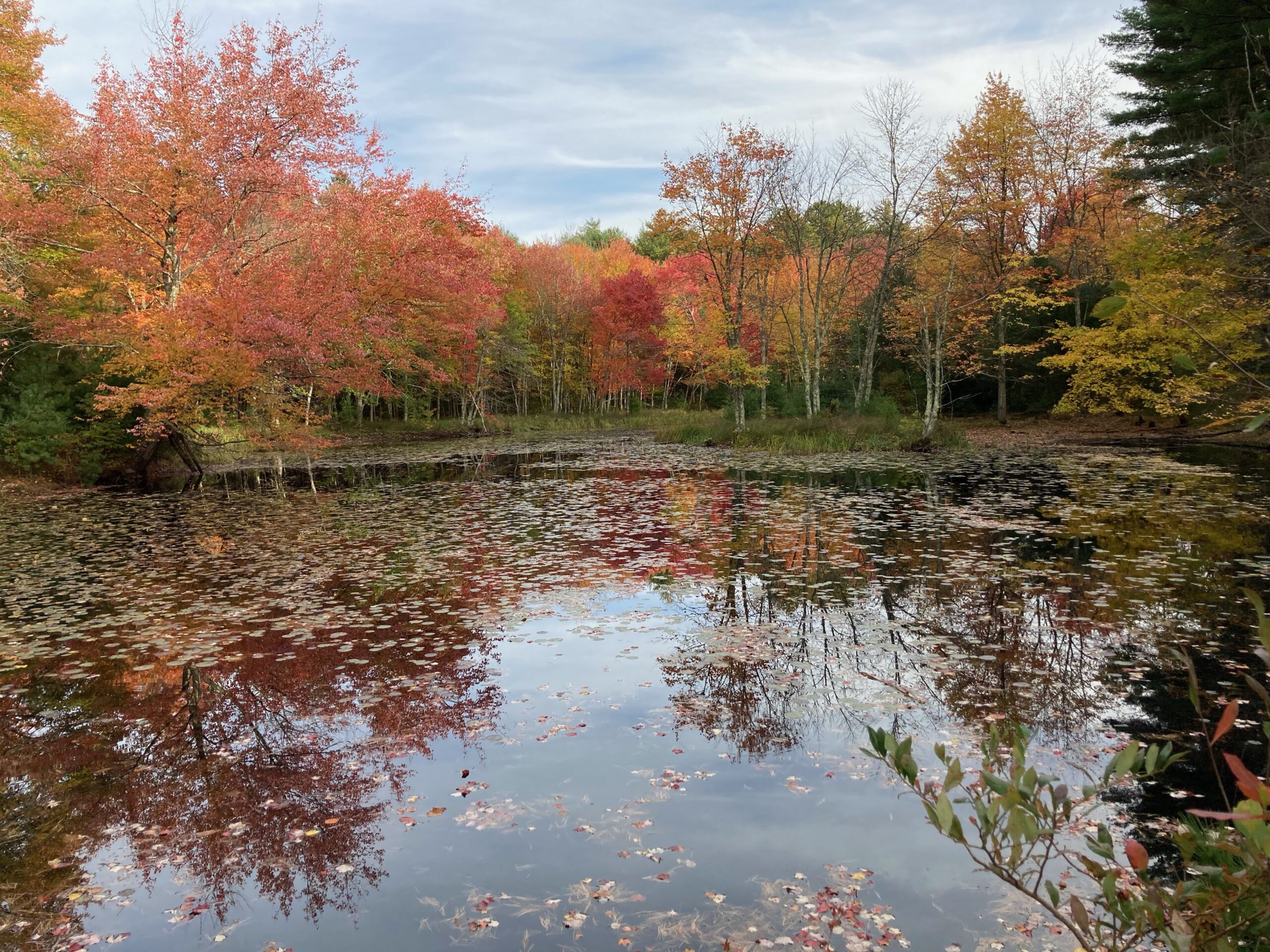 Lunden Pond, Monson