Visit deCordova
"I'm not an art guy."
That's how I used to respond when my more sophisticated friends started talking about the latest art exhibition everyone just HAD to see. As soon as they started going on about modern expressionism this or minimalism that, I would roll my eyes and look for the first opportunity to pivot the conversation in literally any other direction.
Why? I didn't want to admit it at the time, but I was intimidated.
I tried painting and drawing as a kid, but it became abundantly clear any gifts I had lay elsewhere. As I grew up, I went to my fair share of art museums, but hated listening to all the people standing around talking about the artwork in terms I didn't appreciate or even understand. Not being able to derive the same deep meanings and conclusions from the work made me feel small and unintelligent, and I spent most of my time looking for the "right" answer to the question of what feelings the artwork evokes, instead of examining my own reactions and emotions.
I not only avoided art, I railed against it at every opportunity.
After I was hired as the Public Relations Director at The Trustees, I began exploring the places I would soon be promoting. One of the first stops on my list was deCordova Sculpture Park & Museum, and I was none too pleased at the prospect. While I have always been an avid outdoorsman and fisherman who loves hiking and soaking up Nature's restorative properties, publicizing an art museum was a part of the job I felt I would tolerate more than enjoy.
The grounds of deCordova are beautiful and my three children and I immediately started climbing some steps on what looked like a rocky trail. If we're being honest, I didn't even realize I was already in an art exhibit.
The stones embedded in a hill with water flowing down into a small pond were actually part of Ron Rudnicki's Rain Gates. His intentional use of organic materials combined with subtle human intervention was designed to appeal to nature lovers and complemented the existing landscape at deCordova. My kids and I playfully traversed the rocky path and passed through several granite arches, eventually coming to a small bridge, and were immediately exploring, laughing, and having fun.
It wouldn't sink in until much later that artwork strategically placed in nature was now not only a literal bridge but also a metaphorical one for me.
Visit deCordova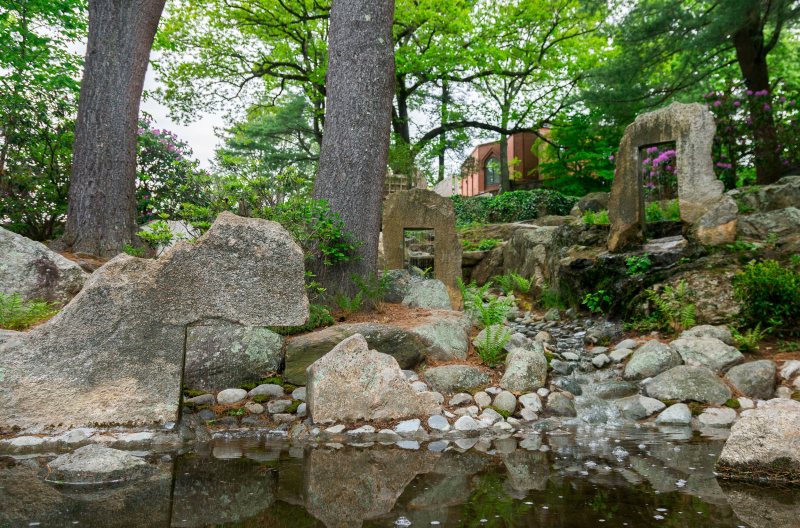 Rain Gates
Next it was Paul Matisse's The Musical Fence upon which my children banged out hastily concocted melodies on aluminum tubing. Then we walked to Jim Dine's Two Big Black Hearts—3,200-pound hearts that, when you get close enough to them, have all kinds of everyday objects and tools that make up our daily lives. Soon we were marveling at a small hut whose walls were made up entirely of branches and sticks all bound tightly together to form a structure that looked to me like a place of respite or safe haven.
Finally, we arrived at deCordova's mammoth beech tree with leafy curtains that are bypassed to reveal a hidden playground of nature's making with limbs ripe for climbing and shade perfect for relaxation and reflection. Not an art exhibit per se but, well, not too far off.
After that, I was hooked.
By literally putting art in my path, The Trustees helped me unintentionally form a connection to it that I wouldn't have ordinarily had. What used to feel intimidating, inaccessible, and elitist was suddenly placed in the familiar outdoors where I'm more at ease, comfortable, and open to possibilities.
In other words, art met me where I was.
Because of that welcoming introduction to art, I've felt curious and confident enough to explore more. I've marveled at Jeffrey Gibson's powerful INFINITE INDIGENOUS QUEER LOVE, watched with rapt attention at how George Rickey's kinetic sculptures in ViewEscapes interact with Naumkeag's landscape, and been bowled over by Rose B. Simpson's Counterculture, 12 foot tall figures keeping watch over the mountains in the Berkshires.
All because art was accessible on a nature hike instead of climbing an ivory tower.
While my path was nature to art, I hope that art lovers might wander around the outdoor sculpture park and feel inspired to experience nature's masterpieces at more of our 120 properties across the Commonwealth.
Visit deCordova
Editor's Notes: Recently we announced a temporary hiatus of indoor exhibitions at deCordova Sculpture Park and Museum. This temporary suspension allows for us to make upgrades to the museum's HVAC and climate control systems. During this time the outdoor Sculpture Park will remain open and we will energize it with new installations, sculptures, and lively programs. We look forward to sharing the vibrancy and creativity of the Sculpture Park with you, stay tuned! Learn more here.
Don't miss New Formations before it closes on March 12.  Counterculture at Field Farm closes April 30. 
Opening at Fruitlands this spring and summer are two new shows from textile artist, Rachel Hayes.  Transcending Space opens March 11 and PLATFORM 31 Rachel Hayes, The Edge of Becoming opens in June.