I'm proud to be a native Spanish speaker and doing the work we're doing, conversing with other community members in the language they speak and making sure everything is easily understood, and accessible.
– Gabriela Ramirez
Meet Gabriela Ramirez
What do you do at The Trustees? What's your role?  I'm the Community Outreach Coordinator for the Boston Waterfront Initiative, One Waterfront. Most of my work is being out and about the community, sharing information about Piers Park III, One Waterfront, and who The Trustees is and what we do.  I ask the community for feedback on the design of Piers Park III and about future programming at the park, and just get to know how people are feeling about the waterfront. It's interesting, because the "waterfront" can feel like a new and unfamiliar place to many people when you first ask about it, but once you get the conversation going, they often have so many fond memories. It's really fun to hear, as we plan for Piers Park III which will create even more space to enjoy the harbor and have unique access to the water. 
What brought you to The Trustees? A local elected official who I've worked with over the years sent me the job description! When I read it and saw "Piers Park," I had an instant connection with it because I have so many fond memories of Piers Park I, and I'm very interested in the waterfront and urban planning. This was the perfect role for me! I'm also still in college, and it's definitely influenced what I want to do, post-graduation.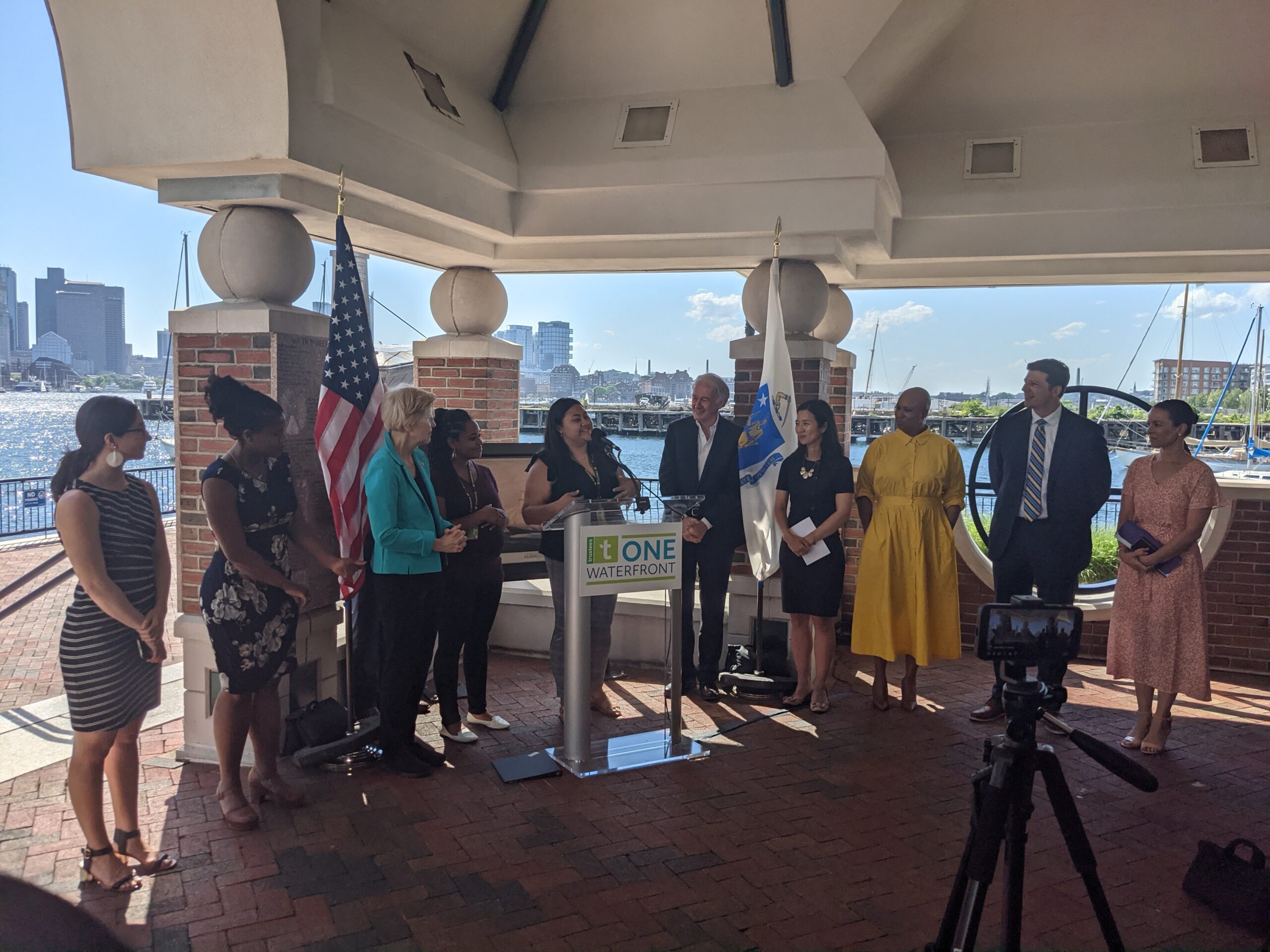 Gabriela gives welcoming remarks at a Trustees event in Piers Park I, joined by U.S. Senators Elizabeth Warren and Edward Markey, Congresswoman Ayanna Pressley, State Senator Lydia Edwards, Boston Mayor Michelle Wu, Rep. Adrian Madaro, District 1 City Councilor Gabriela "Gigi" Coletta, and representatives from Massport.
Do you have a favorite property? I don't know that many properties yet, but I saw the pumpkin show at Naumkeag last year and I loved it. My favorite property will probably always be Piers Park III! 
What do you enjoy doing when you're not at work? I enjoy being with family, and being out and about in East Boston. It's such a rich and vibrant community—there's always something going on. You can always find a neighbor at a block party, at the park, or at a local restaurant. I love being out and about! 
What are you excited about that The Trustees is working on?  I live and breathe Piers Park III, and I'm really excited about the project. We do a lot of community outreach in East Boston regularly, but also some in the surrounding neighborhoods. When I was at a community event in Roxbury this July, I met so many people who were interested in the design, the project's goals, and in visiting it someday. It was really nice to hear that kind of enthusiasm from people in another community. I'm excited that Piers Park III will not only be for East Boston residents but will also bring in other neighborhoods, and we'll get to know more of our Boston neighbors.  
Where are you studying, and what is your major? I'm a senior this year at Boston University and studying political science and minoring in public policy analysis. I'm hoping to get into the urban planning and development world eventually. This semester I'm taking an American foreign policy class, a speechwriting class, and a teamwork class on urban tree canopies and environmental inequalities. I'm obviously into "green"! 
What is your Latino heritage? Both of my parents immigrated here from El Salvador. I was born and raised in Eastie, but proudly representing El Salvador.  
How does your heritage contribute to the person you are today? Being a Latina in any career but especially in community outreach, it's how I always introduce myself, when I say my name in the correct pronunciation, that shines through. I'm proud to be a native Spanish speaker and doing the work we're doing, conversing with other community members in the language they speak and making sure everything is easily understood, and accessible to them. That's something I brought into the work we're doing, making sure we are connecting in this way. I would also say my heritage influences who I am as a person, as a neighbor, as someone who is developing their career, and as someone who wants their community to be the best they can be.