About Gardeners' Gathering
Kick off the gardening season with the annual Gardeners' Gathering, now in it's 46th year! The Gathering is free and open to all. This year's virtual event will be spread out over several days and feature:
Workshops on gardening and urban homesteading skills for beginning and advanced gardeners
Interactive panel discussions on the role of gardens in community resilience and mutual aid
Keynote address and presentation of the Community Garden Awards.
Program details will be linked here when available. Register and you'll receive the program and Zoom links when available. If you're able, please consider supporting this free event with an optional program fee when you register.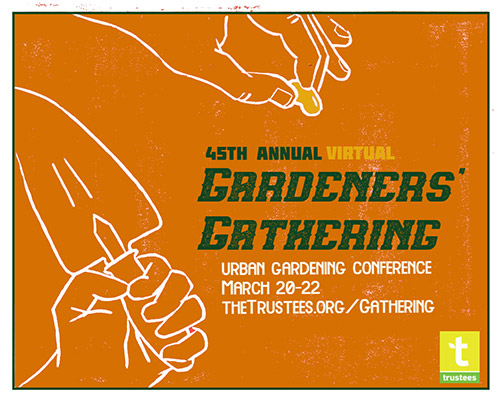 Interested in sponsoring or otherwise supporting the Gathering? Please contact Boston Community Gardens Engagement Manager Michelle de Lima at mdelima@thetrustees.org.
Register Now