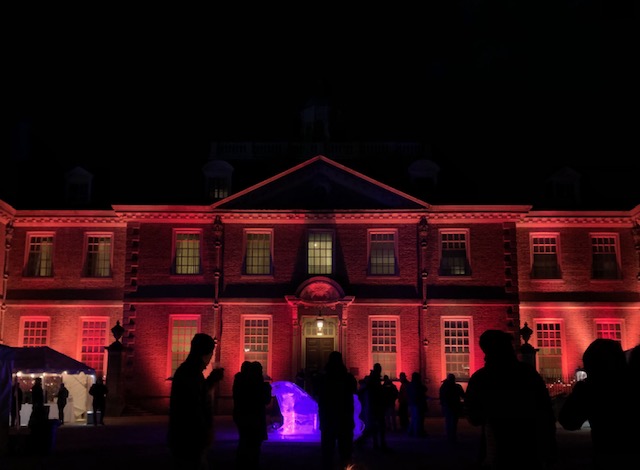 Castle Hill Illuminated
Ipswich – July 16, 2020 – The Trustees is pleased to announce it will offer guests a chance to experience Castle Hill on the Crane Estate like they never have before—with the Castle Hill Illuminated: The Sound and Light Show, starting on July 22 and running through mid-September.
"The goal is to experience the aesthetic and atmosphere as you travel back in time to the Crane family's famed summer home in 1929," said Director of the Crane Estate Peter Pinciaro. "Strolls through the garden, women in tea dresses, clinking glasses and jazz tunes wafting through the air like a summer zephyr—it's a way to make the sights and sounds of the time truly come alive in a new and creative way."
The dynamic 35-minute, multi-sensory experience is a nighttime spectacle that combines music, narration, and lighting. Castle Hill Illuminated unfolds in four scenes surrounding the Great House, Grand Allee, and the Italian Garden. The production, created by Design by Chris Bocchiaro for the Crane Estate, guarantees both first-time visitors and returning guests will have a new and exciting experience at this venerable property.
Tickets are $20 per car for members and $30 per car for non-members. Advanced online reservations are required, and tickets will not be sold at the gate. To allow for social distancing, groups will be limited to 12 cars (or approximately 30 people) per entry time, and masks must be worn on the property. Light refreshments and souvenirs will be available from a pop-up gift shop through touchless payment.
Castle Hill Illuminated will begin after dark with start times changing each week depending on the time of sunset. For tickets and event dates and times, click this link.
The Castle Hill grounds are also open to the public daily from 9AM-5PM (advance timed entry pass required can be purchased here) with outdoor landscape and history tours currently offered on weekends.
About The Trustees
Founded in the City of Boston by landscape architect and open space visionary Charles Eliot in 1891, The Trustees has, for more than 125 years, been inspiring generations to embrace nature, culture, and the great outdoors. As a steward of distinctive and dynamic places of both natural and historic value, The Trustees is the nation's first and the Massachusetts' largest preservation and conservation nonprofit, with 119 publicly accessible parks, gardens, farms, beaches, historic homesteads, campgrounds, inns and recreational sites that welcome millions of residents and visitors annually. thetrustees.org.