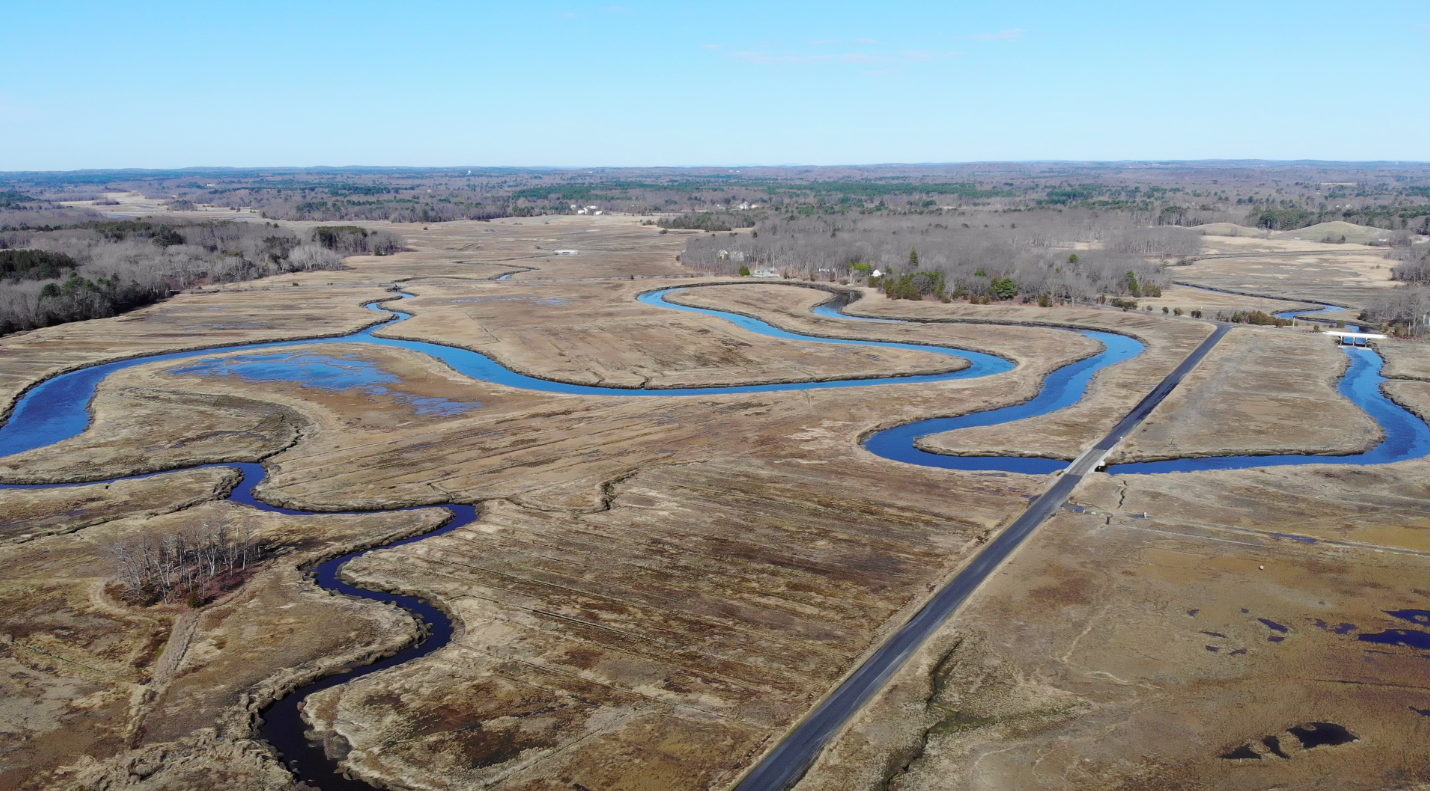 Great Marsh
A $1M North American Wetlands Conservation Act (NAWCA) grant from the US Fish and Wildlife's Services Atlantic Coast Joint Venture has expanded The Trustees of Reservations (The Trustees) salt marsh restoration project, "Saving the Great Marsh: Ditch Remediation, Habitat Preservation and Resiliency Building at the Landscape Scale," in partnership with Essex County Greenbelt Association (Greenbelt).
The NAWCA grant will fund restoration of an additional 916 acres of Great Marsh land in Ipswich and Essex. Now, with a total funded scope of 1,274 acres, it represents the largest coastal or ecological restoration project in the 130-year history of The Trustees, and one of the largest restoration projects of its type in Massachusetts. The three- to five-year restoration process ultimately aims to heal the natural function of the marsh, enabling it to keep pace with sea level rise using nature-based, low-impact strategies.
"We are very grateful for the support of NAWCA, and for our local partnerships—both of which are allowing for a significant expansion of important future-facing resilience work" says Jocelyn Forbush, Trustees Acting President and CEO. "This is the kind of scale that can make a real and lasting impact in adapting vulnerable landscapes to our changing climate."
In addition to being an ecologically significant landscape that protects shorelines from rising sea levels and serves as a buffer to adjacent uplands from storm surge, salt marsh is critical habitat for species including the vulnerable saltmarsh sparrow. According to the Fish and Wildlife Service, more than four out of every five saltmarsh sparrows have disappeared over the last 22 years—accounting for an approximate 87% drop in the population.
"Saving the Great Marsh: Ditch Remediation, Habitat Preservation and Resiliency Building at the Landscape Scale" aims to "heal" some of the historic marsh "ditching"—the remnants of agricultural practices dating back to colonial times—which retain water and leave the ecosystem increasingly vulnerable to floods. Much of the Great Marsh ecosystem has been compromised due to ditching, which continued up until the early 1900s when marsh hay farming was ultimately abandoned, allowing the marsh to flood as agricultural infrastructure fell into disrepair. During the Great Depression, vast re-ditching programs were launched to drain the marsh for mosquito control in areas viewed as swampy, nuisance land. By the late 1930s, nearly 94% of New England salt marshes had been re-ditched, negatively altering the ecology of this important habitat. Today, the remnants of these ditches continue to disrupt natural tidal flow by not allowing for what should be natural draining, drowning the plants.
Using nature-based solutions, the restoration aims to rebuild marsh peat naturally over time, ultimately restoring the health and natural function of the marsh and allowing it to keep pace with sea level rise. The project is initially estimated to take three to five years to complete. The additional land funded by the NAWCA grant is owned by The Trustees (689 acres), Greenbelt (141 acres), and the Massachusetts Division of Fisheries and Wildlife (86 acres).
"Greenbelt is delighted to be a partner in this exciting project, which will bring to scale some of the most promising restoration techniques to protect the health and viability of the Great Marsh," says Kate Bowditch, President of Greenbelt. "We look forward to engaging with the public as the project unfolds – it's a great opportunity for people to learn more about the marsh's unique ecosystems."
The project has now received $1,459,411 in state and federal grants since summer 2018—including from the National Coastal Resilience Fund, the Department of Fish and Game's Division of Ecological Restoration's Priority Projects Program, and The Massachusetts Bays National Estuary Partnership (MassBays). With Trustees and its partners' financial and in-kind contributions combined, it has achieved nearly $4M in funding.
In 2020, the initial 300-acre restoration pilot area reached several milestones, including an April launch of restoration work at the 85-acre Old Town Hill parcel in Newbury, and the start of permitting work for three parcels in Newbury, Essex, and Ipswich. A second year of restoration work began in April 2021 at Old Town Hill and is anticipated to begin next at the Crane Reservation, in Ipswich, and the Crane Wildlife Refuge, in Essex, in August 2021.
###
More about The Trustees
Founded by landscape architect Charles Eliot in 1891, The Trustees has, for 130 years, been a catalyst for important ideas, endeavors, and progress in Massachusetts. As a steward of distinctive and dynamic places of both historic and cultural value, The Trustees is the nation's first preservation and conservation organization, and its landscapes and landmarks continue to inspire discussion, innovation, and action today as they did in the past. We are a nonprofit, supported by members, friends and donors and our 120 sites are destinations for residents, members, and visitors alike, welcoming millions of guests annually. thetrustees.org.
More about Greenbelt
Greenbelt is a non-profit land trust that works within the 34 cities and towns of Essex County to conserve land in perpetuity and steward the land it protects. Since 1961, Greenbelt has conserved more than 18,200 acres of open space, farmland, wildlife habitat and scenic landscapes. Our work protects native plants, animals and natural corridors; preserves and strengthens climate-resilient landscapes; helps mitigate the impacts of climate change; ensures a healthy, local food supply; maintains clean water and air; and provides free and accessible outdoor places for all to enjoy. ecga.org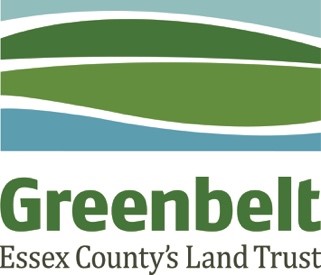 Greenbelt logo