New funding will help The Trustees expand an innovative salt marsh restoration project underway in Newbury, Essex and Ipswich. The funding, a $1 million grant from the U.S. Fish and Wildlife Service (FWS), was awarded to the Connecticut Department of Energy and Environmental Protection and will be shared in partnership with several states—Massachusetts, Maine, Rhode Island, Virginia, and Maryland.
The multi-state partnership will test a total of five management techniques to restore salt marsh habitat, including three planned for Trustees properties, helping to heal and protect threatened saltmarsh sparrow nesting sites. According to the FWS, more than four out of every five saltmarsh sparrows have disappeared over the last 22 years—accounting for an approximate 87% drop in the population.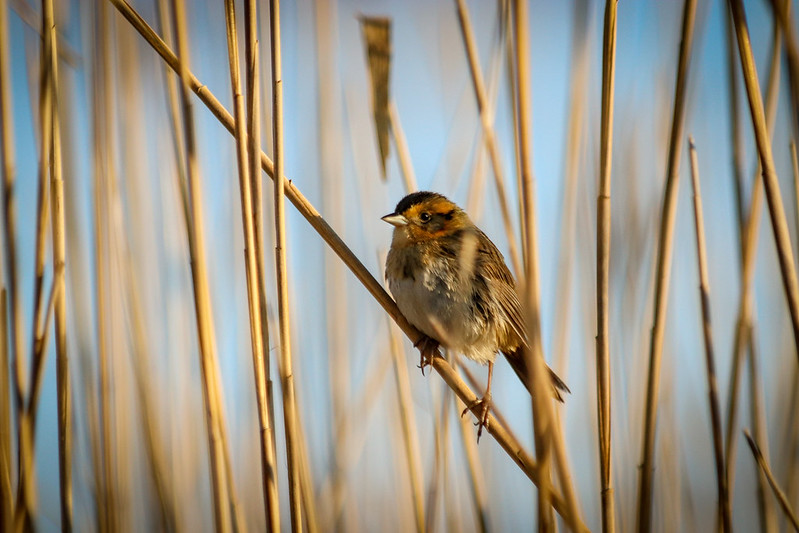 Adult saltmarsh sparrow perched on invasive common reed (Phragmites australis). Credit: Bri Benvenuti /USFWS
"Saltmarsh sparrows are declining at an alarming rate across our region," said Connecticut Chief of Fisheries, Forestry and Wildlife Rick Jacobson in an FWS press release. "This project will test five of the most promising management techniques for retaining saltmarsh resilience, reducing high-marsh flooding, and increasing nesting success."
Projects funded by the grant will be managed by state wildlife agencies in partnership with The Trustees, the National Audubon Society, the Virginia Institute of Marine Science, the U.S. Fish and Wildlife Service, and the Salt Marsh Habitat and Avian Research Program.
Under this partnership The Trustees will receive $52,000 to expand its three-to-five-year marsh restoration project by an additional 50 acres. The project uses an innovative nature-based method to "heal" some of the historic marsh ditching, which retains water and leaves the ecosystem increasingly vulnerable to floods. This restoration method rebuilds marsh peat naturally, restoring natural draining processes and allowing the marsh to keep pace with sea level rise.
The Trustees ultimately aims to restore a total of 2,000 acres of salt marsh in Massachusetts and the 50-acre expansion comes on the heels of several milestones for the more than 300-acre pilot area in 2020, including an April launch of restoration work on 85-acres at Old Town Hill in Newbury. Additionally, more than two hundred acres in Essex and Ipswich moved to permitting work, after completing the design phase.
The Trustees and partners are using an innovative, nature-based method to "heal" this vital ecosystem and restore its ability to drain naturally, enabling it to keep pace with sea level rise.
"Saltmarsh sparrows require a very specific habitat—they only breed in salt marshes along the Atlantic coast between Maine and Maryland," explains Russell Hopping, Trustees Lead Ecologist for Coastal Ecology. "Their nests are built on the surface of the highest areas of marsh where flooding is infrequent. In a healthy marsh, this means the chicks have enough time to hatch and leave the nest between the highest of tides that occur monthly. However, compromised salt marsh habitats from past agricultural use and mosquito control together with rising sea levels are resulting in nests being washed out and chicks drowning. The decline of saltmarsh sparrows indicates the vulnerability of our coastal habitats and the rapid change they are currently experiencing. What's good for the sparrow is good for the marsh and good for coastal communities."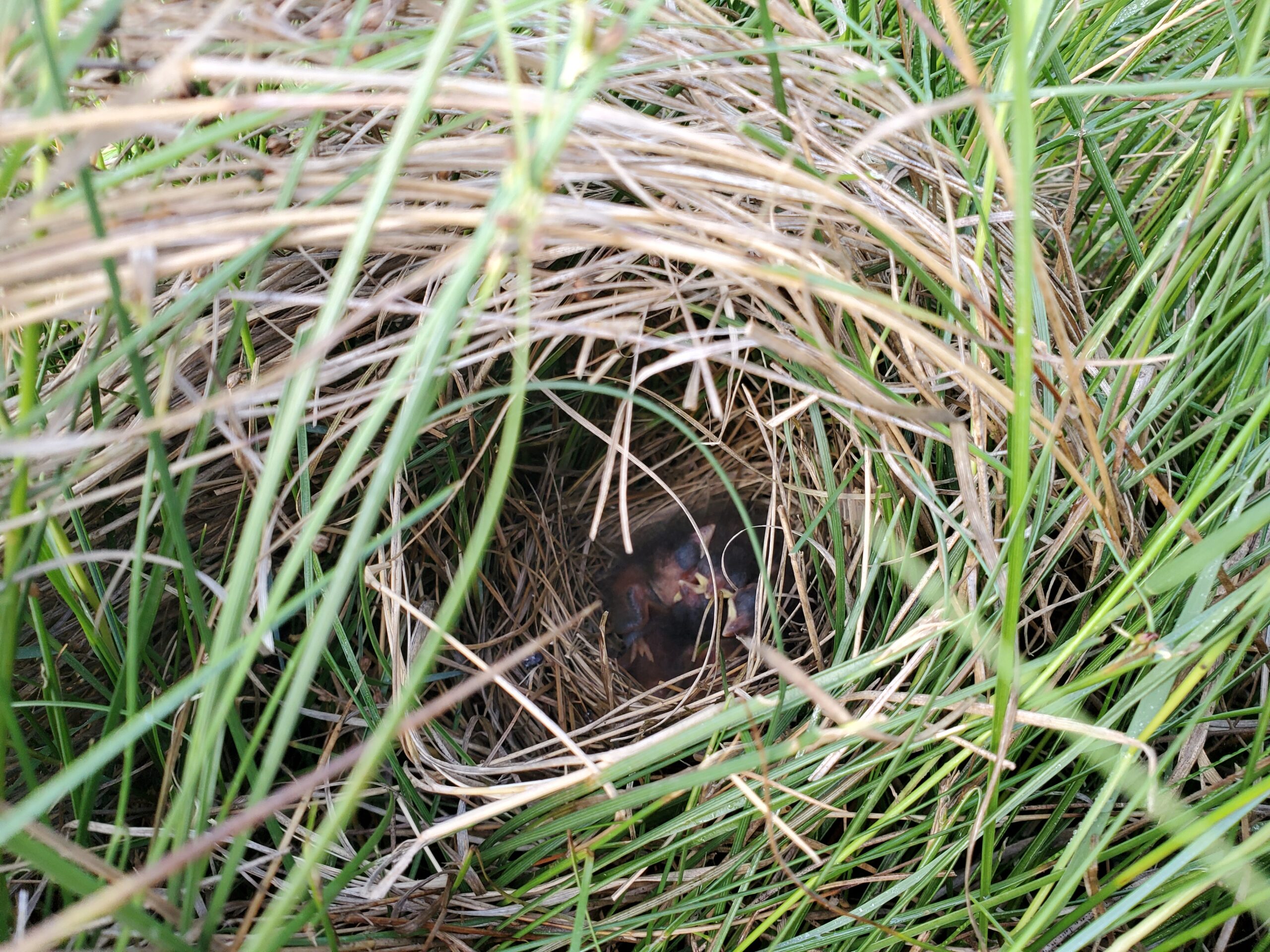 Saltmarsh sparrow chicks. (Nest monitoring should always be performed by trained researchers with proper permitting)
In addition to being critical habitat, salt marshes also serve as a buffer to adjacent uplands from storm surge. More than 50% of the nation's original salt marsh habitat has already been lost, according to FWS.
"The next decade is a critical window for shoring up our salt marshes against rising seas," said U.S. Fish and Wildlife Service regional director Wendi Weber in the release. "We will continue to work with our many partners across the saltmarsh sparrow's range to find holistic solutions that turn the tide for saltmarsh sparrow and help coastal communities maintain natural defenses in a changing climate."
In 2023 the FWS plans to assess whether salt marsh sparrows warrant protection under the Endangered Species Act. In Massachusetts, a state that supports 10% of the saltmarsh sparrow population, this bird is currently listed as a state species of greatest conservation need.
Trustees properties with known saltmarsh sparrow populations include Old Town Hill in Newbury, Cape Poge Wildlife Refuge on Martha's Vineyard, and Crane Wildlife Refuge in Ipswich.
To learn more about this and other Trustees coastal projects visit thetrustees.org/coast