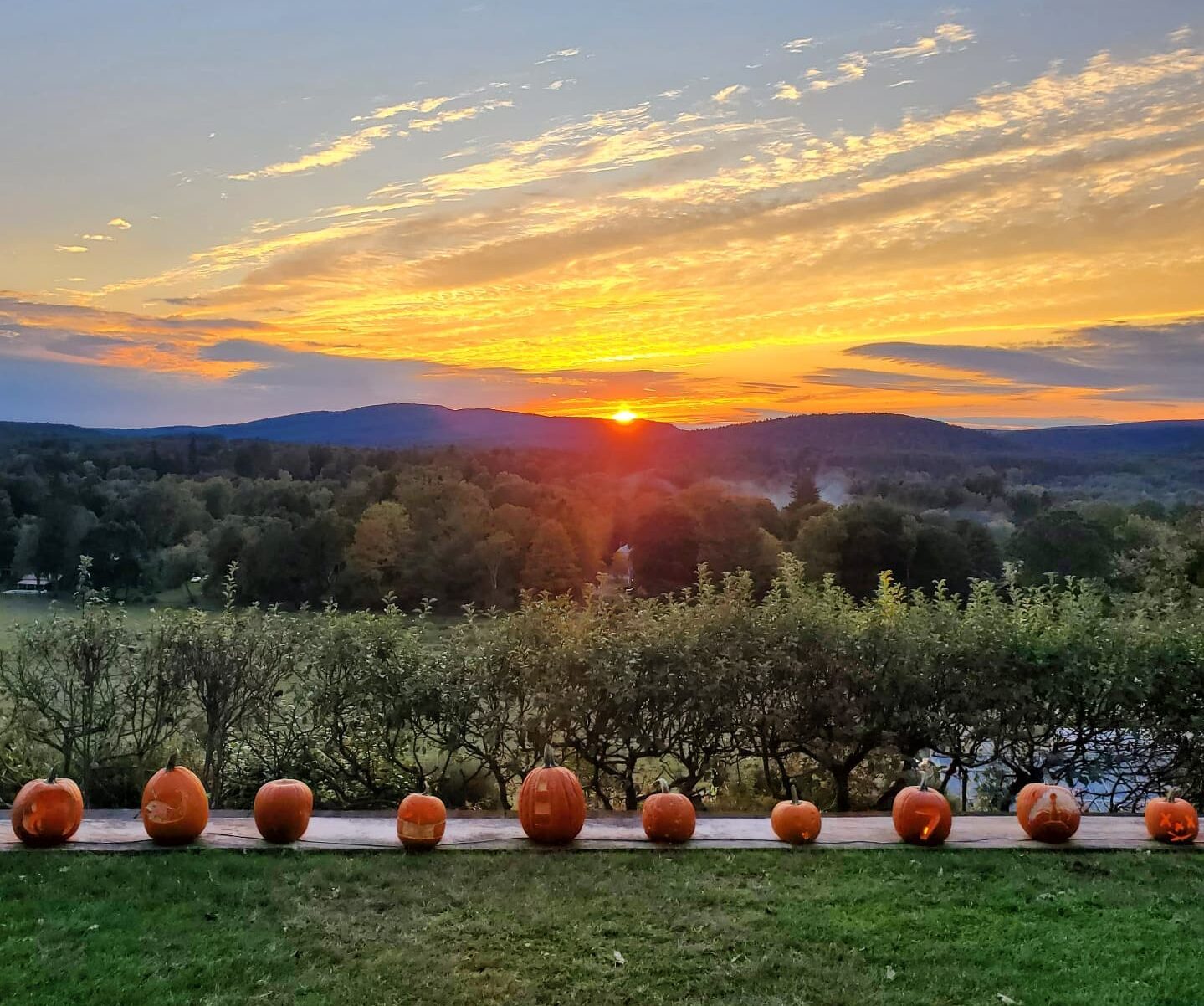 Fall sunset at Naumkeag in Stockbridge
The Trustees of Reservations (The Trustees), the nation's first and state's largest land conservation nonprofit, announces a full slate of fall programming headlined by its annual signature events Halloween on the Hill at Long Hill in Beverly, and The Incredible Naumkeag Pumpkin Show in Stockbridge.
"Long Hill, which recently underwent a garden and grounds rejuvenation, and Naumkeag are two spectacular properties that really accentuate what everyone loves about fall in New England," said Kristen Swanberg, Managing Director of Engagement and Education. "But whether it's pumpkins or a spooky hike or our nocturnal trails, The Trustees has something for everyone this autumn."
Advanced ticketing is required for the majority of these events which can be found at thetrustees.org/halloween. Tickets are now on sale to Members and the general public for all events, but are selling out quickly.
PUMPKIN SHOWS
Halloween on the Hill
Wed-Sun, Sept. 30-Oct. 31 | 5:30-9:30PM (last entry 8:30PM)
Long Hill, Beverly
Halloween on the Hill allows visitors to explore our recently rejuvenated property as Long Hill is transformed into a celebration of autumn and the Halloween season. Follow a seasonal-themed trail that will feature more than 1,000 jack-o'-lanterns, hundreds of mums and pumpkins, elaborate Halloween sets, light displays, music, and more. New this year will be volcano, castle, and barnyard themed pumpkins making it the perfect Halloween event families won't want to miss.
The Incredible Naumkeag Pumpkin Show
Wed-Sun, Sept. 30 to Oct. 31 | 5-8:30PM (last entry 7:30PM)
Naumkeag, Stockbridge
It's back again at Naumkeag in the Berkshires—this year with more pumpkins, more fun, and an expanded schedule! Explore our famous gardens as we transform Naumkeag into a celebration of autumn with more than 1,500 jack-o-lanterns, hundreds of mums, pumpkins, and countless gourds – most of which were grown on the premises. This year will feature parking on Main Street in Stockbridge and a short shuttle ride to the property.
OTHER HALLOWEEN EVENTS
Hillside Halloween
Oct 28 & Oct 30 │ 4-7PM
Fruitlands Museum, Harvard
Families are invited to join us outdoors at Fruitlands for a unique trick-or-treat experience. Children will be dressed up in costume for a trick-or-treating walk on the museum campus. Timed ticketing will control the flow of guests through the site, allowing you plenty of space for safe Halloween fun and interaction with the artwork.
Halloween at deCordova
Fridays, Oct 21 & 28 │ 5:30-7:30PM
deCordova Sculpture Park and Museum, Lincoln
Celebrate Halloween at deCordova by watching the moon travel across the sky as you and your family complete a series of ghoulish activities, all inspired by mysterious artworks dotting the landscape. Explore different disguises, create monstrous shadows, and solve tantalizing mysteries. There will be treats to pick up after the tricks are completed.
Pumpkins in the Park & Nocturnal Trail
Oct. 22 │ 5-7:30PM
Francis William Bird Park, Walpole
This event is FREE! Carvers and decorators of all ages are welcome to submit a pumpkin to the park's annual pumpkin carving & decorating contest. Pumpkins are judged in four different categories — "Most Creative," "Scariest," "Most Traditional," and "Funniest." Winners are announced that evening and receive bragging rights! People should their own pumpkins. Also, the popular, pumpkin-lit Nocturnal Trail is back! On this Halloween adventure, families with little ones are invited to walk a short trail through the woods dotted with fun facts about the nocturnal animals found in the park. Along the trail, four "nocturnal animals" hand out candy to tick-or-treaters, so people should wear their costumes and bring a trick-or-treat bag and flashlight.
Oct. 1-31 (closed Wednesdays) | 10AM-6PM
Stevens-Coolidge House & Gardens, North Andover
Explore our gardens where we will have several artistic installations around the property filled with pumpkins, haybales, mums, and more. Say hello to the scarecrows who have taken up residency for the month of October and complete the scavenger hunt for a prize. On top of that, our gardens are absolutely stunning this time of year, and this special, new event is FREE with admission.
Ghostly Garden Scavenger Hunt
Saturday, Oct 22 │ 4-8PM
Berkeley Community Garden, Boston
Decipher a series of hints to find hidden Halloween-themed destinations tucked away throughout the thickly-settled plots and trellises of the Berkeley Community Garden. Along the way, costumed characters will be handing out treats (no tricks)! Wear your costume and bring a trick-or-treat bag and flashlight, and if you solve all the clues, you get a prize. Locally-made cider, donuts, and popcorn available.
BOO IN THE BARNYARD EVENTS
Boo in the Barnyard at Weir River Farm
Saturdays, Oct 8, 15, 22 & 29 │ 10-11AM, 11AM-12PM, 12-1PM
Weir River Farm, Hingham
Sensory-Friendly Boo in the Barnyard
Saturday, Oct 15 │ 2-3PM & 3-4PM
Weir River Farm, Hingham
Boo in the Barnyard at Powisset Farm
Friday, Oct 28 │ 2-5PM
Powisset Farm, Dover
Boo in the Barnyard at Chestnut Hill Farm
Sunday, Oct 30 │ 1-2PM, 2-3PM, 3-4PM
Chestnut Hill Farm, Southborough
Children can dress up and then visit our farm animals. We will have Halloween activities for families such as ghost, pumpkin, and candy corn crafts, mask-making, and our special take on trick-or-treating! Pumpkin bowling, themed scavenger hunts, and yard games will also be available, farm stores will be open with even more treats to take home, and costumes are encouraged. Bring a bag to collect treats from our barnyard friends, participate in a special Halloween craft, find all our hidden pumpkins on our pumpkin scavenger hunt, and play pumpkin bowling! Snacks and refreshments available.
FALL FARM EVENTS
Fall Fun at Powisset Farm
Sat & Sun, Sept. 10 – Oct. 30 | 12-1:30PM, 1:30-3PM, 3-4:30PM
Powisset Farm, Dover
Spent your fall weekends at a classic New England farm featuring hayrides, apple cider, a climbing haystack, live music, scenic walking trails, a Storywalk, fall scavenger hunt, and a visit to see the barnyard animals. Indulge in farm-fresh, wood-fired pizza with an array of toppings, hot and cold cider, wine and craft beer, and other seasonal treats available for purchase.
Farm Day Weekend at Appleton Farms
Sept. 17-18 | 12-5PM
Appleton Farms, Ipswich
Games and activities for all ages will be offered including a hay bale obstacle course, face painting, sack races, seeing farm animals, garden demonstrations, lawn games, and more. There will also be local musicians and bands such as Chuck Doran and Friends, Marina Evans, Howie Newman, and The Lied To's while visitors can purchase items from food trucks and sample from local breweries.
WATERFRONT FALL FESTIVAL
Harvest Festival on the Waterfront
Piers Park, East Boston
Oct. 8, 12PM
All are welcome at Piers Park in East Boston for a family-friendly event offering music, free treats, and arts & crafts for all ages. Join in on making pumpkin decorations and enjoy the festivities. Registration is encouraged, but not required.
For more information and a complete listing of events, visit thetrustees.org.
About The Trustees
Founded by landscape architect Charles Eliot in 1891, The Trustees has, for more than 130 years, been a catalyst for important ideas, endeavors, and progress in Massachusetts. As a steward of distinctive and dynamic places of both historic and cultural value, The Trustees is the nation's first preservation and conservation organization, and its landscapes and landmarks continue to inspire discussion, innovation, and action today as they did in the past. We are a nonprofit, supported by members, friends and donors and our 123 sites are destinations for residents, members, and visitors alike, welcoming millions of guests annually. thetrustees.org.
###