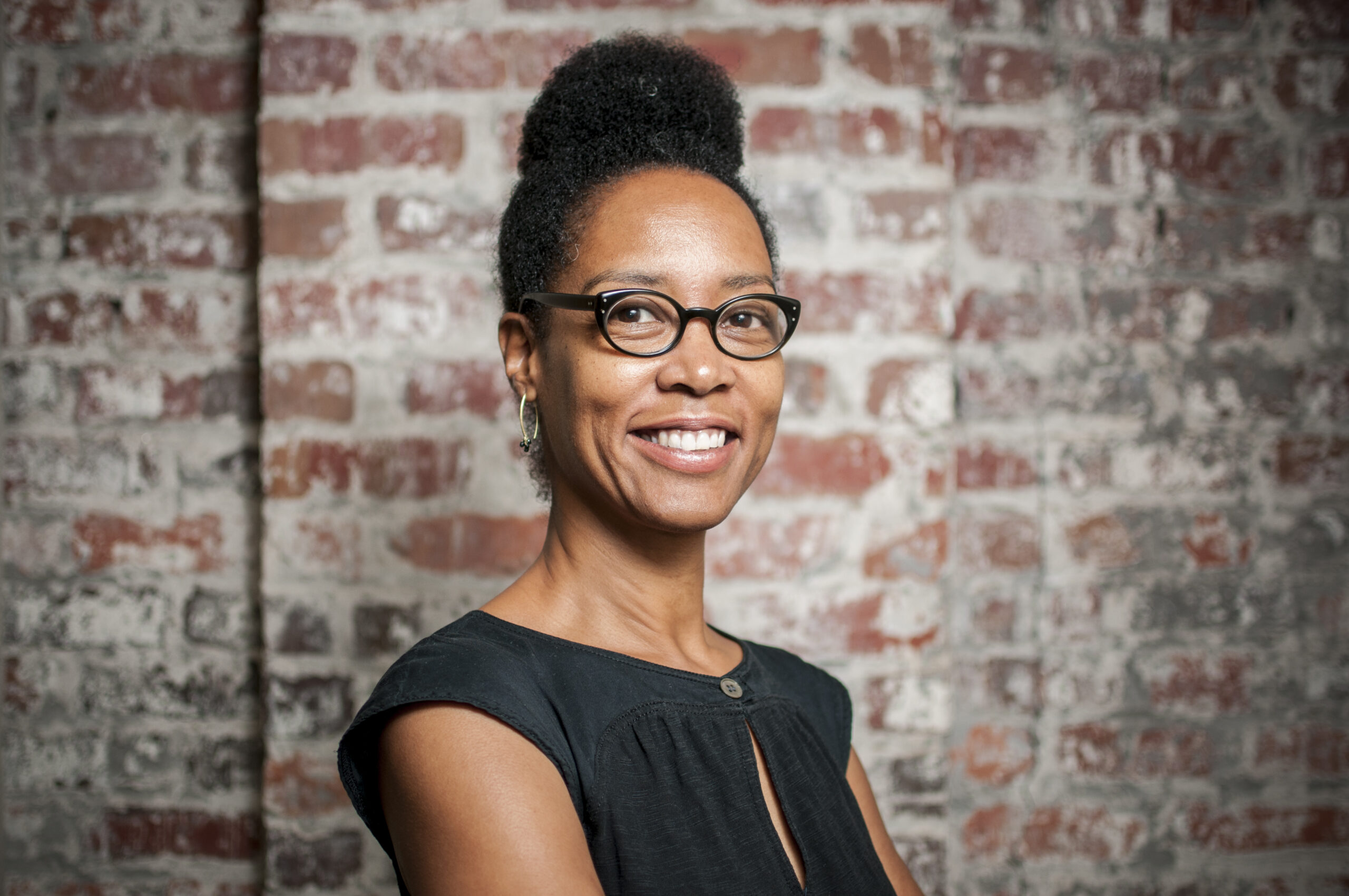 Courtesy of Diego Valdez
Lincoln, MA –  August 10, 2020 – deCordova Sculpture Park and Museum is proud to announce Amherst–based artist Sonya Clark as the 2020 recipient of the annual Rappaport Prize. A lecture will take place in early 2021. Sonya Clark (b. 1967, Washington, D.C.) is Professor of Art at Amherst College and best known as a fiber artist whose powerful work addresses issues of race, history, and culture. Established in 2000 and endowed in perpetuity in 2010, the Prize was set-up by the Phyllis and Jerome Lyle Rappaport Foundation, assuring the ongoing support of contemporary art and artists in New England. In 2019, The Rappaport Foundation made an additional gift of $500,000 in order to increase the annual award amount from $25,000 to $35,000, beginning with the 2019 prize. 
About Sonya Clark 
In her artwork, Clark turns everyday items such as hair combs and flags into aesthetic objects. Some projects celebrate Black identity and craft, while others confront viewers with the damage of white supremacy in the United States. She also works with large-scale installation, performance, archival research, and participatory actions. Across all mediums, Clark challenges viewers to make connections between past and present, probing the roots of racial and national identities, and highlighting links between the founding of the United States, the institution of slavery, African diaspora and migration, and contemporary practices of policing and incarceration.  
Sarah Montross, Interim Artistic Director/Senior Curator, deCordova Sculpture Park and Museum, writes, "In the midst of a worldwide health and financial crisis and one of the largest social movements in US history, we thought deeply about who should receive this year's Rappaport Prize. Sonya Clark's work thoughtfully and powerfully addresses aspects of Black experience in the United States, grappling with the relationship between history, social injustice, institutional racism, and racial inequality." 
Clark adds, "Good news these days is a tender seedling pushing through hard concrete. It signals the fecundity of hope. The Rappaport Prize, this unexpected recognition, is a verdant promise, one that will help germinate the creative impulses my ancestors planted in my DNA long ago. I care for those seeds, help them flourish by resisting injustice and celebrating my forebears through my art practice. I am deeply grateful for the support this award provides towards this purpose."   
Clark has exhibited at over 350 museums and galleries worldwide. Her work is in collections, including the Museum of Fine Arts Boston, the Philadelphia Museum of Art, the National Museum of Women in the Arts, the Indianapolis Museum of Art, and the Virginia Museum of Fine Arts.  
Before her current position at Amherst College, Clark was Chair of the Craft and Material Studies Department at Virginia Commonwealth University from 2006 to 2017, and prior to that, the Baldwin-Bascom Professorship of Creative Arts at the University of Madison-Wisconsin. She holds a BA and honorary doctorate from Amherst College, a BFA from the School of the Art Institute of Chicago, and an MFA from Cranbrook Academy of Art. 
Montross adds, "DeCordova is delighted to continue its longstanding partnership with the Rappaport Foundation in celebrating and supporting the work of this exceptional artist." 
While the Rappaport Prize does not require the winner to make new work or undertake an exhibition, Clark's receipt of the Prize coincides with deCordova's plans to host two concurrent exhibitions of her work, expected to run from April 9-September 12, 2021. Sonya Clark: Monumental Cloth, The Flag We Should Know examines the legacy of the Civil War and was organized by the Fabric Workshop and Museum in Philadelphia. Sonya Clark: Heavenly Bound, organized by deCordova, features the artist's most recent work dealing with the Underground Railroad. 
About the Rappaport Prize  
Since its inception in 2000, the Rappaport Prize has been an investment in both individual artists and the broader art community. Founded and funded by the Phyllis and Jerome Lyle Rappaport Foundation, the Rappaport Prize follows the Foundation's mission of promoting leadership in art, public policy, and medical research. Endowed at, and selected annually by, deCordova Sculpture Park and Museum, the Rappaport Prize supports artists while educating the public about developments in American contemporary art.  
The prize celebrates the achievement and potential of an artist who has demonstrated significant creativity and vision, and encourages the recipient to continue a career of innovative art making. Together, deCordova and the Rappaport Foundation hope to create a community of accomplished artists whose careers have been enhanced by the recognition of the Rappaport Prize. In 2010, the Rappaport Foundation permanently endowed the prize, ensuring its continuation in perpetuity.  
Each year deCordova invites art professionals from around the country—museum directors, curators, collectors, and artists—to submit nominations for the Prize based on established criteria.  
Each nominee is asked to meet the following criteria:  
Produce artwork of exceptional quality 

Demonstrate excellence and leadership in their chosen practice 

Engage with aesthetic issues which have had a significant impact on contemporary art

Have a

strong connection

to New England—whether they were born, educated, resided, or currently reside in the region. 

 
All forms of media are considered. The Museum does not discriminate based on age, financial status, reputation, race, sexual orientation, or gender identity. After reviewing the nominations, as well as suggesting their own nominations, deCordova's curators and Artistic Director select the Prize winner. Visit thetrustees.org/program/rappaport-prize.  
Past Rappaport Prize Winners  
2019 Daniela Rivera
2018 Titus Kaphar 
2017 Sam Durant 
2016 Barkley Hendricks
2015 Matt Saunders 
2014 Liz Deschenes 
2013 Ann Pibal 
2012 Suara Welitoff 
2011 Orly Genger 
2010 Liza Johnson 
2009 Dave Cole
2008 Ursula von Rydingsvard 
2007 Maria Magdalena Campos-Pons 
2006 Abelardo Morell 
2005 Sarah Walker 
2004 Debra Olin 
2003 John Bisbee 
2002 Lars-Erik Fisk 
2001 Annee Spileos Scott 
2000 Jennifer Hall 
About deCordova Sculpture Park and Museum 
Established in 1950 and located just twenty miles west of Boston, deCordova Sculpture Park and Museum is dedicated to fostering the creation and exploration of contemporary sculpture and art through a dynamic slate of rotation exhibitions, innovative learning opportunities, a constantly changing thirty-acre landscape of large-scale, outdoor, modern, and contemporary sculpture, and site-specific installations. DeCordova joined The Trustees in July of 2019. To learn more, visit thetrustees.org/decordova.
About The Trustees 
Founded in the city of Boston by landscape architect and open space visionary Charles Eliot in 1891, the Trustees is the nation's first and the Commonwealth's largest preservation and conservation non-profit. For more than 125 years, we have worked to preserve and protect dynamic natural and cultural sites – from beaches and community gardens to farms, historic homesteads, designed landscapes, and hiking trails – for public use and enjoyment. Today we are working to engage a larger constituency of Massachusetts residents, members, visitors, and public and private partners in our work to help protect our beloved and fragile natural, ecological, cultural, and coastal sites for current and future generations. To learn more, visit www.thetrustees.org