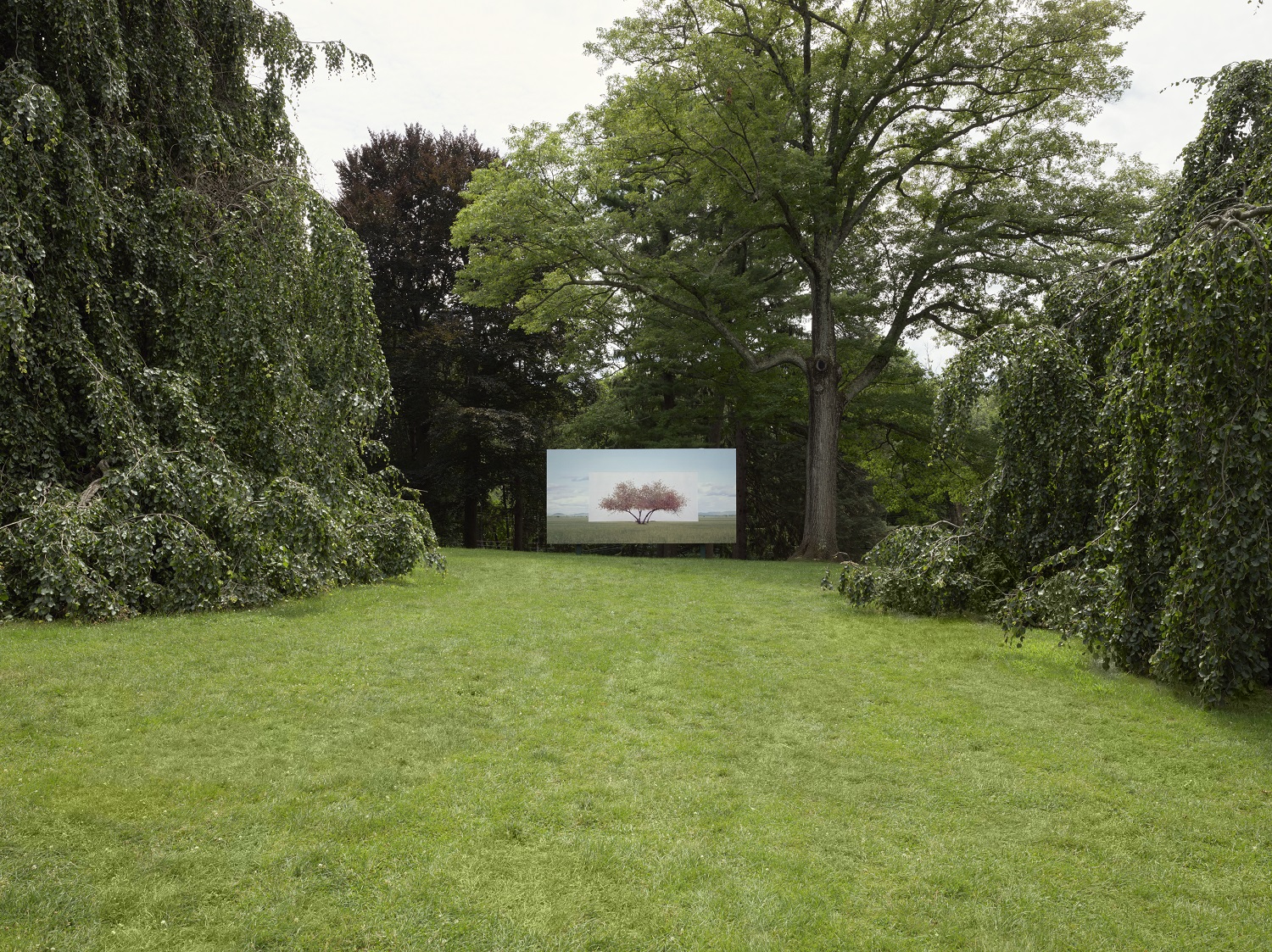 Installation view of Myoung Ho Lee, PLATFORM 26: "Tree… #2", 2011/2020, digital print on billboard fabric, steel, 10 × 20 feet. Courtesy of the Artist. Photograph by Julia Featheringill Photography, Boston.
Lincoln, MA –  September 3, 2020 – deCordova is pleased to announce new works being installed in the Sculpture Park this summer and fall by Myoung Ho Lee, Rachel Mica Weiss, Nathan Mabry, and Oded Halahmy. The works engage with monumentality, landscape, geopolitics, and gender, ranging from a photographic billboard to concrete, bronze, and steel sculptures. Two are new commissions for the Park, on loan from the artists, while two are gifts and will enter deCordova's permanent collection.
"The Park is alive with visitors, who are eager to engage with art and nature following months of quarantine," says deCordova's Interim Artistic Director, Sarah Montross. "We are fortunate to have this dynamic group of works entering the Park during such an unusually busy time, encompassing major topics and innovations in contemporary sculpture."
The sculptures by Lee and Weiss were installed in July, the one by Mabry in August, and the one by Halahmy is expected to be installed in September. Meanwhile, cherished temporary commissions in the Park by Elizabeth Tubergen, Cat Mazza, and Wardell Milan have cycled off view.
PLATFORM 26: Myoung Ho Lee, Tree… #2 (2011/2020)
On view now on the Entrance Lawn
For PLATFORM 26, South Korean photographer Myoung Ho Lee adapted his one of his singular Tree photographs for a large-scale billboard in deCordova's verdant Sculpture Park, creating an uncanny mise en abyme. Traveling across South Korea and Mongolia, Lee searches for stunning, solitary trees to photograph. A large production crew hoists a blank canvas behind the tree as Lee captures it with a large format camera. He later digitally erases the cranes, ropes, and assistants, leaving only traces of their existence in the final composition. Tree…#2 distills the natural beauty of Lee's travels, while also revealing the performative nature of photography that is often concealed.
PLATFORM 27: Rachel Mica Weiss, The Wild Within (2020)
On view now on the Entrance Lawn
The Wild Within is a newly commissioned work by Pittsburgh and Brooklyn-based artist Rachel Mica Weiss. An undulating slab of concrete poses atop a reflective steel plinth with an obsidian boulder in its midsection. The artist worked with a filmic special effects team to develop a method of casting thousands of pounds of wet concrete in poses based on the artist's body. Made specifically for deCordova, The Wild Within evokes the reclining female nude, a common motif in art history. Using industrial materials and monumental proportions, Weiss's piece turns a symbol of objectification into one of balance, strength, and sculptural innovation.
PLATFORM 27 is generously funded in part by an anonymous donor and an Investing in Professional Artists grant from The Heinz Endowments, The Pittsburgh Foundation and the Opportunity Fund.
Nathan Mabry, Heavy Handed (Red Piece; 2019)
On view now at the Store/Museum Entrance Plaza
Mabry is known for large-scale sculptures combining minimalist forms with indigenous iconography and ubiquitous cultural symbols. His work questions ideas of authorship while considering European Modernism's debt to non-Western traditions. Mabry's series of painted aluminum and steel sculpture, Heavy Handed, isolates colloquial hand gestures. In monumentalizing them, Mabry considers the plurality of possible interpretations. From one angle, Heavy Handed (Red Piece), could convey a peace sign, and from another, a crude insult. Although simulating the weight and rectangularity of abstract Minimalist sculpture, Heavy Handed irreverently disrupts a Minimalist sense of formal purity.
Oded Halahmy, Lesh Lah (Why Not; 2015)
Coming mid-September to Park Entrance
Halahmy is a Babylonian Jew whose family fled Iraq in 1950, settling in Jaffa, Israel. Since 1970, the artist has lived in between Jaffa and New York City. Halahmy refers to his native Iraq as the "land of wheat, barley, grapes, figs, pomegranates, olives, and dates." His sculpture, often in wood and bronze, draws from this set of references. Lesh Lah incorporates symbols with deep significance for both Hebrew and Arab culture—the hamsa and pomegranate—as well as text in Arabic, Hebrew, and English. The Arabic script crowning the sculpture, lesh lah, means "why not?" As a child, Halahmy witnessed the downfall of a harmonious Jewish and Arabic culture, of shared customs and values. Is this achievable again? Why not—Lesh Lah?
About the PLATFORM Series
PLATFORM is a series of one-person commissioned projects by early-and mid-career artists from New England, national, and international art communities that engage with deCordova's unique landscape. The PLATFORM series lets artists expand their practice and visitors experience new approaches to contemporary sculpture.
General Information
The outdoor Sculpture Park is currently open seven days a week with advance passes to limit overcrowding. Limited bathrooms are available. The indoor galleries will re-open Thursday, October 8 2020, also with advance passes. For passes and more, please visit thetrustees.org/decordova.
#####
About deCordova Sculpture Park and Museum
Established in 1950 and located just twenty miles west of Boston, deCordova Sculpture Park and Museum is dedicated to fostering the creation and exploration of contemporary sculpture and art through a dynamic slate of rotation exhibitions, innovative learning opportunities, a constantly changing thirty-acre landscape of large-scale, outdoor, modern, and contemporary sculpture, and site-specific installations. DeCordova joined The Trustees in July of 2019. To learn more, visit thetrustees.org/decordova
About The Trustees
Founded in the city of Boston by landscape architect and open space visionary Charles Eliot in 1891, the Trustees is the nation's first and the Commonwealth's largest preservation and conservation non-profit. For more than 125 years, we have worked to preserve and protect dynamic natural and cultural sites – from beaches and community gardens to farms, historic homesteads, designed landscapes, and hiking trails – for public use and enjoyment. Today we are working to engage a larger constituency of Massachusetts residents, members, visitors, and public and private partners in our work to help protect our beloved and fragile natural, ecological, cultural, and coastal sites for current and future generations. To learn more, visit www.thetrustees.org
Featured Image Caption: Installation view of Rachel Mica Weiss, PLATFORM 27: The Wild Within, 2020, cast concrete, pigment, powder coated steel, quarried obsidian, 120 × 48 × 36 inches (plinth), 98 × 48 × 38 inches (fold). Courtesy of the Artist. Photograph by Julia Featheringill Photography, Boston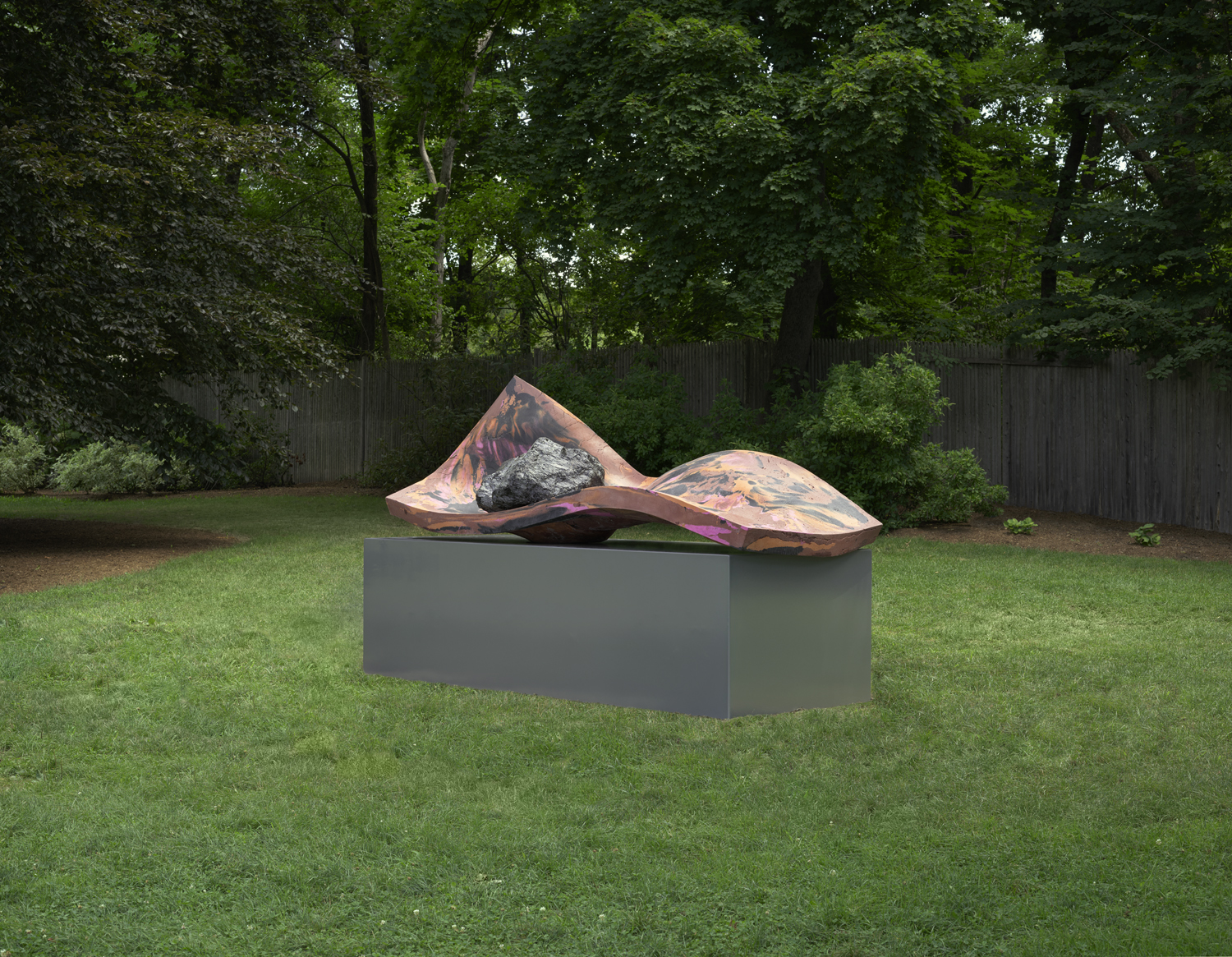 Installation view of Rachel Mica Weiss, PLATFORM 27: "The Wild Within", 2020, cast concrete, pigment, powder coated steel, quarried obsidian, 120 × 48 × 36 inches (plinth), 98 × 48 × 38 inches (fold). Courtesy of the Artist. Photograph by Julia Featheringill Photography, Boston