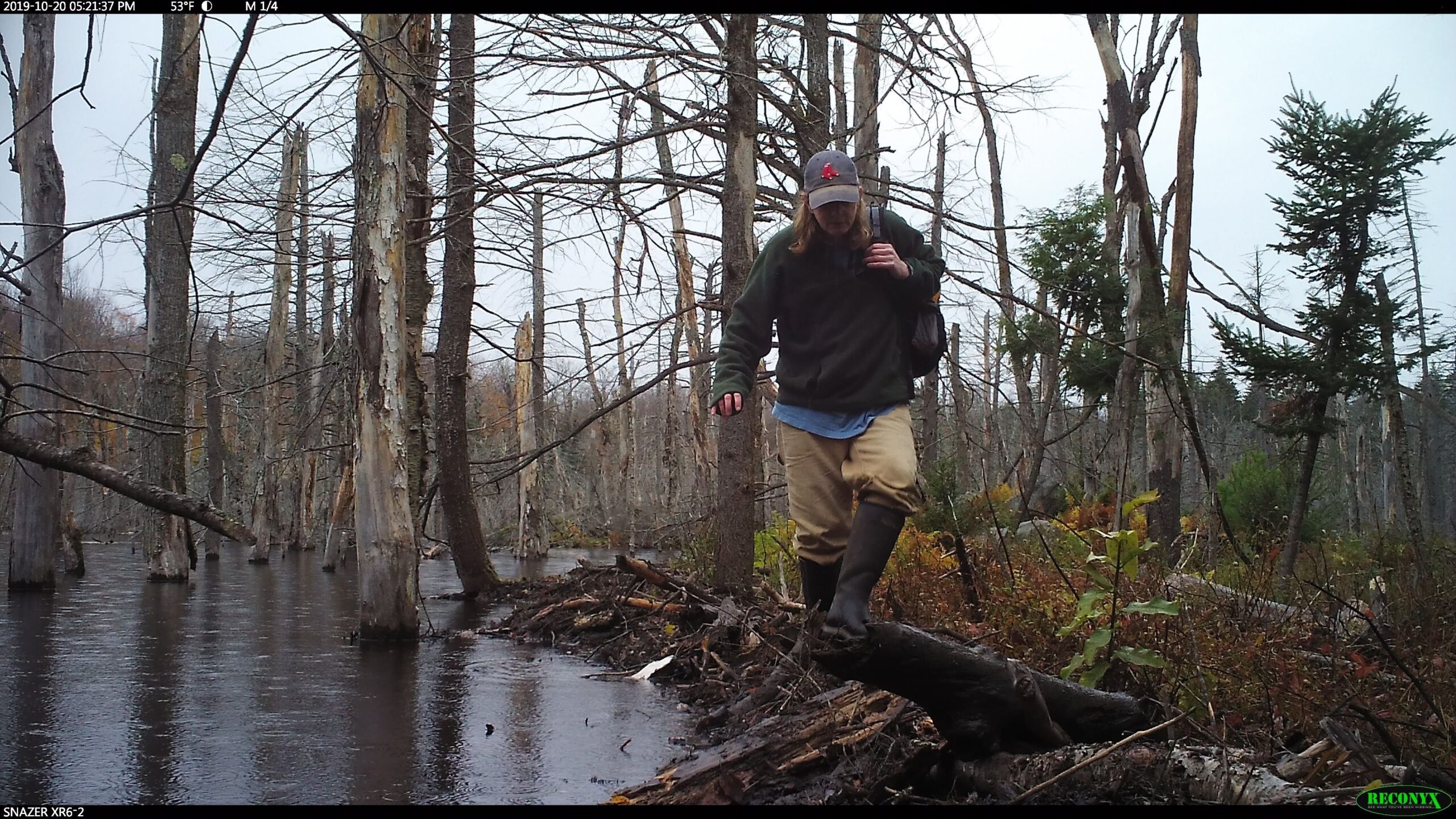 Sally Naser at work.
Sally Naser is the Conservation Restriction Stewardship Director here at The Trustees. Wildlife Wednesday on our Facebook and Instagram accounts have become so popular as every week we all look forward to her wildlife trail videos. What animals will appear on our feeds?
We wanted to give you a chance to learn a bit more about the work that Sally does with The Trustees.  Below are the questions you asked as well as some we were curious about too!
Scroll all the way down for Sally's favorite camera capture and a video!
Can you give us a Conservation Restriction 101?
In addition to the 27,000+ acres of land open to the public that most people know The Trustees for, a lesser known side of our land protection work is that we also protect over 20,000 acres statewide of largely privately owned land with perpetual conservation restrictions (CR).
What do you do for the Trustees with the wildlife cams?
Since 2013, I have been setting up wildlife cameras on select, large acreage CR properties in western and northcentral MA as a way to help better connect landowners with their land.  Seeing photos and videos of the wildlife that utilizes their protected forests, wetlands and meadows is a very tangible way to help landowners, both original CR grantors as well as successor owners, better understand why land conservation matters.
Can you describe your gear and how you chose your location?
I utilize a variety of wildlife camera makes including Browning, Bushnell and StealthCam models.  Remote trail cameras have passive infrared sensors that are triggered by both motion and heat when an animal passes by the camera.  I choose locations by reading the landscape to know where wildlife is likely to pass as well as knowing the habitat that bears, bobcats, beavers, otters, etc. prefer.  A common denominator with most of my camera set up locations is water including edges of ponds, streams and vernal pools as well as beaver dams which are wildlife superhighways.
What is your favorite height and base to mount your camera?
The height I set up my cameras depends largely on what my target species is but most times I set them up at about knee height.  If a moose is your target species then you  obviously need to the set camera up much higher or all you'll get are photos of moose kneecaps. In terms of mounting, all of my cameras are protected inside a stainless steel, camouflage colored bear box (which is an absolute must if setting up cameras where black bears might pass by) which is strapped and cablelocked to a tree.
How often do you check your camera?
As checking wildlife cameras is not part of my official "day job," I primarily check my cameras on weekends and after work.  On average, I try to check them every 4-8 weeks, but certainly have had some go 6+ months between camera checks.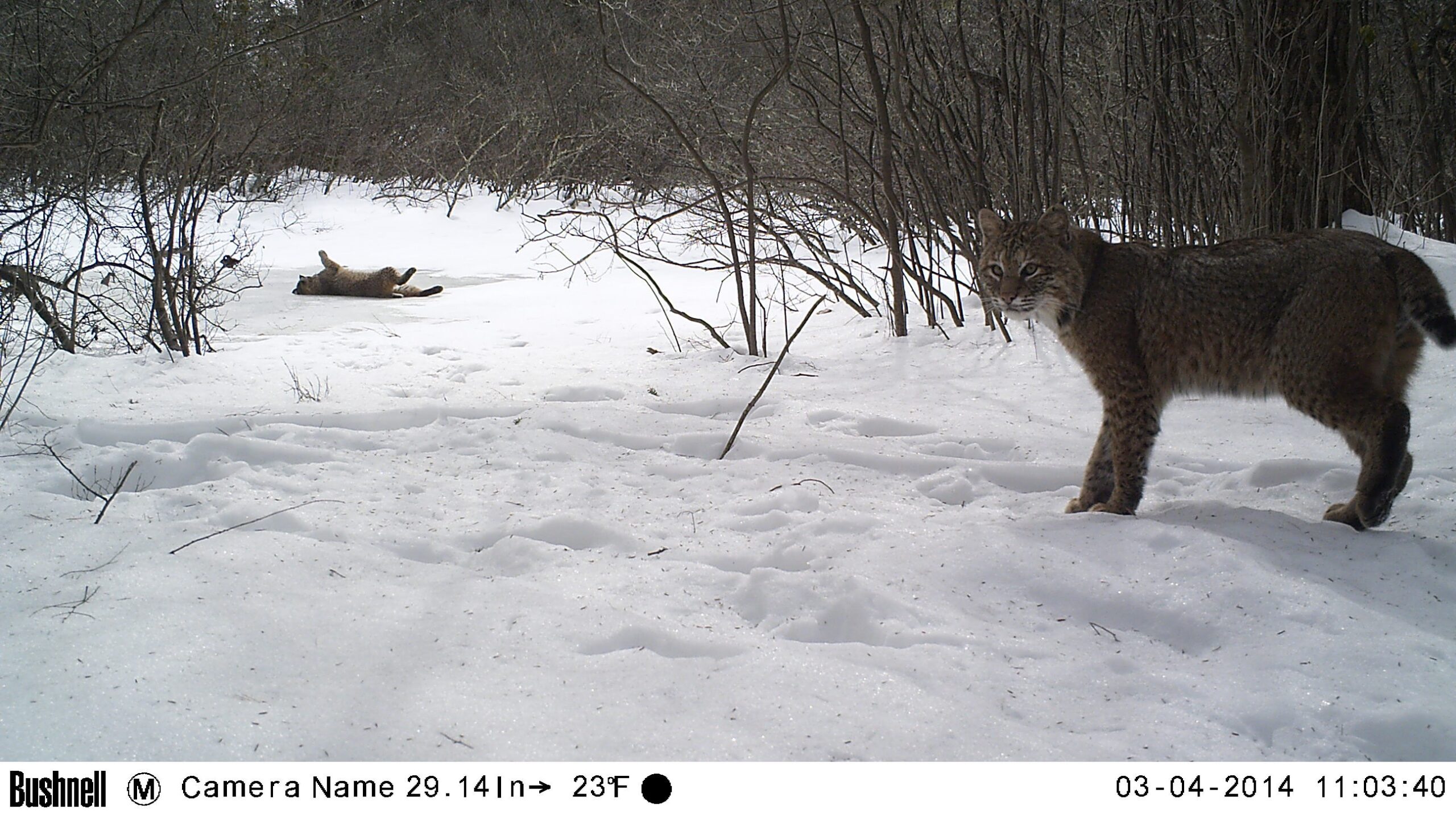 Sally's favorite photo capture.
Can you show us your favorite camera capture?
Hands down, my favorite animal to get on my camera is a bobcat, and better yet 2 bobcats which is rare except during their winter mating season. In this photo, the male has spotted my camera and the female (most likely in heat) can be seen in the background rolling around on a frozen over vernal pool in western MA.
How long was this camera out for?
In order not to intrude on wildlife and these bobcats specifically during their mating season (early Feb to late March), this camera was set up in late December and I didn't return to check it again until mid April.  It's important to respect the wildlife and the protected habitats that they call home.