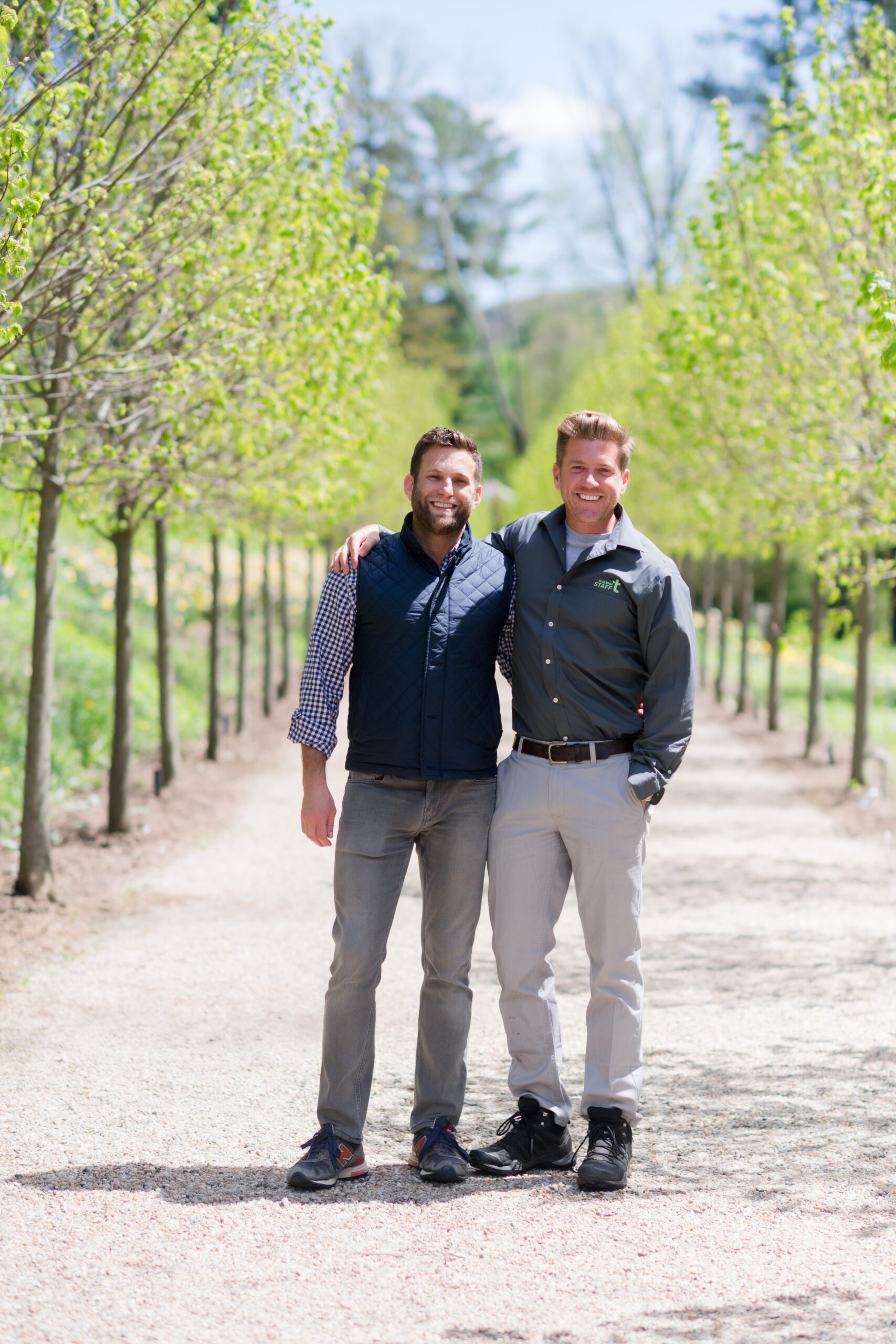 Brian Cruey and his husband Matt, at Naumkeag
Meet Brian Cruey
What do you do at Trustees? What's your role? Portfolio Director for the Southern Berkshires overseeing Naumkeag, Mission House, Ashley House, Bartholomew's Cobble, Tyringham Cobble, Ashintully Gardens, McLennan Reservation, Becket Quarry, and Monument Mountain.

I'm so grateful to work at an organization that faces the challenge to become a more diverse, equitable, and inclusive workplace, and lets me be my true self, every day, unafraid.
– Brian Cruey
What brought you to the Trustees? I have always had an interest in landscape design so, when I moved to the Berkshires in 2010, Naumkeag was my first stop among the many cultural sites this area has to offer. A few years after that first visit, The Trustees began the garden restoration of Naumkeag as part of the Cultural Resources Campaign, which would ultimately transform the property. I was so desperate to be a part of the amazing work I saw happening there that I relentlessly applied to just about every job that came up until they finally gave in and hired me in 2015 as the General Manager for Naumkeag and Mission House.
What does it mean to you that The trustees is celebrating Pride Month? Speaking to my own experience, when you grow up (gay), you spend so much time as a kid, trying to hide who you are. You're constantly editing your behavior and questioning your actions: Is my voice too high? Am I being too animated? Did I say the wrong thing? Am I doing anything at any point that is going to reveal who I really am? In rural Kentucky, it wasn't about trying to fit in – it felt essential to my safety and making it out of there in one piece. That anxiety and questioning takes a long time to unlearn and you never totally lose the feeling of walking into a new situation and thinking, "if I'm myself, am I safe here?"
Do you have any tips for fostering an inclusive environment where everyone is valued and can bring their whole selves to work? When we have Pride events, we are creating spaces in the real world where we are saying, "you don't have to worry about that. Be in this parade, be at this picnic, be in this cooking class, be on this hike; be in the majority here for a change, and just be yourself. Be in all of these places where most take for granted the ease in which they get to walk through the world, without fear."
Creating those spaces on a daily basis in our work environment is just as important and sometimes a lot harder. Removing the constant stress of trying to be someone you're not, lets people channel all that energy into more creative, productive, and positive ways. I'm so grateful to work at an organization that faces the challenge to become a more diverse, equitable, and inclusive workplace, and lets me be my true self, every day, unafraid.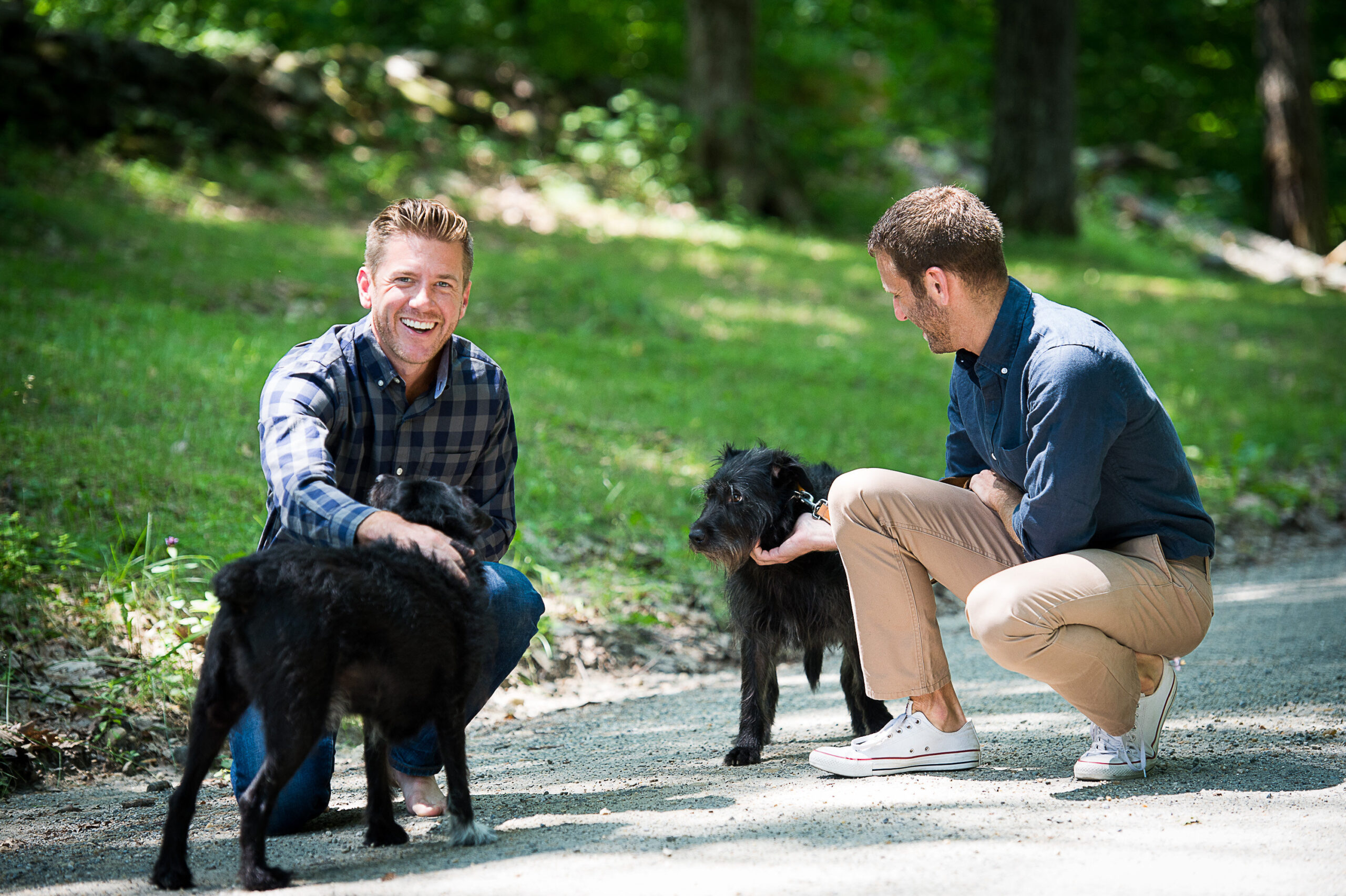 Brian Cruey with husband Matt and their dogs, Buddy and Mabel.
Do you have a favorite property? Ashintully Gardens is the closest property to my home in Otis, MA where I live with my husband Matt and our two dogs, Buddy and Mabel. There's just something about how the garden sets on the hillside at the forest's edge, that makes it feel much more natural and wild than most designed landscapes. The ruins of the mansion at the top of the hill are worth the short hike up the woodland path to look out over the Berkshire hills, enjoy the view and just sit with your thoughts. It is one of my favorite places to bring visiting guests and, though the site has been getting a lot more traffic in recent years, it still feels like an unknown treasure.
What do you enjoy doing when you're not at work? Fun fact: Otis is home to the Commonwealth's largest recreational lake, Otis Reservoir, which measures 1.65 square miles and is made up of three smaller bodies of water that were combined to make the larger lake in 1865. Half of the lake is developed, while the other half is protected forest managed by DCR (Tolland State Forest and Campground). I love spending summer on the lake with friends and being out on our pontoon boat. This year we upgraded the size of our motor so we can go fast enough that I can hopefully learn how to water ski!