As many of you may know June is a special month for the LGBTQ+ community. It is our month to celebrate our diversity and to promote self-affirmation, dignity, equality, and improve our visibility. Pride month dates back to 1970 after the Stonewall Uprising in New York City and continues to be our month to shine as a "Proud" community as opposed to the shame and social stigma we are often confronted with. The spirit of Pride month unites and energizes all members and organizations of the LGBTQ+ community to continue their visibility and mission throughout the year.
Gay for Good Mission
One such organization that works tirelessly and consistently to support the community is the Boston Chapter of Gay For Good, where I currently serve as a volunteer Chapter Leader. There are currently 1800 volunteers in the Boston Chapter. Gay for Good is a non-profit organization with 20 Chapters throughout the United States. It's mission is to mobilize LGBTQ+ volunteers to promote diversity, foster inclusion, and strengthen ties to the broader community. We envision a world where all people regardless of sexual orientation, gender identity, or expression feel seen, safe, valued, included, celebrated, equal, and proud.
We accomplish our mission by hosting "Service Projects" where our volunteers provide support to a multitude of non-profit organization throughout Massachusetts. There are several Service Events each month where as many as 40 volunteers participate.
Here are a few examples of the wonderful work of our volunteers; we distribute food to those in need, help manufacture Braille books for visually impaired children, collect and mail books to the incarcerated, prepare meals for those with chronic illnesses, collect litter and debris from public parks, help distribute toys and clothing to children in need and many other worthwhile causes.
As a Chapter Leader I am tasked with planning, coordinating and supervising each event. Gay for Good is entirely financially supported by donations and fundraising.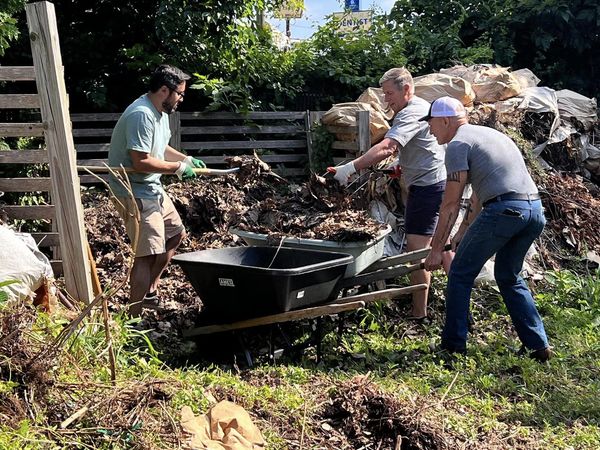 Gay for Good Volunteers at City Natives
Gay for Good Volunteer Work With The Trustees
Last summer I reached out to The Trustees' Director of Volunteers Services, Bob Bowers. I introduced myself and spoke to him about the mission of Gay For Good.
We instantly were aligned in thinking about how Gay For Good can support the mission of the Trustees. I suggested that we coordinate a Service Event in which our volunteers could help with the maintenance some of the Trustees' many sites.
A few weeks later myself and a group of volunteers met with Bob at City Natives in Mattapan, a neighborhood of Boston. City Natives helps propagate plants and seedlings which then get planted at one of the many Trustees' Reservations or are sold to the public. We spent the morning working on rotating and then spreading a massive pile of compost.
This service event solidified the partnership between Gay For Good and The Trustees'. Our volunteers clearly appreciated the significance of helping The Trustees with their mission and we looked forward to the next Service Project.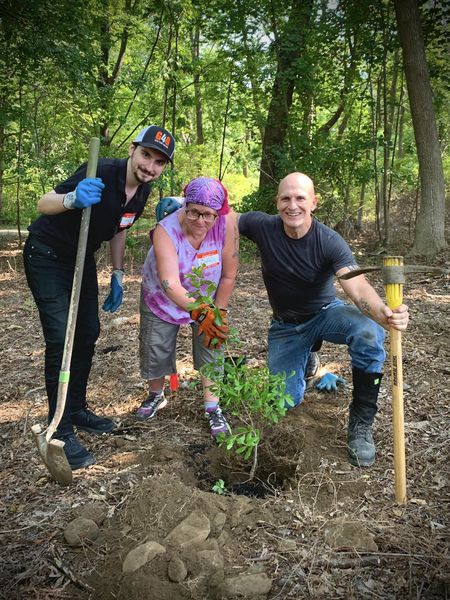 Gay for Good Volunteers at World's End
Gay for Good Volunteer Work at World's End
A couple of months later 25 Gay for Good volunteers joined the National Park Service and other volunteers at a Stewardship Saturday Event at World's End in Hingham, MA. We were given careful instructions on the proper technique for planting native species of plants in designated areas. Several hundred seedlings and shrubs were planted and watered. The event ended with all the volunteers gathering for lunch under the beautiful canopy of the historic trees found throughout the World's End Reservation.
Most recently Gay For Good Volunteers returned to World's End for another Stewardship Saturday. This time rather than planting native plants we were tasked with removing an invasive weed called Garlic Mustard. This weed can inhibit the growth of the more prominent native plants . We were able fill 25 trash bags with Garlic Mustard plants over a four hour period.
Our day ended sooner than we would have liked due to a rain storm. Nevertheless, we all enjoyed our work and felt a great sense of accomplishment. We were happy to contribute the beauty of World's End and we will without doubt return someday soon to continue our work.
As a Gay For Good Chapter Leader it is an honor to work with our amazing volunteers. I am surrounded by kind, altruistic, energetic volunteers who are devoted to improving the LGBTQ+ community while strengthen ties to the broader community. Our volunteers give generously of their time and talents to help make a difference in the lives of others. Through our partnership with the Trustees' we can help ensure that all people will continue to have the opportunity to experience the beauty of nature.
For more information about Gay For Good please visit: gayforgood.org