The 46th Annual Gardener's Gathering will take place on March 26 and 27.  Hosted by the Trustees Boston Community Gardens and the City of Boston, this year's theme will center around understanding relationships with land, and how that relationship relates to food production. In this Q&A, Trustees Boston Community Gardens Engagement Manager Michelle de Lima explains this year's program, and details the role that urban gardens can play in communities, beyond food production.
Q: The Gathering is now in its 46th year! Tell us about the theme this year, and keynote speaker.
A: The theme of this year's Gathering is structured around this idea of relationship to land, and how it relates to growing food and saving seeds. We have three special guest speakers—Kristen Wyman, Elizabeth Solomon and Nia Holley—who are from the Eastern Woodlands Rematriation Collective, which is a collective led by women and two spirit people who initiate and help sustain existing community-led food and medicine projects across tribal communities in the Northeast. They're coming to talk with us about indigenous food sovereignty, traditional foodways, and relationships to land.
To build on our theme, we also have several gardeners, past and current, from the Nightingale Community Garden to tell the story of the garden and what it means to them, their relationship with that land, and its evolution as a community space. We will also welcome an Iraqi seed saver who will talking about a seed saving quest he completed, and an herbalist who will discuss how to grow medicinal herbs, and explain how your relationship with the land where you live can help to support your health. The program also includes a nice array of garden skill building workshops, including Vegetable Gardening 101, how to start your own seeds, composting and soil remediation.
Q: Will the gathering be virtual? How can people take part? 
A: The Gathering will be virtual again this year and anyone interested in this year's program can register now at thetrustees.org/gathering for an e-program with all the workshop descriptions and links for keynotes and workshops. Since the workshops are virtual, there will be no limit on the number of people who can attend, and we hope to welcome guests from near and far!
Q: Why are these spaces important to communities who have them?
A: I think they provide several things. The first thing you might think of is food access, which is vital in many of the neighborhoods where our gardens are located. People grow a surprising amount of produce in these spaces, including some of the crops that may be harder to find here in Boston, or are traditional for them and their family to grow. Equally important is the community building aspect, people getting together who may or may not have the chance to interact otherwise. I think gardening is a great thing for people to get together around, even if you don't have much of a common language you can still share crops, seeds, and growing techniques.
Beyond the gardening, we're also working to open up the garden spaces to neighbors, community members, students, and other local groups to do meetings or field trips, or just to come in and enjoy. I think they provide a nice outdoor space in neighborhoods where there aren't as many parks available, or where people may not have yards. And seeing open green space is just so therapeutic on its own! We also grow a lot of native plants in the borders and common areas of the gardens, hoping to support the urban ecology, and pollinator populations.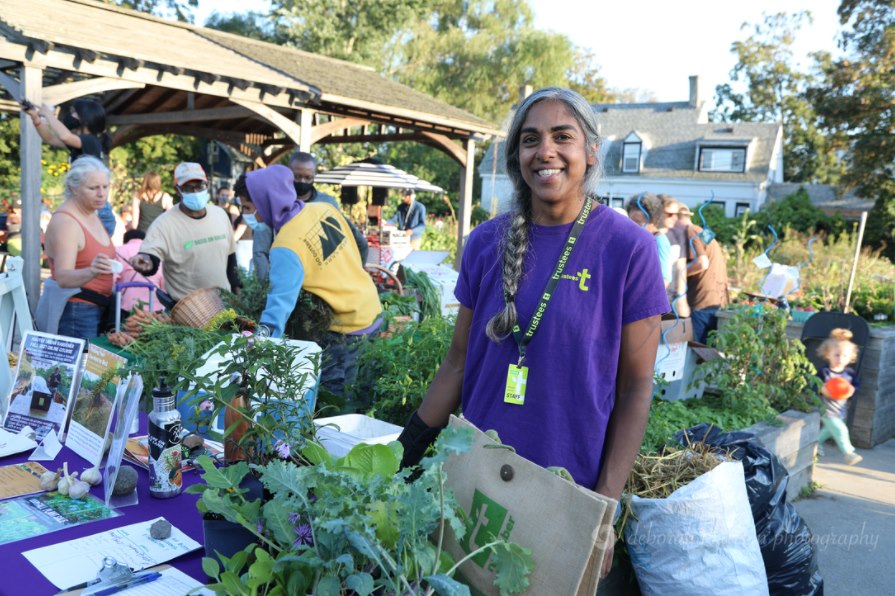 Trustees Community Gardens Engagement Manager Michelle de Lima (Courtesy Deborah J Karson)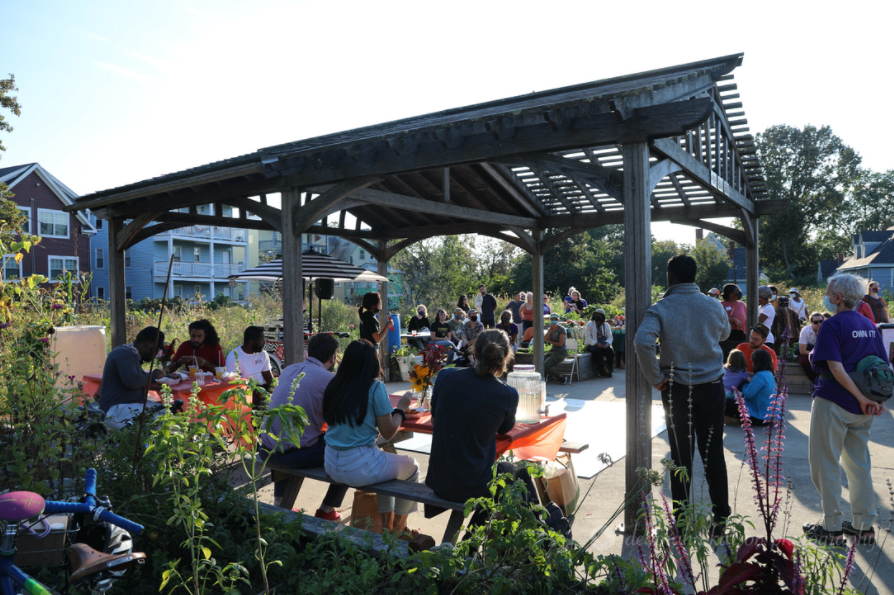 Green New Dance Party, Nightingale Community Garden (Courtesy Deborah J Karson)
Q: What are the community garden awards? Why are they an important part of this tradition?
A: For about 15 years, we've been presenting these awards which are a play on baseball recognitions: we have the "Rookie of the Year," the "Most Valuable Gardener," and the "Hall of Fame Garden." The awards are a nice chance to recognize people who are working hard to improve their neighborhoods, food access, and open space, and may not get recognized outside of their community. Having this citywide opportunity to celebrate the contributions people have made is a nice thing.
Last year it was really fun to recognize for the Hall of Fame Garden, Leland Cooperative Herb Garden in Jamaica Plain, which is a really community oriented space. It operates as a cooperatively run garden with lots of herbs and raised beds, and they're always doing fun projects and hosting welcoming events. It has been around for a long time and some of the original founders are still there. It was so much fun to hear about the evolution of the garden, and about the hard work the community is putting into it.
Our Most Valuable Gardener last year was Robin Saunders, who is a gardener at Nightingale Community Garden and is active in the Dudley Greenhouse and the Dorchester Food Project. She works tirelessly to expand food access in her community and is so humble—it's wonderful to recognize and appreciate someone like that. The Rookie Garden was The Ellington Community Food Forest in Dorchester, which is a broad community effort with many people pitching in. Even though it's a new garden there's so much energy there, and a lot of effort has been put into it.  Stay tuned for this year's winners!
Q: What's ahead for this year's gardening season in The Trustees Boston community gardens? 
A: We're excited to offer a lot of great workshops as usual, including the "Seed Sow and Grow" workshop series. You can expect an expanded offering of concerts in the garden, which were such a big hit last year. And we'll also be hosting some celebrations like last year's "Eastie EcoFest" and "Green New Dance Party" and maybe other fun community celebrations with a connection to sustainability and environmental justice.
Q: How can people get involved with the Boston Community Gardens? 
A: We hope to see anyone interested in gardening at the Gathering! It's a great way to meet a very engaged community of people connected around this shared interest. And for anyone curious about getting a garden plot, please go to thetrustees.org/communitygardens and look at the list and map. Fill out the form to let us know which gardens you are interested in!
##
The Trustees is the largest nonprofit owner of community gardens in Boston, with 56 under Trustees management, totaling 15 acres across eight Boston neighborhoods: Dorchester, East Boston, the Fenway, Jamaica Plain, Roxbury, Mattapan, Mission Hill, and the South End. Our role as caretaker of Boston's green spaces doesn't stop with our own gardens: we help to coordinate activities related to all of the city's 175 community gardens, touching more than 18,000 individuals and families annually. 
To learn more about our Gardens, visit: thetrustees.org/Boston. For our Community Gardens programming visit: thetrustees.org/seedsow. To register for the Gathering, visit: thetrustees.org/gathering.
Find more information about The Trustees in Boston here: thetrustees.org/bwi