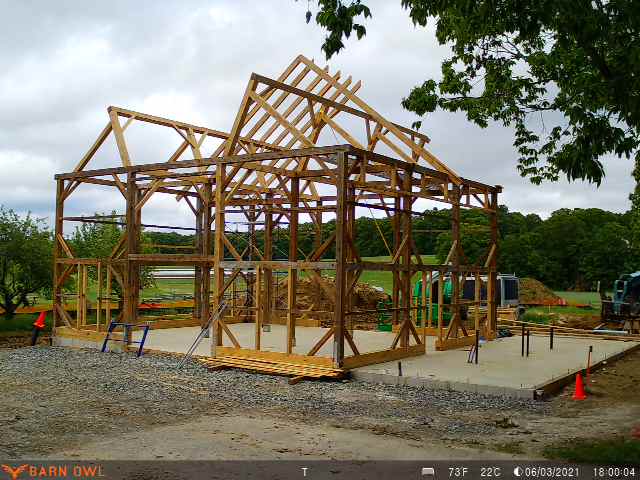 Chestnut Hill Farm Barn in progress
The Trustees announced the relocation of the historic Deerfoot Barn to Chestnut Hill Farm—the last remaining working vegetable and livestock farm in Southborough. 
The barn is a late nineteenth century, Dutch-inspired, timber frame center-aisle structure that was originally housed on Deerfoot Road. The structure was brought to the attention of the Trustees by the Southborough Historic Commission. The Trustees purchased and saved the barn in 2019, dismantled it, and sent the timber frame to Antique Barn Company in New Hampshire for a piece-by-piece restoration to preserve the heart and soul of the structure and showcase the artistry and craftmanship of an earlier time. The company is now on-site and engaged in the reconstruction process which will rehome the barn and provide Chestnut Hill Farm with a year-round community gathering space for programming and special events.   
"This is an incredibly exciting moment for us because it's a project that has been in the works for a long time, and we're so grateful to the community for its support," said D.A. Hayden, Charles River Valley Portfolio Director at The Trustees. "The Deerfoot Barn represents the deep agricultural history of Southborough that lives on here at Chestnut Hill Farm." 
Originally erected in the 1890s, the gable-entrance, bank barn is 32 feet by 36 feet consisting of four bents and three bays and was used as a working agricultural barn well into the 1900s. The barn was originally built into the side of a hill for access on two levels, allowing door access above and below for both floors. 
Dillon Williams of Antique Barn Company said the process to give a barn a second life is a complex and time-consuming one. After identifying all the parts, the frame is stripped and all impediments removed in order to get down to the bare timber frame. Then the pieces are disassembled and sent back to the shop in New Hampshire where the timber is cleaned, inspected, and modified as necessary. Finally, workers preassemble sections of the barn in New Hampshire before being transported to Chestnut Hill Farm for final re-erection.