Please note:  Baker's Pasture will not have Lifeguards on Duty for Labor Day weekend (Sept 5-7).
Bakers Pasture Alternative Parking
Bakers Pasture at Crane Beach is an alternate Crane Beach parking area being used temporarily to accommodate high demand for beach access. This is an exquisite stretch of beach that's perfect place for those who don't need the amenities of the bath house, concession, and retail options of the main beach.
Here, you'll enjoy one of the finest beaches and outdoor recreation destinations on the East Coast. With its clean, inviting water, miles of shoreline, and mesmerizing views, Crane Beach has been a favorite with the ocean-loving public for generations.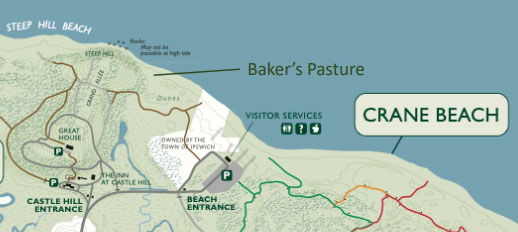 FOR YOUR VISIT
Please be aware of the following:
The Bakers Pasture lot is open 9AM to 4PM, daily.
Portable toilets are available.
There is no access to the beach store or concession stand except via a 0.5 mile beachfront walk.
Exit and re-entry on the same day is not permitted.
For the safety of staff and visitors, tickets will not be sold onsite.
One ticket per vehicle provides entry for all passengers arriving in one vehicle.
Bakers Pasture is not handicap accessible. Accessible spots are available in the Crane Beach main lot.
Bakers Pasture Parking