Walking barefoot along the dunes brings me joy. I feel like a kid.
– Jayne
As Trustees staff and administration, we are lucky to see many of our Members through emails and social media posts. Their experiences are well worth sharing with everyone. This blog introduces us to Jayne from Melrose.
Q: Do you have a favorite Trustees property?
A: The Crane Beach loop is my favorite for now. I say for now because I continue to explore new properties and there are lots of close seconds. I would have to say that the dunes are my favorite because for years I went to Crane's Beach and never knew that there were hiking paths to explore until I signed up for a program with the Trustees. Walking barefoot along the dunes brings me joy. I feel like a kid. I love how many different paths you can take and each twist and turn brings a different view and texture. It's very peaceful. Even though it is popular it has never been crowded and there are many times when I have been alone on a trail soaking in everything nature has to offer including a visit with a deer. I am still in search of seeing a snowy owl.
Q: Why did you choose to become a Member?
A: I chose to become a Member a few years ago when I started asking people for recommendations for beautiful places to hike near Boston and so many of the recommendations were Trustees properties. I love how well maintained the trails are and the variety of proprieties. It's also a special perk to get discounts at gift shops. Who doesn't love a discount?
Q: Is there a Trustees program or event that you participated in that you especially loved?
A: I have participated in a few programs and my two favorites are the moonlight hike at Crane's Beach and kayak program. For both programs, the guide was so knowledgeable and the participants were so friendly. The night of the moonlight hike there was a storm coming and 40 or so participants arrived thinking that perhaps we would be disappointed by the forecast. We started over the walkway from the parking lot to the beach and to our right appeared the most magical moon that guided us through the dunes. The program was more intimate with about 8 people. We quickly made friends and it felt like a dinner party on a secluded island.
Q: Where would you recommend a first-time Trustees visitor go?
A: Everyone likes something different so it would be hard to recommend one place. I would recommend going to the website and learning about the many options of properties to explore and choosing an adventure that seems right for them. The descriptions are accurate. I might start with the list of 110 places to hike/walk.
Q: Where will you be heading for your next outdoor adventure?
A: I will be headed to Ravenswood Park in Gloucester. Listen to the description "Large hemlock trees, miles of winding trails, and a rare magnolia swamp are all reasons to visit the 500-acre property."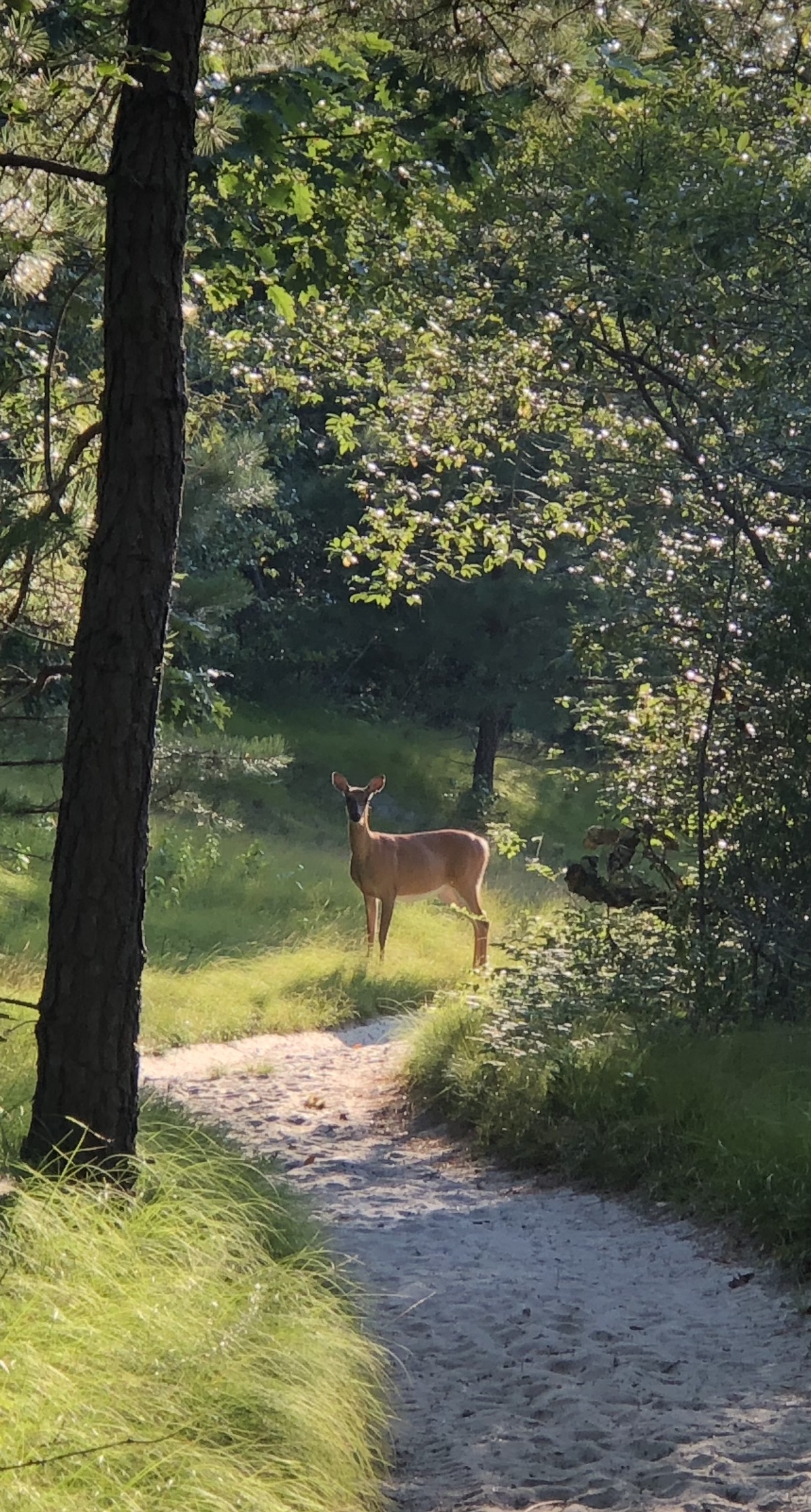 Deer in the dunes at Crane Beach.