Each is owned and managed by The Trustees, and beyond their interesting pasts, they offer unique ecological habitat and visitor experiences. 
Stewarding islands can bring its own unique set of challenges, from transporting equipment and staff across the water, to the amount of open space and unique landscapes that are maintained. The Trustees have committed to dedicating resources and deploying volunteers to keep these special places enjoyable for all of our visitors.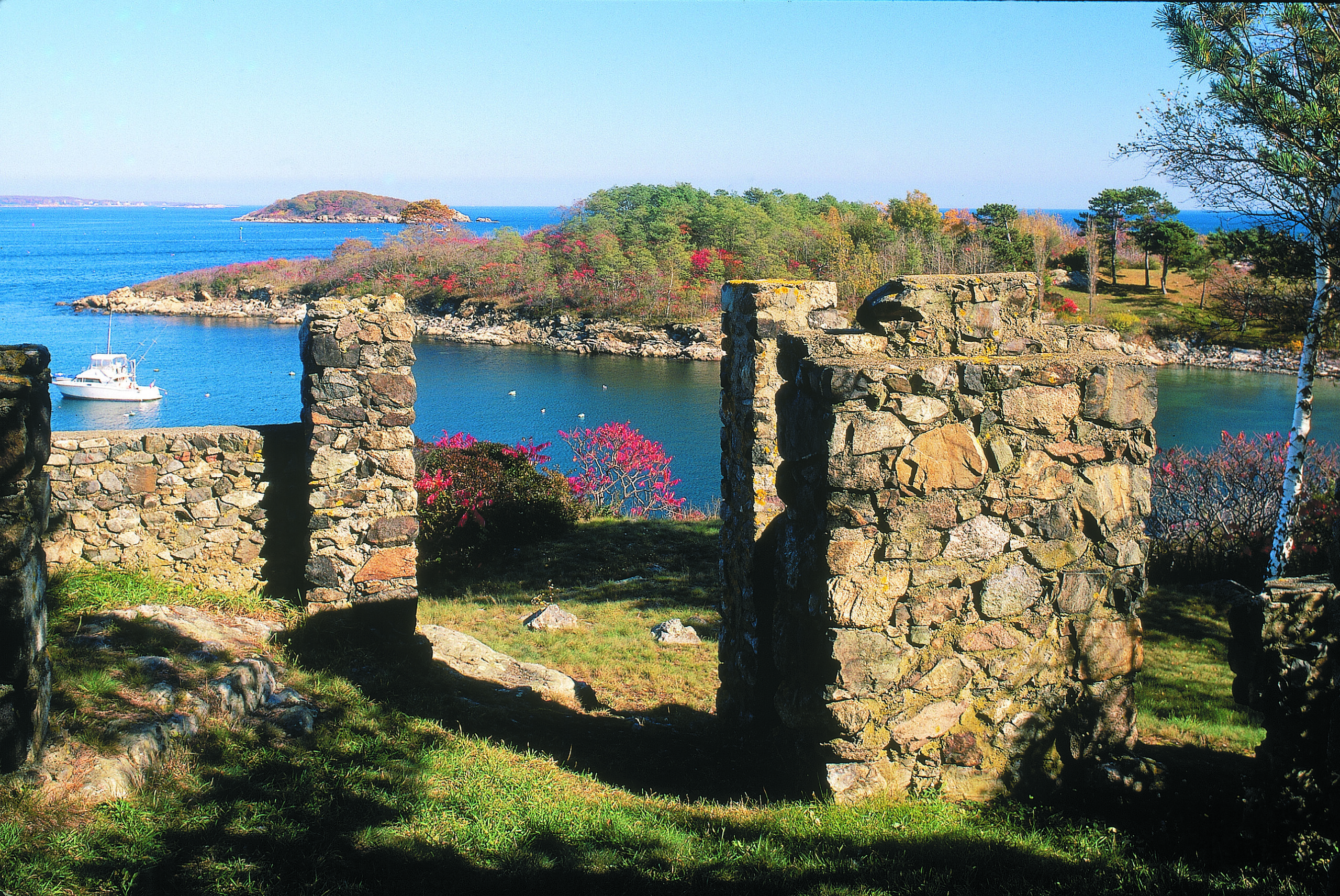 Photo of Great Misery Island, Courtesy Richard Cheek
Misery Islands
Misery Islands, located in Salem Sound, became one of the Trustees special places in 1935. North Shore residents were actively involved in preventing oil tanks from being placed on the islands. The Misery Islands include Great Misery Island, 83.5 acres, and Little Misery, 5 acres which is located southwest of Great Misery. Money was raised and the Trustees purchased and protected all but 12 acres of the two islands – the final three acres were purchased in 1997.  
Ruins from early development on the islands remain and add an element of mystery to exploring the islands. In the early 1900s, summer cottages and bungalows dotted Great Misery Island. Tournaments and regattas attracted Boston and North Shore socialites. An article in New England Magazine from that time shares how the newly formed Misery Island Club "began at once to improve the spot with such energy that in less than fifteen years a clubhouse, an ice-house, a caddy-house, and fine golf links have sprung up on the island." 
Just a year after opening, the Misery Island Club was in financial trouble, owing debts to contractors and back taxes to the City of Salem. The city took possession of the islands and sold them at auction in 1904 to a group of investors called the Misery Island Trust. Different investor groups would try various recreation plans, including a casino. Unfortunately, that building, among others, burned down in 1926. A few cottages were saved from the fire and moved by barge over to Marblehead Neck. 
The bones of various shipwrecks offer another view of the islands' historical past just offshore. Included are the remains of a steamship "City of Rockland," which was being scuttled after having had at least six major mishaps in Maine. 
More than two miles of trails at Great Misery Island leads you to spectacular overlooks, stony beaches, and grassy fields. You can also reach Little Misery Island from Great Misery Island by wading across a narrow, shallow channel, or utilizing another form of water transportation.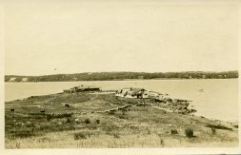 Postcard Collection given to The Trustees in 1993 by William A. Currier. Collected from his cousin Clara H. Currier (born in June 1888) who visited the island often when it had buildings.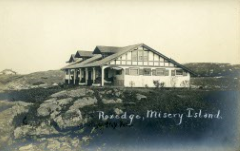 Postcard Collection given to The Trustees in 1993 by William A. Currier. Collected from his cousin Clara H. Currier (born in June 1888) who visited the island often when it had buildings.
Crowninshield Island
Also known as Brown Island, Crowninshield Island is a 7.5-acre rocky landmass near Little Harbor in Marblehead. The Crowninshields bought the island from the Browns in 1918 for one dollar. In 1955, the island was given to The Trustees by Louise du Pont Crowninshield. The Crowninshields are an old Boston Brahmin family with roots in Salem as shipping merchants. Francis "Frank" Boardman Crowninshield, Louise's husband, was a renowned yacht-racer and expert marksman. 
Louise was well-known as a collector and scholar of Americana. She helped to lay the groundwork for what would become America's historic preservation movement. Her work is recognized as having been of key importance to organizations such as the National Park Service, National Trust for Historic Preservation, and the Salem Maritime Complex 
Louise and Frank would summer at their home at Peach Point on Dolliber Cove in Marblehead. They planted hundreds of conifers on the island. But by 1961, most had been destroyed from the effects of wind and rain. New seedlings were planted sometime in the 1960s by Trustees' staff to replace the older specimens. As a result, the upland is dominated by several varieties of conifers including Douglas fir, white fir, Norway spruce, red spruce, and Austrian pine, and deciduous trees including Norway maple, black locust, and plane tree.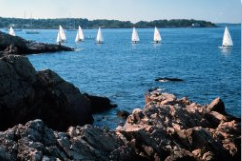 Stewardship Collection, 2015.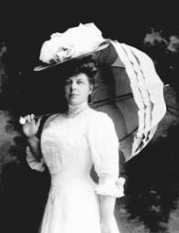 Winterthur Garden Blog, 1900.
The Trustees never officially changed the island's name so on nautical charts you will see it called Brown Island. Before the Crowninshields, the Browns owned the island from 1797-1918. Recent efforts by Crowninshield relatives to change the name to Crowninshield were turned down by the Board of Selectmen back in April 2009, and then by the U.S. Board on Geographic Names in 2012. Their most recent effort was approved by the Marblehead Selectboard on June 5, 2023, and awaits approval by the Harbors and Waters Board. 
As part of the Trustees' stewardship efforts, each year a volunteer clean-up campaign occurs to gather up the trash and fishing gear that has washed ashore. 
Gerry Island
Gerry Island is a beloved and iconic feature of Marblehead's coastal landscape with a history of national significance. It is visible from Gas House Beach, Crowninshield Island, and historic Fort Sewall. The Trustees' acquisition of Gerry Island in 2018 provided additional public access to the Massachusetts coast. 
Gerry Island can be visited by foot via a naturally occurring gravel land-bridge (tombolo) exposed for several hours at low tide, or by small craft at higher tides. During summer months the Island is a popular destination for residents seeking to explore the intertidal zone, enjoy unique views of the historic Marblehead shoreline, or visit in kayaks or on stand-up paddleboards. 
The island is referenced in the historical record as early as 1635 as Maverick's Island. In the mid-18th century, the island was acquired by Thomas Gerry, whose son Elbridge Gerry, rose to local prominence as a signatory to the Declaration of Independence, Governor of the Commonwealth in 1810 and as Vice President to James Madison. He is most lastingly remembered with the term "gerrymandering" after he signed into law a re-districting bill that favored his party. 
The island is undeveloped, with only the remnants of a seawall to identify a former residence that burned in the 1970s. The intertidal zone provides habitat for foraging and resting for seabirds and shorebirds. Massachusetts Natural Heritage and Endangered Species Program identifies the island as designated habitat for foraging terns. 
Misery Islands, Crowninshield and Gerry Island are well worth wading, paddling, or boating to visit – from their unique vistas to their important cultural pasts and environmental significance, each offers a unique view into the historic and ecological landscape of the North Shore of Massachusetts. Visit our property pages for each island, linked in the sidebar of this blog, to learn more about how to see them yourself.
The Trustees' Archives & Research Center welcomes donations of documents, manuscripts, postcards, photographs, maps and memorabilia that pertain to a particular property. Please contact us at 781.784.8200 or arc@ttor.org.