Sometimes when we least expect it, exciting discoveries happen. We recently fielded a call from Colonial Williamsburg Foundation's Senior Curator of Textiles, Kim Ivey. This led to our discovery that the institution had in their collection an antique needlework picture from the estate of Mrs. Florence H. Crane which they purchased at the 1950 auction at Castle Hill.* It was listed in the auction catalog as Lot 351, a "Queen Anne Needlepoint and Crewel Embroidery Flower Picture" from the early 18th century, sized at 9 ½ x 10 ½ inches.
Ms. Ivey kindly reached out to us because the small English needlework picture had just been slated for deaccession with the goal of transferring it back to Castle Hill. After evaluating their textile collection, she realized that this piece had not been on display for decades and would likely remain in storage. Remembering that an executive group from Williamsburg had visited Castle Hill last summer and learned about our interior restoration efforts, it helped her make the case that it would be appropriate to return the object to the historic house from which it was purchased. This is a rare occurrence and a much-appreciated gesture between museum institutions. So, when she rang to ask me if we might want it back, the resounding answer was, "Yes! We would be thrilled to have the picture back in the Great House."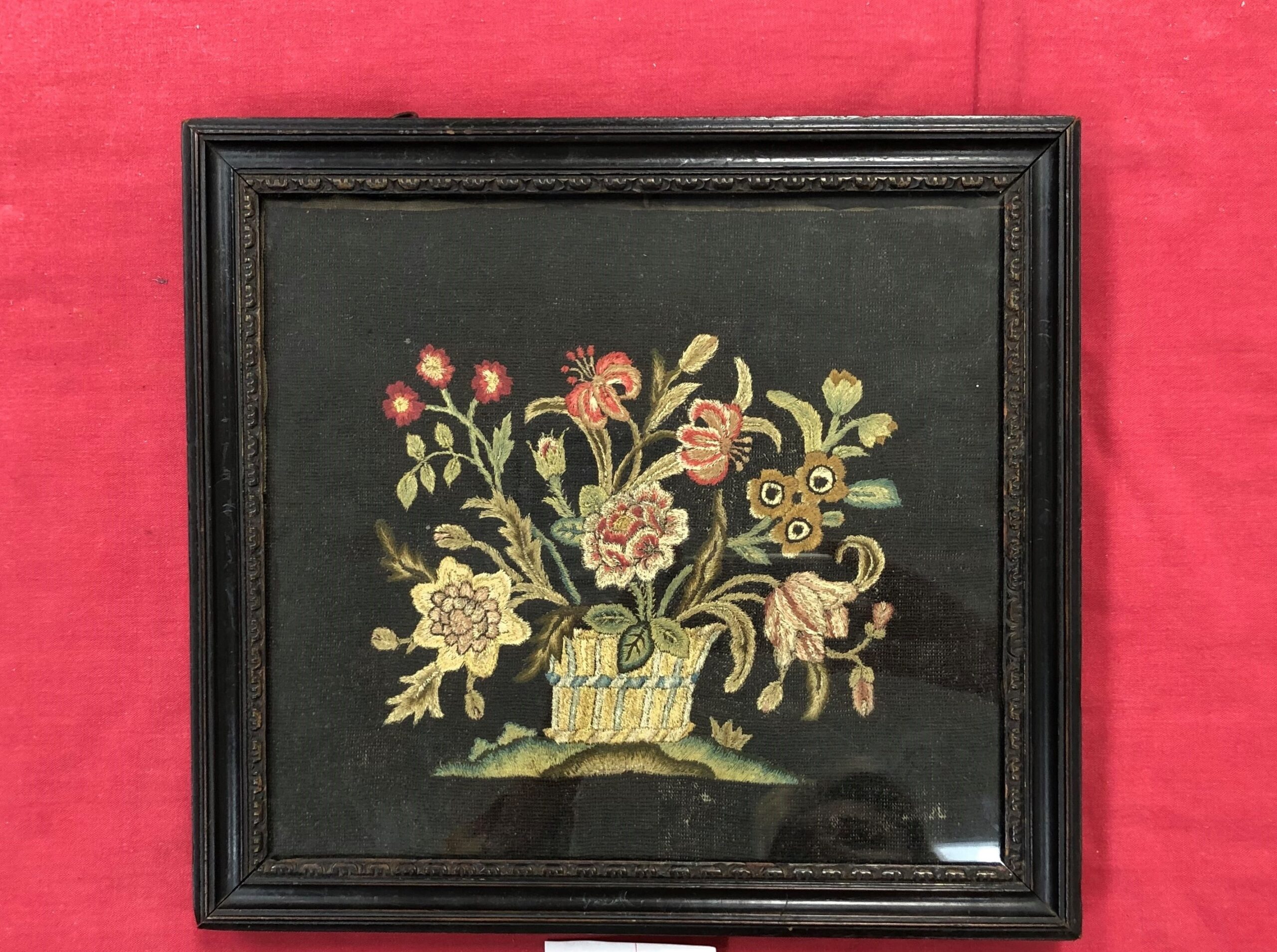 The English needlework returning to Castle Hill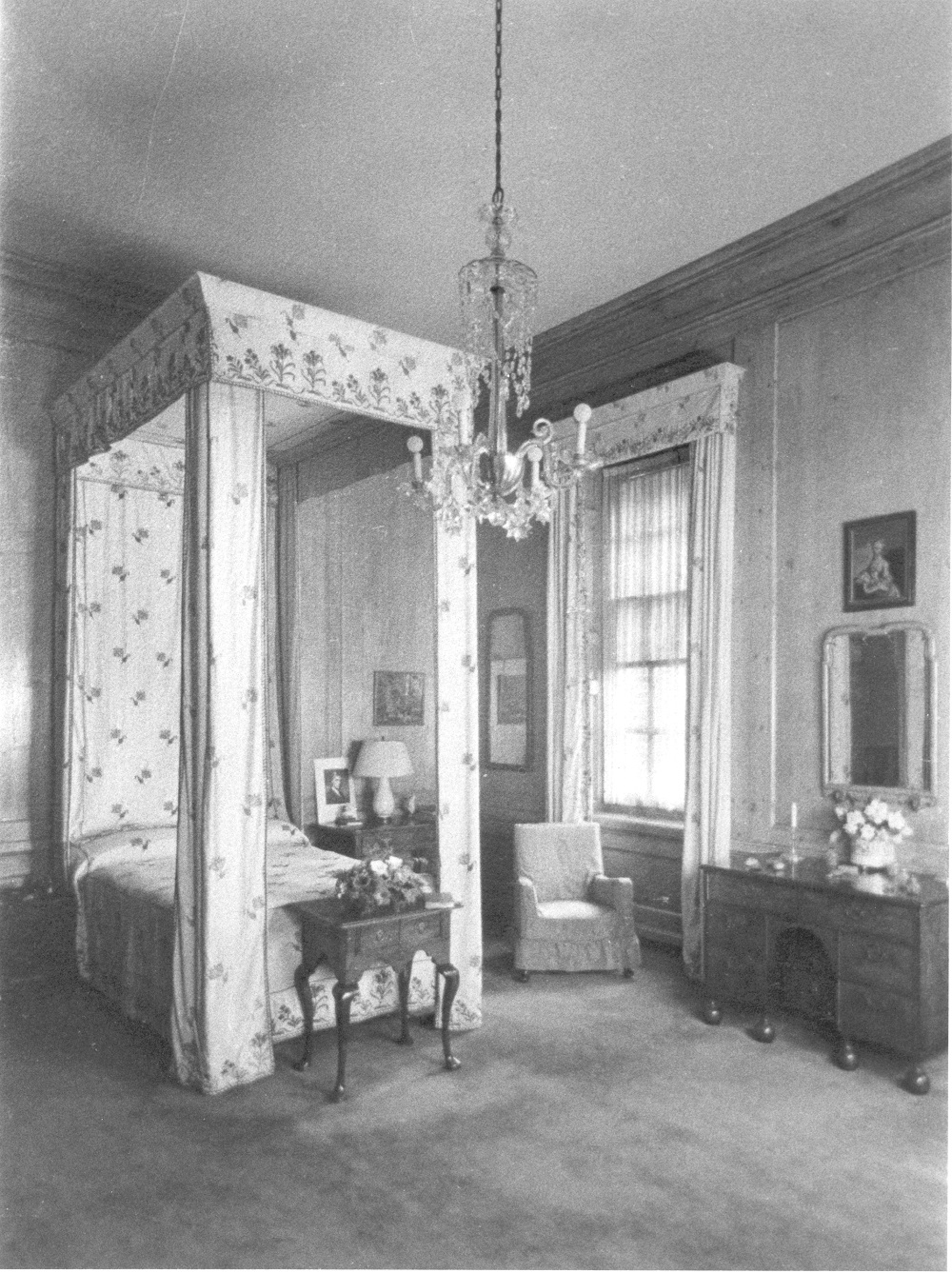 Mrs. Crane's bedroom. c.1930s
As serendipity would have it, my Collections and Interiors Committee and I have been acquiring English needlework pictures since 2017 as part of our interior restoration efforts for Mrs. Crane's bedroom. That included one piece which closely fit the description of the picture being returned, along with others that closely resembled pieces seen in archival photographs. The Williamsburg piece will now add further authenticity to our restoration efforts and enhance The Trustees' holdings of decorative arts objects originally owned by Mr. and Mrs. R.T. Crane, Jr.
Mrs. Crane's warm and elegant bedroom suite housed a collection of early English needlework pictures. The collection was part of the room's design focus on English textiles where crewelwork fabric was used for her draperies and bed hangings. This all tied in with David Adler's English country house design for the Crane mansion with interior inspirations ranging from 17th century Baroque to 18th century Queen Anne and Georgian styles.
Some History about English Needlework from the Crane collection
We know from the auction catalog and inventory listings, as well as from David Adler's furniture inventory photographs for Mrs. Crane, that the collection of English needlework pictures included a rich variety of pieces from the mid-to-late 17th century to the early 18th century, including needlepoint, crewel embroidery, and stumpwork. Not only are the works highly decorative but they also represent textile art created predominantly by women, particularly young women of high social status learning the skillful art of needlework.
"Stumpwork" – a late 19th century term for what would have been called "raised" or "embossed" work in its own time – became very popular in England from roughly 1650-1700, during the Stuart era with the reigns of Charles II, James II, and William and Mary. Kings and queens were often depicted in stumpwork pictures, as well as biblical or mythological scenes. Surviving examples in good condition are among the more rare and valuable pieces today.
The technique was complicated and intricate. Stumpwork is needlework in which all or most of the ornament is raised into relief on a foundation of wool, cotton, linen, or silk. Figures are often the most prominently raised features, with stitches worked around small pieces of wire. Other common design elements include flowers and foliage, animals and insects, architectural features, and ornamental borders. Padding is usually in the form of felt layers which are then covered in a layer of embroidery stitches. In elaborate examples, we see pictures worked in silk with gold and silver threads, embellished with small pearls, semi-precious stones, and beads.