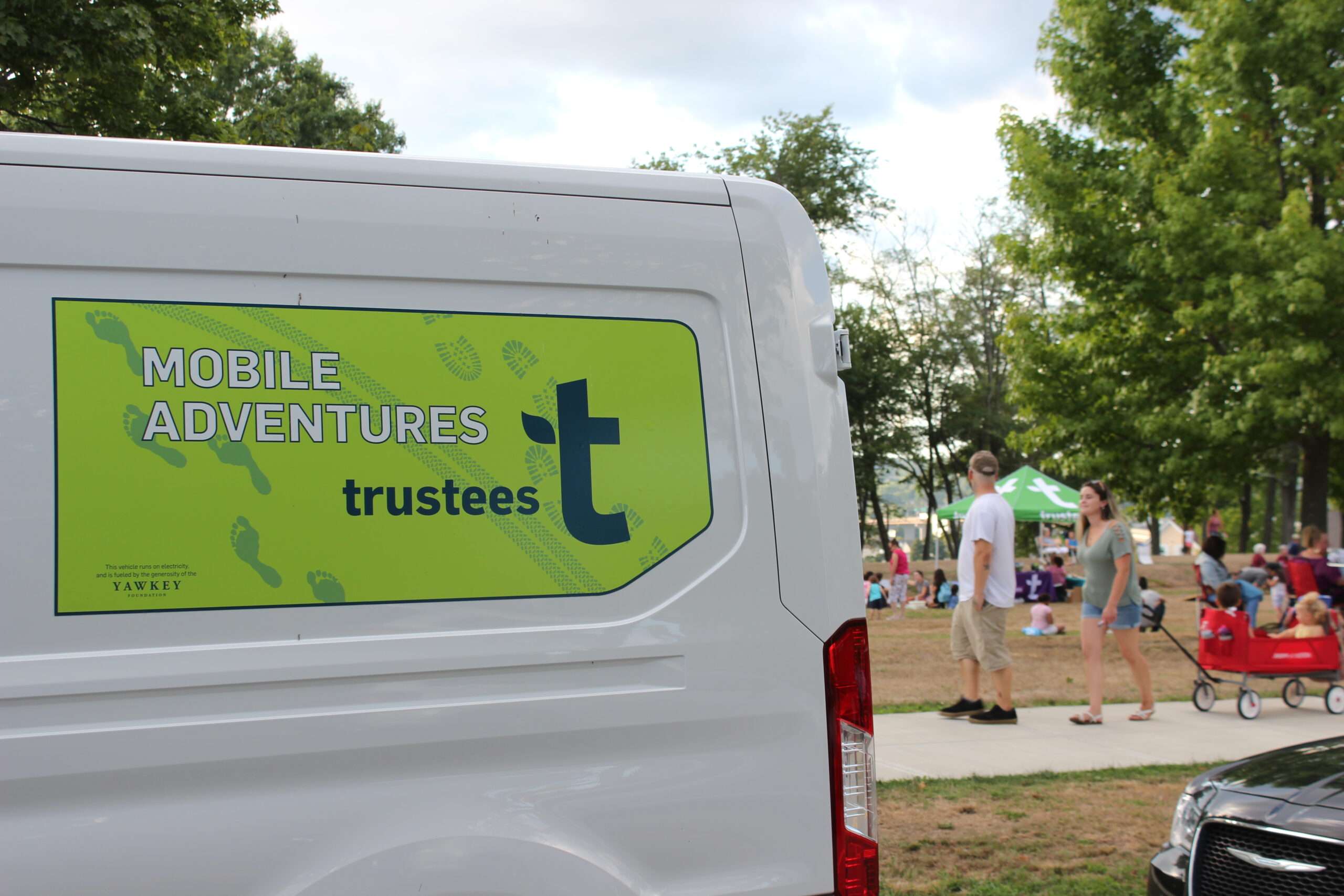 Trustees Mobile Adventures van.
The Trustees of Reservations (The Trustees), the nation's first and state's largest land conservation nonprofit, received a grant from the Yawkey Foundation, a nonprofit that provides resources, opportunity, and dignity to the vulnerable, for a Trustees Mobile Adventures van that employs a food truck model to bring nature-based play and recreational experiences directly to underserved communities.
The $75,000 grant from the Yawkey Foundation enabled The Trustees to purchase a commercial van outfitted with a variety of small-scale outdoor nature play elements that allow for coastal exploration, geologic investigations, climbing, and dirt/water play. Led by experienced outdoor educators, hands-on creative play such as fort-building, fairy house explorations, and nature-based crafts will also be included.
"This is a way to get people outside experiencing and appreciating the natural world in communities where there are fewer opportunities to do so," said Jennifer Klein, Director of Outdoor Experiences at The Trustees. "While we continue to welcome people to our 123 properties across Massachusetts, Mobile Adventures is a perfect way to literally meet people where they are which is why we're so grateful for this grant from the Yawkey Foundation."
The initial communities that will be visited by the Mobile Adventures van include Fall River, New Bedford, and East Boston with the van visiting community events, festivals, and often operating in partnership with cities and towns to visit local parks and community centers.
"Tom Yawkey and his wife Jean had a deep appreciation for nature and dedication to protecting natural resources, which is why the Mobile Adventures initiative so effectively brings together our organizations' mutual commitment to providing access to enriching outdoor opportunities, especially in underserved Gateway communities," said Maureen H. Bleday, CEO of Yawkey Foundation.
Participants will also be able to learn about nearby Trustees properties as well as The Trustees' mission of land conservation, ecology, and environmentalism.
Here are a handful of events The Trustees Mobile Adventures van will attend:
August 31, East Boston Farmers Market, 2:30-7PM, Central Square Park, East Boston
September 10, Eastie Eco-Fest, 2-4PM, Joe Ciampa Community Garden, East Boston
October 13, AHA New Bedford, 4-6PM, 613 Pleasant St., New Bedford
For more information and updates on the Mobile Adventures van and schedule, visit thetrustees.org/adventurer.
About The Trustees
Founded by landscape architect Charles Eliot in 1891, The Trustees has, for more than 130 years, been a catalyst for important ideas, endeavors, and progress in Massachusetts. As a steward of distinctive and dynamic places of both historic and cultural value, The Trustees is the nation's first preservation and conservation organization, and its landscapes and landmarks continue to inspire discussion, innovation, and action today as they did in the past. We are a nonprofit, supported by members, friends and donors and our 123 sites are destinations for residents, members, and visitors alike, welcoming millions of guests annually. thetrustees.org.
About The Yawkey Foundation
The Yawkey Foundation is dedicated to perpetuating the philanthropic legacy of Tom Yawkey and Jean Yawkey, whose eight decades of quiet generosity supported individuals and families in the communities that were closest to their hearts – Massachusetts and Georgetown County, South Carolina. The 31-square mile Tom Yawkey Wildlife Center along South Carolina's Georgetown Coast, donated to the State of SC by Tom Yawkey in 1977 and maintained in perpetuity by the Yawkey Foundation, is considered one of the most exceptional gifts to wildlife conservation in North America. Yawkey Foundation has awarded more than $530 million to-date in charitable grants to organizations focused on health care, education, human services, youth and amateur athletics, arts and culture, and conservation and wildlife, the Yawkey Foundation is committed to preserving and sustaining the charitable values of the Yawkeys by investing in nonprofits that provide resources, opportunity, and dignity to the vulnerable and underserved. For more information, please visit www.yawkeyfoundation.org, or follow us on LinkedIn, Twitter and Facebook for the latest announcements.
###