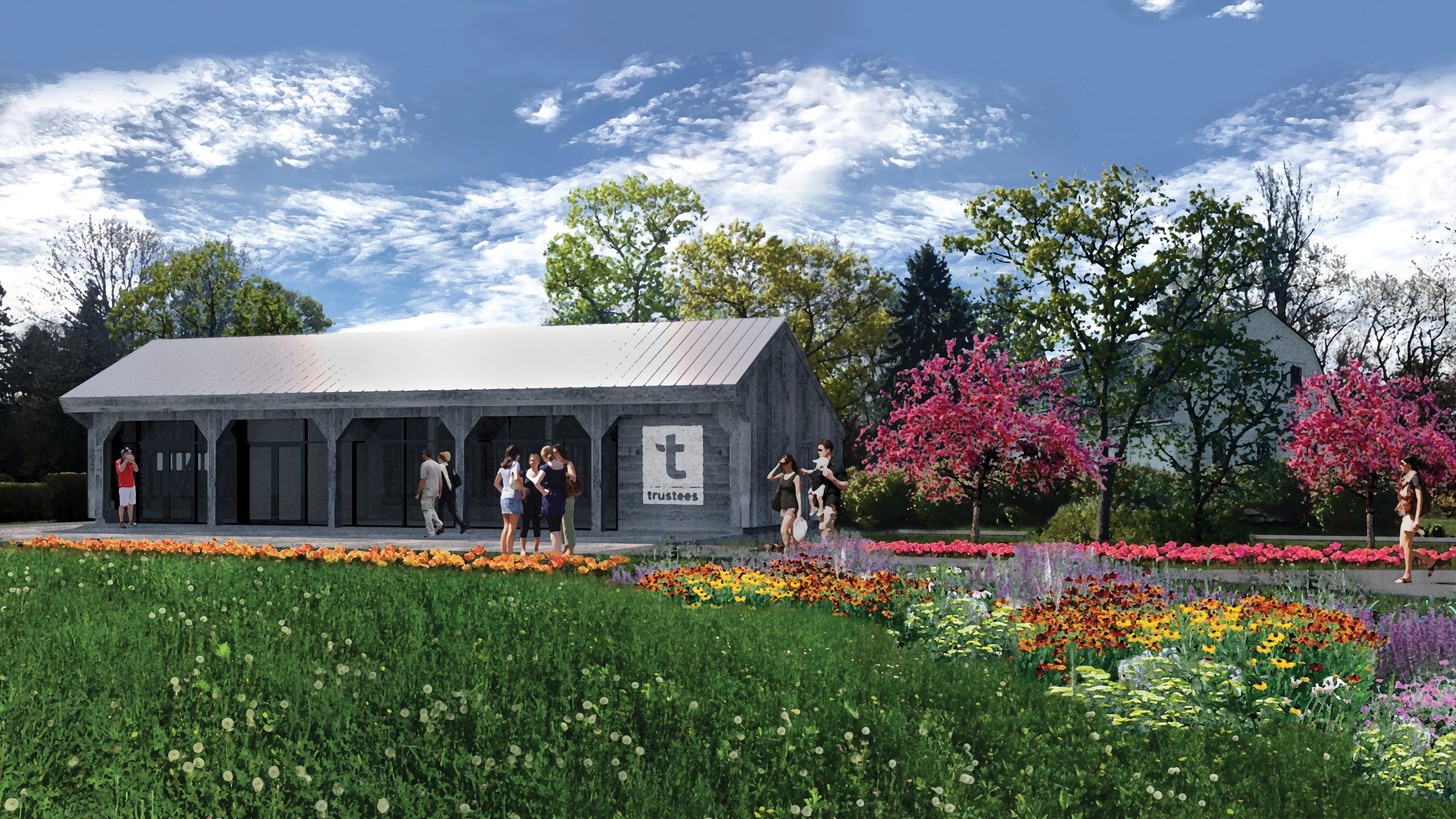 Stevens-Coolidge House & Gardens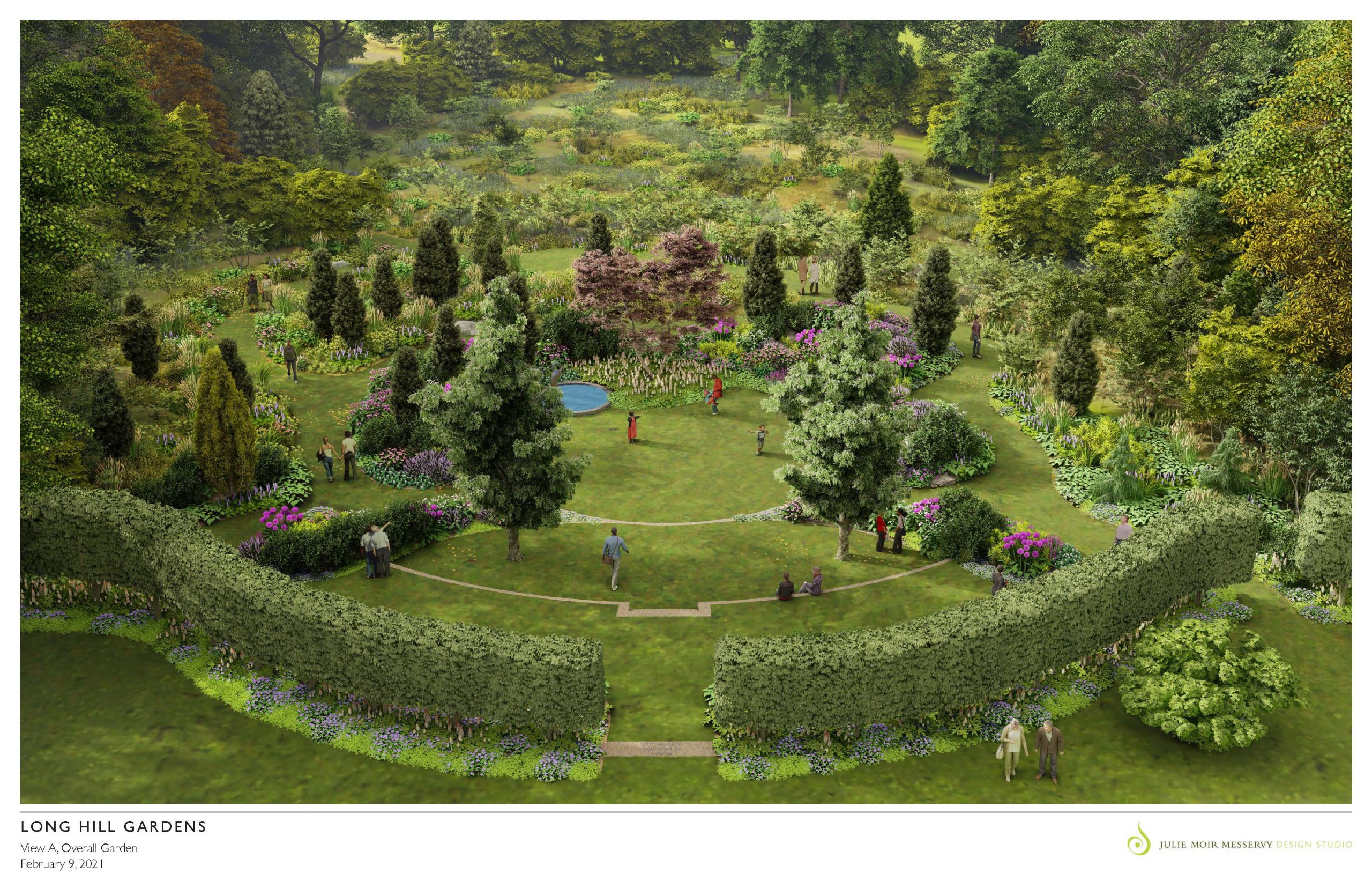 Long Hill
The Trustees of Reservations (The Trustees) today announces the completion of its first phase of a multi-year public garden rejuvenation project at Long Hill in Beverly and Stevens-Coolidge House & Gardens (formerly Stevens-Coolidge Place) in North Andover.
Both sites have undergone significant investment to rejuvenate the historic gardens and houses while also adding new visitor amenities. The planning was done in conjunction with Mikyoung Kim Design and Maryann Thompson Architects. Kim created a master site plan for both sites while Thompson designed renovations to existing historic buildings. Both sites have included improvements and restoration work on the historic gardens while also adding new gardens expanding the visitor's experience. The Trustees has improved the visitor experience at both locations via new entrances, accessible pathways, and programming spaces. The expansion of the gardens at Long Hill and Stevens-Coolidge, both created and lovingly cared for by their owners more than a century ago, represents a horticultural evolution that retains the legacy of those individuals while passing on the heritage of the gardens to future generations.
Stevens Coolidge House & Gardens
With new buildings, landscape structures, and double the garden space, Stevens-Coolidge is a property steeped in history that seeks to honor its history while evolving new spaces and attracting the next generation of admirers.
"We are thrilled to see the investment in Stevens Coolidge House & Gardens begin," said Cindy Brockway, Cultural Resources Program Director. "Building on the garden transformation and visitor programming begun by our dedicated staff and volunteers, these investments will transform the property into a celebration of the beauty of horticulture inspired by the legacy of the Stevens and Coolidge families. New, interactive garden and program spaces will welcome audiences to explore its garden rooms, step into its historic house, and come back repeatedly to enjoy with the whole family."
The first change visitors will notice is the new entrance and parking lot off Rte. 125 (Chickering Road). Guests will no longer have to cross busy Andover Road to access the property. This new entrance allows full use of the site's 91 acres, and visitors will park overlooking Helen's Meadow, named after the property's namesake Helen Stevens Coolidge. Guests then experience the Entry Garden with ornamental grasses, purple coneflower, and other plants native to New England as they arrive at the new Garden Gateway building—crafted out of a former maintenance shed that now features classroom space, a gift shop, and snack counter.
The walk along Helen's Meadow toward the main house features new crescent-shaped "land sculptures" formed using excavated soil and carpeted with grass and 60,000 grape hyacinth bulbs that bloom in spring and resemble an ocean wave. Next is the Wetland Garden featuring flourishes of golden marsh marigolds in spring, scarlet cardinal flowers in summer, and purple asters in fall. Educational signage will be installed stressing the important role wetlands play in New England ecosystems.
A new boardwalk through the naturalistic wetlands leads to the more formal legacy gardens that encircle the house. While the hedge hemming a straight path past the relocated Cutting Garden is reminiscent of Colonial Revivalism, it features a contemporary twist as it is made of native hornbeam rather than traditional European hornbeam. This path leads guests to The Promenade—a new, formal passageway to the house featuring a double row of dogwood trees underplanted with North American native phlox.
"We're making this property more dynamic and more alive so that visitors can discover it in a new way," Brockway said.
The season opens April 22 with Spring BloomFest, a series of events featuring 165,000 spring bulbs showcasing tulips with names like Moonlight Sensation and Candy Princess that will burst with color and texture inspiring visitors of all ages. Please note that all times have sold out. After this event series, the gardens will continue to evolve and transform as the seasons progress, allowing all to experience something different and exciting each time they visit.
The historic house has undergone significant conservation projects and will reopen to the public for tours and self-guided experiences in the summer.
Long Hill
While Stevens-Coolidge focuses on the artful displays of beauty and color to inspire an initial appreciation for gardening, Long Hill is a hidden gem where people can hone their interest in and appreciation for the science and technical expertise of horticulture. Its poetic charm is largely influenced by the souls of the women who shaped it—Mabel Cabot Sedgwick, an accomplished horticulturalist, and Marjorie Russell Sedgwick, a rare plants specialist.
"We're very much looking forward to seeing Long Hill transform over the coming months into a world-class public garden," said Long Hill Portfolio Director Jared Bowers. "Our newly planted pergola and terrace, in particular, will look fantastic and provide a new covered space that can also be used for educational programs and other events. We're excited to share this area with our visitors and the local community."
While meticulously researching Long Hill's history, it was discovered that the property's gardens originally included expansive views from its hilltop settings. In early 2020, four vistas that linked the gardens and the house to the horizon beyond the hilltop were cleared of the growth that shrouded the view. The rediscovery of those views will be a focal point as planning continues throughout the fall. The orchard will also be transformed through the removal of invasive species and the reclamation of its lush meadow understory.
A new garden room at the property, designed by Julie Moir Messervy Design Studio, opens in June. Located at the nexus between the Main House, the Sedgwick Gardens, and the Main Loop Trails, this garden room offers opportunities to showcase a new and exciting, horticulturally rich, and sustainable landscape design. A new journey will be created from the Croquet Lawn to the woodland beyond, using a unique design and materials that will both entice and wow our visitors.
The elegant English-style country house will also be refurbished and the link between outside and inside will be maintained. Proving that gardens are often places that spark storytelling, Mabel Sedgwick's brother traveled to Japan in the early 1900s as curator of Asian art at the Museum of Fine Arts in Boston. While there, he became enamored with the traditional Japanese garden, and during his travels to London, he found antique Chinese wallpaper from the early nineteenth century which he saved from being thrown away. He brought it back to Long Hill and hired an artist to fill in the gaps with streams, birds, cherries, and plants native to Long Hill. The Trustees had the wallpaper restored earlier this year, and Messervy, who also trained in Japan, worked this interior influence into her exterior design.
The existing farmhouse, barn, and adjacent spaces will be transformed into a new Horticultural Learning Center, with classrooms, demonstration gardens, and a new greenhouse. An array of new programs and activities for students, families, and adults will be offered to share this special place with the public. Save the date for a June 26 conversation with Messervy on her newly designed garden room for Long Hill.
###
About Stevens-Coolidge House & Gardens
The Stevens-Coolidge House & Gardens exemplifies the rural retreats of wealthy urbanites of the early 1900s. It was the summer home of Helen Stevens Coolidge and her husband, John Gardner Coolidge—a diplomat descended from Thomas Jefferson and a nephew to Isabella Stewart Gardner—from 1914 to 1962. Helen Stevens Coolidge was devoted to preserving and improving Ashdale Farm, which her family first acquired in 1729 and then farmed for six generations. She transformed the farm into an elegant agricultural estate that exemplified the gracious country living enjoyed by wealthy Bostonians. In 1914, the Coolidges hired preservation architect Joseph Everett Chandler to remodel the property's two connected, Federal-period farmhouses, creating a gracious Colonial Revival estate surrounded by perennial gardens, a rose garden and greenhouse complex, and French vegetable garden with a brick serpentine wall. Inside the house's colorful and eclectic decoration reflects the Coolidges' wide-ranging interests and their frequent trips abroad. The entry hall wall mural, painted by Spanish artist Joseph Remidas, brings outdoor elements inside. To learn more visit thetrustees.org/stevenscoolidge.
About Long Hill
From 1916 to 1979, Long Hill was the summer home of noted author and editor of The Atlantic Monthly, Ellery Sedgwick. He summered there with his first wife, Mabel Cabot Sedgwick, an accomplished horticulturalist, gardener, and author of The Garden Month by Month, and later with his second wife, Marjorie Russell Sedgwick, a rare plants specialist. Today, Long Hill is open for visitors to take in the structured and naturalistic gardens, as well as a network of woodland trails. To learn more visit thetrustees.org/longhill.
About The Trustees
Founded by landscape architect Charles Eliot in 1891, The Trustees has, for 130 years, been a catalyst for important ideas, endeavors, and progress in Massachusetts. As a steward of distinctive and dynamic places of both historic and cultural value, The Trustees is the nation's first preservation and conservation organization, and its landscapes and landmarks continue to inspire discussion, innovation, and action today as they did in the past. We are a nonprofit, supported by members, friends and donors and our 120 sites are destinations for residents, members, and visitors alike, welcoming millions of guests annually. thetrustees.org.