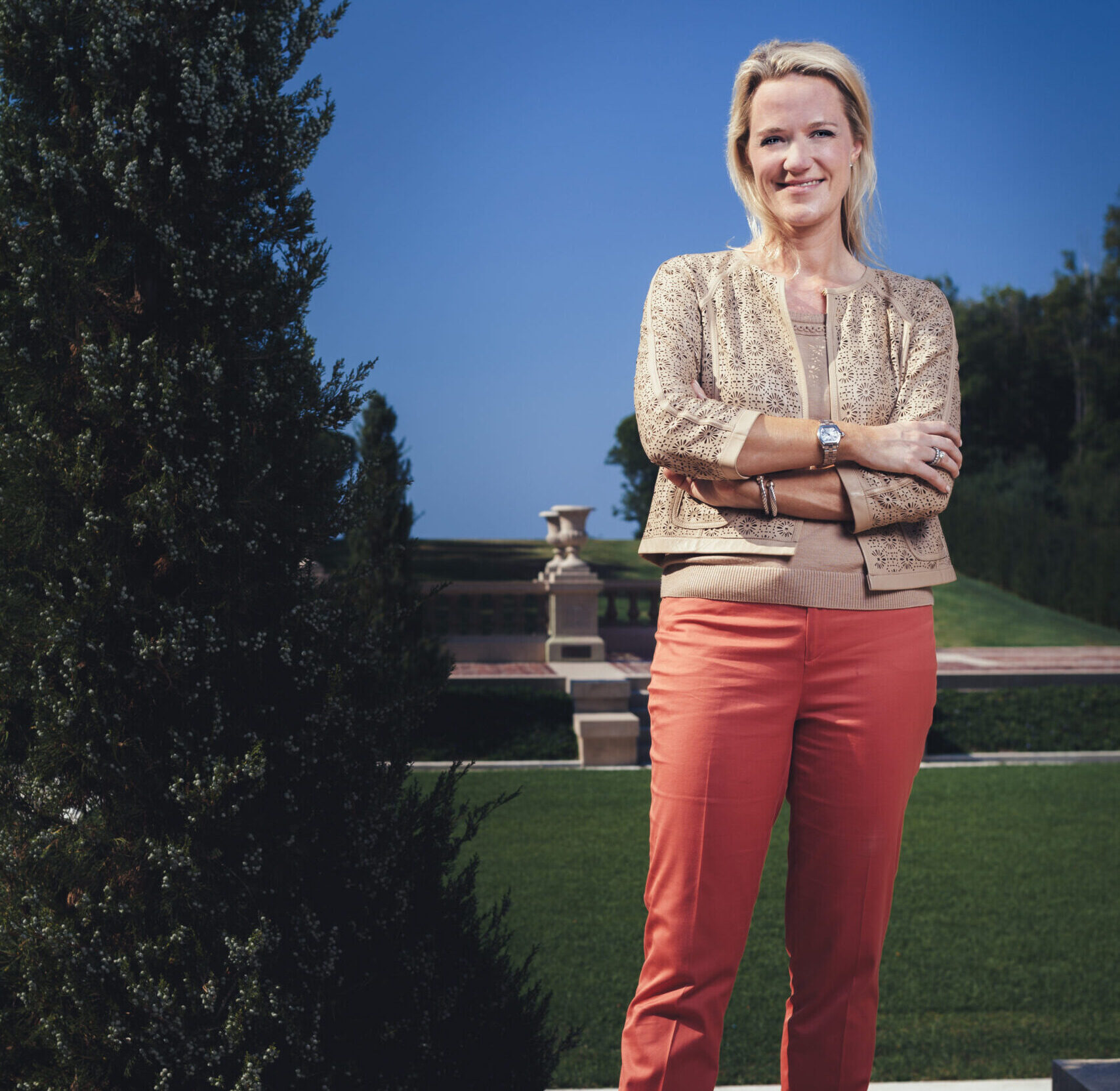 Barbara J. Erickson
The Trustees of Reservations (The Trustees) today sadly announces the passing of its President and CEO, Barbara J. Erickson, who had served as the organization's leader since 2012. Erickson oversaw a period of intense growth and success at the organization. Among the list of Erickson's achievements, several stand out: expanding the operational budget, launching new initiatives in Boston, growing philanthropy, increasing the audience base, and securing new iconic properties.
"Barbara was an exceptional President and led the organization into a new era with a strong vision. She will continue to serve as inspiration for all of us for many years, and we look forward to continuing the work that she began," said Peter Coffin, Chair of the Board of Directors for The Trustees.
In the Fall, the Board of Directors appointed Jocelyn Forbush, Executive Vice President, as the Acting President and CEO, while Erickson was on medical leave. Forbush will continue to serve in this role. "The Board has total confidence in Jocelyn and we place our support behind her and the Executive Team as they move the work ahead," said Coffin.
Erickson was named the organization's fourth president in 2012 and was its first woman in that role. Over her nine-year tenure, the organization's budget grew by more than $10 million, visitation doubled to 2 million visitors, membership increased by more than 40,000 households, and nine new properties were added to the organization's portfolio of 120 special places. Additionally, she increased the philanthropic strength of the organization, completing a $26.4 million campaign which revitalized cultural properties and strengthened cultural staffing, attracted support for many other projects.
Much of the philanthropy has supported major stewardship and restoration projects around the state. The historic gardens at Naumkeag in Stockbridge were completely restored and enhanced over a multi-year project. Several of the gardens and the cultural landscapes at Castle Hill in Ipswich were also fully restored. Currently underway, the gardens and historic houses at Long Hill, Beverly, and Stevens-Coolidge House and Garden, North Andover are undergoing transformations including new garden room designs, historic house conservation, and enhanced visitor accommodations. Other properties which have received considerable projects include Powisset Farm, Dover; Chestnut Hill Farm, Southborough; Old Manse, Concord; World's End, Hingham; Haskell Public Garden, New Bedford.
New Reservations
The organization has opened several new reservations and completed new integrations since Erickson joined the organization. New reservations have included: the historic Governor Oliver Ames Estate in Easton; Allen C. Haskell Public Garden, a former nursery in New Bedford; the Dunes Edge Campground in Provincetown; Mount Warner Reservation in North Hadley, which connects to one of the largest, nearly contiguous 500-acre swaths of protected land and forested tracks in the area; Farandnear reservation in Shirley; Gerry Island in Marblehead; and the successful integrations of independent nonprofits with aligned missions including Fruitlands Museum in Harvard in 2016; The FARM Institute in Edgartown in 2016; and deCordova Sculpture Park and Museum in 2019. More recently in May 2020 the organization completed the acquisition of Jewell Hill, a 296-acre former dairy farm property spanning Ashby, Ashburnham, and Fitchburg, that not only allows for added recreational use but also conserves surrounding lands for drinking water supply protection.
Many acres of properties which are adjacent or abutting to current reservations were also acquired under Erickson's leadership including the multi-million dollar acquisition of Pegan Hill, Natick and Dover, which significantly expanded the previous site. An ambitious $2.5 million purchase of a 20.5-acre inholding, referred to as the Steep Hill Parcel, on Castle Hill on the Crane Estate was completed in September 2016. The parcel was the last remaining unprotected swath of land situated in the center of the 2,100-acre estate featuring important ecological habitat, 1,000 feet of pristine coastline, and scenic views. Under Erickson's leadership, hundreds of donors, volunteers and community supporters came together to raise the needed funds in just four months.
When the organization celebrated its 125th Anniversary in 2016, Erickson lead a yearlong series of events, promotions, and publications designed to increase awareness for the organization's contributions to saving the best of Massachusetts' landscapes and landmarks, as well as to engage more people in its mission through Trustees properties and programs. Celebrations ranged from a performance by the Boston Symphony Orchestra's Boston Pops making their first appearance ever at The Trustees' iconic Castle Hill property in Ipswich to The Trustees' being featured in an exhibition entitled "From the Sea to the Mountains: The Trustees 125th Anniversary" at the Boston Public Library, to a series of activities and outdoor contests like Hike125, free property days, and ticketed galas and programs. As a result of the year-long, statewide celebration, The Trustees saw a significant uptick across the organization, including increases in visitation, donations, program participation, and membership.
New Initiatives
During Erickson's tenure, several new initiatives were launched which expanded the organization into new areas of work and which expanded The Trustees' reputation. The Trustees became a founding member for the Boston Public Market and ran the education space, the KITCHEN, for the first five years of the Market's existence. During that time, thousands of students participated in culinary classes and food-related programs, connecting urban audiences to The Trustees farms. Recognizing the need of the city of Boston to provide more open space for its residents and to create greater resiliency against the changing climate, Erickson initiated a focus on the waterfront and in particular a need for a series of well-designed parks to help create both access and resiliency for the capital city. This idea became the Boston Waterfront Initiative and this year, the first site was publicly announced this past fall.
Following on the success of the cultural campaign, Erickson created a focus on some of the lesser-known public garden sites owned and managed by the organization. This Public Gardens Initiative yielded the single largest philanthropic gift to the organization and the opportunity to transform and restore two sites: Long Hill, Beverly and Stevens-Coolidge Place, North Andover. These two transformations are underway and will reach milestones this year. Erickson created the Art and the Landscape initiative as a platform to invite contemporary artists to create new works to be presented at Trustees properties. This initiative has presented four projects including a major multi-site installation by renowned artist Doug Aitken.
Organizational Growth
Erickson also believed in investing in leadership and staff at the organization. She made significant enhancements in benefits, compensation, executive leadership, and added many new positions to the organization's structure. She also championed and raise funds for digital enhancements including an app, website redesign, ticketing systems and staffing. Believing strongly that The Trustees was charged with reaching a broader and more diverse audience, Erickson also led the organization to invest in marketing and a branding refresh. She built new capacity in cultural resources, archives, horticulture, stewardship, property leadership, and public engagement.
Awards and Recognition
In May 2017, Erickson accepted one of the highest honors bestowed by The Garden Club of America (GCA), the Elizabeth Craig Weaver Proctor Medal which recognizes a non-member individual or organization demonstrating exemplary service and creative vision in a field related to the GCA's mission and special interest focus areas. In the summer of 2015, she was recognized with an Honorary Degree of Humanities from Westfield State University for her contributions to the preservation of the land and culture of the Commonwealth as well as her distinguished career as a woman in public leadership. Also, in the summer of 2015, she was invited by Mayor Walsh to be an Advisor to the Leadership Council for Boston Creates, a community-wide effort to harness the creativity of Boston and build a shared vision for arts and culture.
Before joining The Trustees, Erickson was a senior executive at the global children's charity, Save the Children, one of the top five non-profits in the world.  While with Save the Children, she was responsible for leading the organization's fundraising and engagement functions, raising a record $200 million in philanthropic revenues in 2011. Prior to that, Erickson served as Chief Development Officer of Boston-based Earthwatch Institute for a decade.  Her many professional achievements have consistently resulted in strategic growth and increased impact for the organizations in which she has worked, including Bank of America, the Boys & Girls Clubs, the American Cancer Society, and Massachusetts Eye and Ear Infirmary. Erickson received her BA in Arts & Letters, English from Northern Arizona University and was awarded an honorary Degree of Humanities in 2015 from Westfield State University.
Erickson, originally from Gillette, Wyoming, is survived by her husband Peter Torrebiarte and their two children Marcelo and Lucia, and two stepsons, Alejandro and Gabriel. In lieu of flowers, the family requests contributions to support the future education of the children. 529 funds have been created for both children.
More about The Trustees
Founded by landscape architect Charles Eliot in 1891, The Trustees has, for 130 years, been a catalyst for important ideas, endeavors, and progress in Massachusetts. As a steward of distinctive and dynamic places of both historic and cultural value, The Trustees is the nation's first preservation and conservation organization, and its landscapes and landmarks continue to inspire discussion, innovation, and action today as they did in the past. We are a nonprofit, supported by members, friends and donors and our 120 sites are destinations for residents, members, and visitors alike, welcoming millions of guests annually. www.thetrustees.org.
###