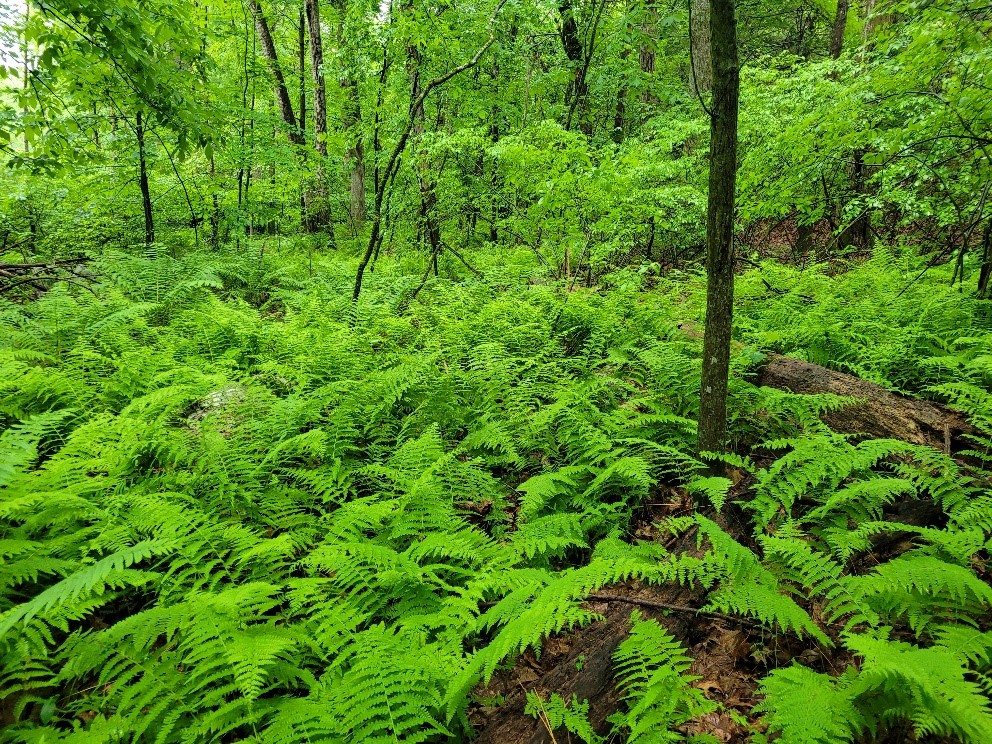 Part of the 13-acre Frye Meadow parcel adjacent to Ward Reservation in N. Andover
The Trustees of Reservations (The Trustees), the nation's first and state's largest land conservation nonprofit, recently closed on three new parcels of conservation land totaling 176 acres in Dover, North Andover, and Windsor.
The acquisitions include 130 acres at Notchview (Windsor), 33 acres at Pegan Hill (on the Natick/Dover line), and 13 acres at Ward Reservation (N. Andover). These parcels are expansions of these three reservations and are not considered new properties.
"These parcels of land represent significant conservation priorities for The Trustees and will act as forested buffers from visual and acoustic impacts to all three properties, as well as enhancing resilience and improving the trail user and visitor experience," said David Santomenna, Interim Director of Land Conservation. "We're grateful to Ken and Lisa Estes, who owned the Notchview parcel, and Peter and Alison Novello, owners of the Frye Meadow parcel, for working with us to make these crucial acquisitions possible, and especially to Christopher Morss, for his most generous donation of the Pegan Hill parcel."
At Notchview, the 130 acres of undeveloped forest includes an existing snowmobile trail that provides a preferred alternative route to Shaw and Bates Roads. The property abuts Judges Hill Trails and was purchased at a discounted price from Ken and Lisa Estes, using funds from the William Farkas bequest.
The 33-acre parcel in Dover adds significant acreage to Pegan Hill, a 48-acre property straddling the Dover-Natick town line. The new land also expands the network of protected land in the Pegan Hill area, including land owned by the Dover Land Conservation Trust, and acts as a buffer from an abutting neighborhood. It was donated to The Trustees by Christopher Morss, along with a generous donation for the long-term stewardship of the property.
In North Andover, the Ward Reservation will be bolstered by an additional 13 acres that will serve as a buffer from the impacts of nearby industrial and residential uses. It contains forested and wetlands habitat located within the 100-year flood zone, expands contiguous forested wildlife habitat, and will be referred to as "Frye Meadow", as historic deed documents from 1846 refer to it as the "James Frye Meadow." This property was purchased at fair market value with funds provided by a generous, anonymous donor.
About The Trustees
Founded by landscape architect Charles Eliot in 1891, The Trustees has, for more than 130 years, been a catalyst for important ideas, endeavors, and progress in Massachusetts. As a steward of distinctive and dynamic places of both historic and cultural value, The Trustees is the nation's first preservation and conservation organization, and its landscapes and landmarks continue to inspire discussion, innovation, and action today as they did in the past. We are a nonprofit, supported by members, friends and donors and our 123 sites are destinations for residents, members, and visitors alike, welcoming millions of guests annually. thetrustees.org.
###