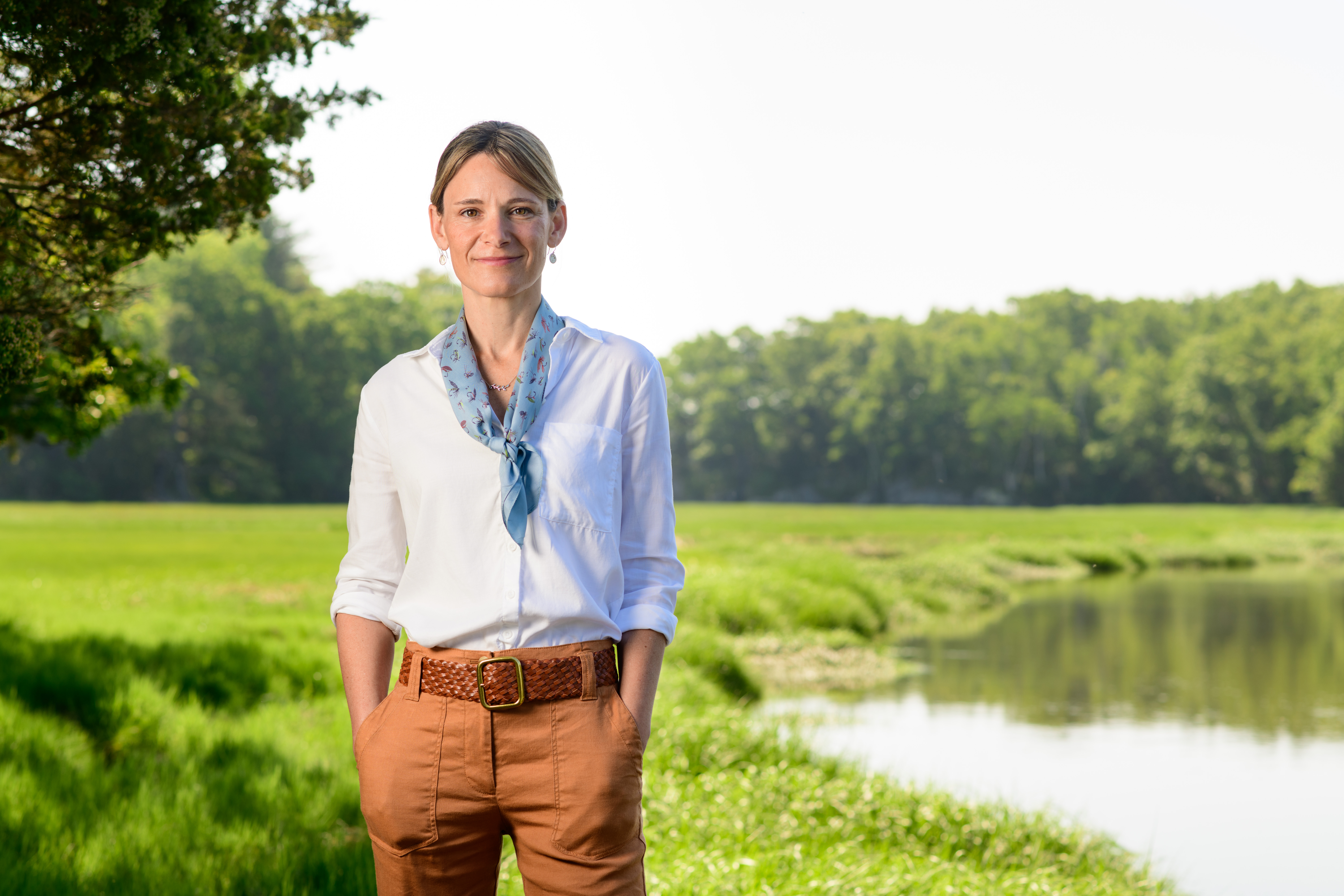 Katie Theoharides, CEO and President, The Trustees of Reservations. Old Town Hill, Newbury, MA. Photo credit: © Krista Photography
Boston, MA, June 7, 2023 –– The Board of Directors of The Trustees of Reservations (The Trustees) today announced the appointment of Katie Theoharides as President and CEO. Theoharides joins The Trustees following her role as Head of US Offshore East for RWE and having served as Secretary of Energy and Environmental Affairs for the Commonwealth of Massachusetts in the Baker-Polito Administration. 
As President and CEO of The Trustees, Theoharides will oversee management for the conservation and preservation organization, which protects and cares for over 120 special places in Massachusetts for the public, including woodlands, farms, beaches, gardens, historic houses, and museums. Theoharides will lead the organization's talented staff to set strategy, advance programmatic goals, and support a culture of diversity, belonging, inclusion, and equity. 
Theoharides brings a background in ecology and climate science to her longstanding career in environmental leadership and land conservation, key pillars of The Trustees' mission. 
"We are thrilled to have Katie joining us at The Trustees," said Peter B. Coffin, Chair of The Trustees' Board of Directors. "At her core she is an environmentalist who cares for land conservation and for mobilizing people through a shared reverence for nature. She embraces The Trustees' mission of connecting people with nature through conservation, recreation, art, and shared history. We are excited to have Katie leading our organization, and we look forward to having her collaborative, service-oriented leadership build upon The Trustees' enduring legacy." 
During her time as cabinet secretary, 2019–2022, Theoharides led partnerships with local communities to build climate resiliency and reduce emissions. She also worked as a lead negotiator on complex environmental and energy issues with governmental, business, and philanthropic leaders. During a period marked by the challenges of a global pandemic, she was responsible for a staff of 3,000, an annual operating and capital budget of $600 million, and six energy and environmental agencies that help provide critical services like clean water, electricity, farms and fisheries, and parks and open space to residents across the state. 
"The decades ahead will require a deep sense of urgency and dedicated work to bring people together to protect our environment and implement solutions for a changing climate," said Theoharides. "The Trustees have long understood that by connecting people to nature through culture and belonging we can build a love and passion for stewarding our natural world and in so doing improve human health, enhance quality of life, foster social justice, and build resilient communities. I couldn't be more thrilled to join this mission and to work side-by-side with the dedicated staff, volunteers, and governance of this fantastic organization." 
Theoharides joins The Trustees following her role as Head of US Offshore East for RWE, the second largest global offshore wind developer, which recently expanded to the US. During her time with RWE, Theoharides oversaw the expanding US Offshore Wind project development portfolio from the Gulf of Maine to the Gulf of Mexico, while helping to set the organization's culture, vision, and values through rapid growth in the U.S. market. 
Theoharides' career in Massachusetts started at The Trustees in 2010 when she served as the Executive Director of the Hilltown Land Trust, an affiliate of The Trustees. In this role she worked to increase the pace of land conservation in Western Massachusetts and found inspiration for future environmental leadership and bringing people together to protect precious landscapes. 
Nicie Panetta, a member of The Trustees Board of Directors, served as interim President and CEO during the eight-month search process, while Director Cyrus Taraporevala chaired the Search Committee. 
"Katie brings a wealth of experience, a strategic mindset, and a deep passion for our work," said Taraporevala. "We are confident that with her expertise, leadership, and authentic commitment to our mission, she will guide The Trustees towards even greater impact." 
A native of Western Massachusetts, Theoharides focused her studies on global environmental change, earning a Bachelor of Arts in ecology and evolutionary biology from Dartmouth College and a Master of Science in environmental biology from the University of Massachusetts Boston. She will begin her role as President and CEO on July 10. 
More about The Trustees
Founded by landscape architect Charles Eliot in 1891, The Trustees has, for 130 years, been a catalyst for important ideas, endeavors, and progress in Massachusetts. As a steward of distinctive and dynamic places of both historic and cultural value, The Trustees is the nation's first preservation and conservation organization, and its landscapes and landmarks continue to inspire discussion, innovation, and action today as they did in the past. We are a nonprofit, supported by members, friends and donors and our 123 sites are destinations for residents, members, and visitors alike, welcoming millions of guests annually.