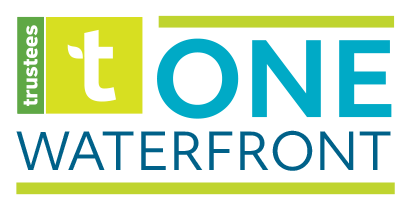 One Waterfront
BOSTON, MA – February 11, 2020 – The Trustees of Reservations (The Trustees) announces the launch of a new speaker series, "Building One Waterfront," featuring panel discussions led by open space leaders, resilience experts, and advocates for equity from around the country. Hosted by The Trustees Boston Waterfront Initiative, One Waterfront the series is supported by presenting sponsor, TD Bank, through the TD Ready Commitment.
The quarterly event will be an opportunity for residents, members of the business community, and city leaders to learn from the experts behind some of our country's most iconic open spaces who will share case studies and lessons learned from major infrastructure and community projects.
Free and open to all, the series will focus on four topic areas, prioritizing accessibility and equity, promoting climate resilience through green solutions, practicing fiscal responsibility, and providing iconic open space design.
The first forum, "Designing for equity, and effectively engaging diverse communities," will kick off on March 11, 2020 in Boston. The panelists are renowned thought leaders in equity and social justice: Dr. S. Atyia Martin, former Chief Resilience Officer for the City of Boston, and CEO & Founder of All Aces, Inc., a professional development consultancy helping to advance diversity, equity and inclusion; and April De Simone, Founding Co-Partner of designing the WE, a for-benefit design studio positioned within the fields of social innovation and community-driven social, cultural and economic development. The March panel discussion will be followed by: Green solutions for a waterfront city (May 2020); Funding a resilient, sustainable waterfront for future generations (September 2020); and Designing iconic space for the cities of tomorrow (December 2020).
"As we work to build transformative space along our city's historic—but vulnerable—harbor, we look forward to providing local businesses, city leaders, commuters, and residents with a valuable opportunity to engage and learn from visionary practitioners," says Jocelyn Forbush, Trustees Executive Vice President. "We are grateful to our sponsor TD Bank and countless other supporters for their commitment to working together to ensure Boston's waterfront is resilient, and that our city lives up to its iconic, forward-thinking legacy."
One Waterfront aims to advance a bold vision for iconic, public open space on the Boston waterfront and contribute to the City's quality of life by creating and managing significant parks that serve as world-class destinations, support diverse community needs, and can serve as green solutions to help support Boston's climate resiliency goals. After several months of planning, feasibility studies, and deep collaboration with City, State, and private stakeholders, One Waterfront is getting closer to securing the first priority site candidate, while continuing to explore additional areas of the City for longer-term open space options. TD Bank is supporting this series under a three-year partnership with The Trustees, to help open doors for a more inclusive and sustainable tomorrow.
"Waterfront parks are more than just beautiful spaces, they are also a first line of defense to climate change impacts such as increased flooding events and more severe storms," says Nick Black, Boston Waterfront Initiative Managing Director. "As outlined in the Resilient Boston Harbor Vision released by Mayor Walsh in 2018, green measures including parks will be a vital step in adapting our shores to these changes, and protecting our waterfront city's homes and businesses for years to come. We hope this series will inspire others to learn more and join this movement."
"TD's social purpose is helping to create a more sustainable and inclusive future," said Steve Webb, Regional President for TD Bank. "The Trustees Boston Waterfront Intiative provides a compelling opportunity for TD to support solutions to climate change, increase financial security and create inclusive communities."
As both the largest owner of community gardens in Boston proper and the caretakers of the largest acreage of shoreline in the state after the federal government, The Trustees is actively working to address coastal resilience through its Boston Waterfront Initiative and with numerous partners including Mayor Walsh and the City of Boston. For more information about this initiative and speaker series, including a schedule of events, visit: onewaterfront.thetrustees.org/speaker-series.
About the Partnership
Under a significant three-year partnership agreement, TD Bank—The Ready Commitment will help to fund One Waterfront public events, community engagement, and outreach support. TD's sponsorship of One Waterfront will include the initiative's 2020 speaker series, "Building #OneWaterfront"; its youth summer employment program, the Waterfront Ambassadors; and community outreach opportunities throughout the sponsorship period.
About The Trustees Boston Waterfront Initiative, One Waterfront
Founded in the City of Boston by landscape architect and open space visionary Charles Eliot in 1891, The Trustees is the nation's first and the Commonwealth's largest preservation and conservation nonprofit. As The Trustees has expanded its work in Boston in the last decade, it has become increasingly aware of the opportunities for positive change along the waterfront and the critical issues that threaten Boston's world-class reputation. The Trustees' Boston Waterfront Initiative, One Waterfront, advances a bold vision for iconic, public open space on the Boston waterfront as a way to respond to these opportunities and challenges and contribute to the City's quality of life by creating and managing accessible, climate-resilient, and iconic parks that serve diverse community needs and bring value to our vulnerable harbor city: onewaterfront.org
About TD Bank—The Ready Commitment
This contribution supports TD's longstanding commitment to community enrichment through TD's corporate citizenship platform, the TD Ready Commitment which actively promotes inclusivity, economic vitality, environmental wellbeing and health, enabling people of all backgrounds to succeed in a rapidly changing world. As part of the TD Ready Commitment, TD targets US $775 million in total by 2030 towards community giving in four critical areas: Financial Security, a more Vibrant Planet, Connected Communities and Better Health. Through this platform, TD aspires to create a more inclusive tomorrow – helping people of all backgrounds feel more confident, not just about their finances, but about their ability to achieve their goals. Visit: https://www.tdbank.com/corporate-responsibility/the-ready-commitment/