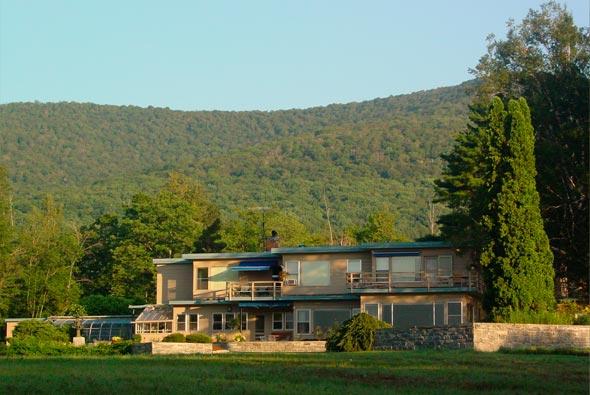 The Guest House at Field Farm
WILLIAMSTOWN, MA – JUNE 30, 2020 – The Trustees of Reservations (The Trustees) announces today that the Guest House at Field Farm, an iconic Berkshires bed and breakfast offering an authentic modern art experience in spectacular natural surroundings, will reopen in accordance with safety guidelines pertaining to COVID-19.
Three of the Guest House's six rooms will be reopened as of July 1, allowing visitors to once again gain an unparalleled view of Mt. Greylock, Massachusetts' highest peak, and explore Field Farm—316 acres of conserved land with four miles of trails. The Guest House at Field Farm is requiring guests to wear masks in public areas due to COVID-19. Additionally, guests are being asked to socially distance while eating breakfast on the outdoor patio or in the dining room which will have a reduced capacity.
"Although visiting the Guest House at Field Farm might feel a little different this year, we're just ecstatic to be able to welcome people back to one of the most special places in the region this summer," said Trustees Director of Recreational Enterprise Matthew Krumme. "We are committed to doing whatever is necessary to ensure our guests enjoy the peaceful, nature-oriented getaways they've treasured for decades."
Edwin Goodell, Jr. designed the 1948 Bauhaus-inspired structure for Lawrence and Eleanor Bloedel, who were avid modern art and furniture collectors. Modern artwork adorns the interiors and the surrounding landscaped gardens boast 13 sculptures, including works by Richard M. Miller and Herbert Ferber. The house itself is essentially a museum of modern furnishings, featuring Jens Risom seating and George Nelson saucer pendant lamps in the Greylock bedroom, and a Isamu Noguchi coffee table, Vladimir Kagan sofas, and Eames chair & ottoman in the living room.
Once guests venture outside, they'll discover a patchwork landscape featuring cropland, pastures, mixed forest, marshes, and a stream and pond. The Folly, a three-bedroom, pinwheel-shaped shingled guest cottage, designed in 1965 by noted modernist architect Ulrich Franzen, can be seen from the grounds but will not be open for tours this summer.
Although COVID-19 has cancelled the Tanglewood concert season, visitors to the Guest House at Field Farm can enjoy walking the grounds of the Clark Art Institute in Williamstown, which will likely open its indoor museum later this summer. Also scheduled for a summer opening is the nearby Massachusetts Museum of Contemporary Art (MASS MoCA) in North Adams and the Norman Rockwell Museum, hoping to open in mid-July. Trustees sites like Naumkeag and Monument Mountain are also a short drive away. 
Visit The Trustees website (http://www.thetrustees.org/field-farm/) for more information about availability, pricing, and to make reservations to stay at the Guest House at Field Farm. 
More about The Trustees
Founded by landscape architect Charles Eliot in 1891, The Trustees has, for more than 125 years, been a catalyst for important ideas, endeavors, and progress in Massachusetts. As a steward of distinctive and dynamic places of both historic and cultural value, The Trustees is the nation's first preservation and conservation organization, and its landscapes and landmarks continue to inspire discussion, innovation, and action today as they did in the past. We are a nonprofit, supported by members, friends and donors and our 119 sites are destinations for residents, members, and visitors alike, welcoming millions of guests annually. www.thetrustees.org.
###