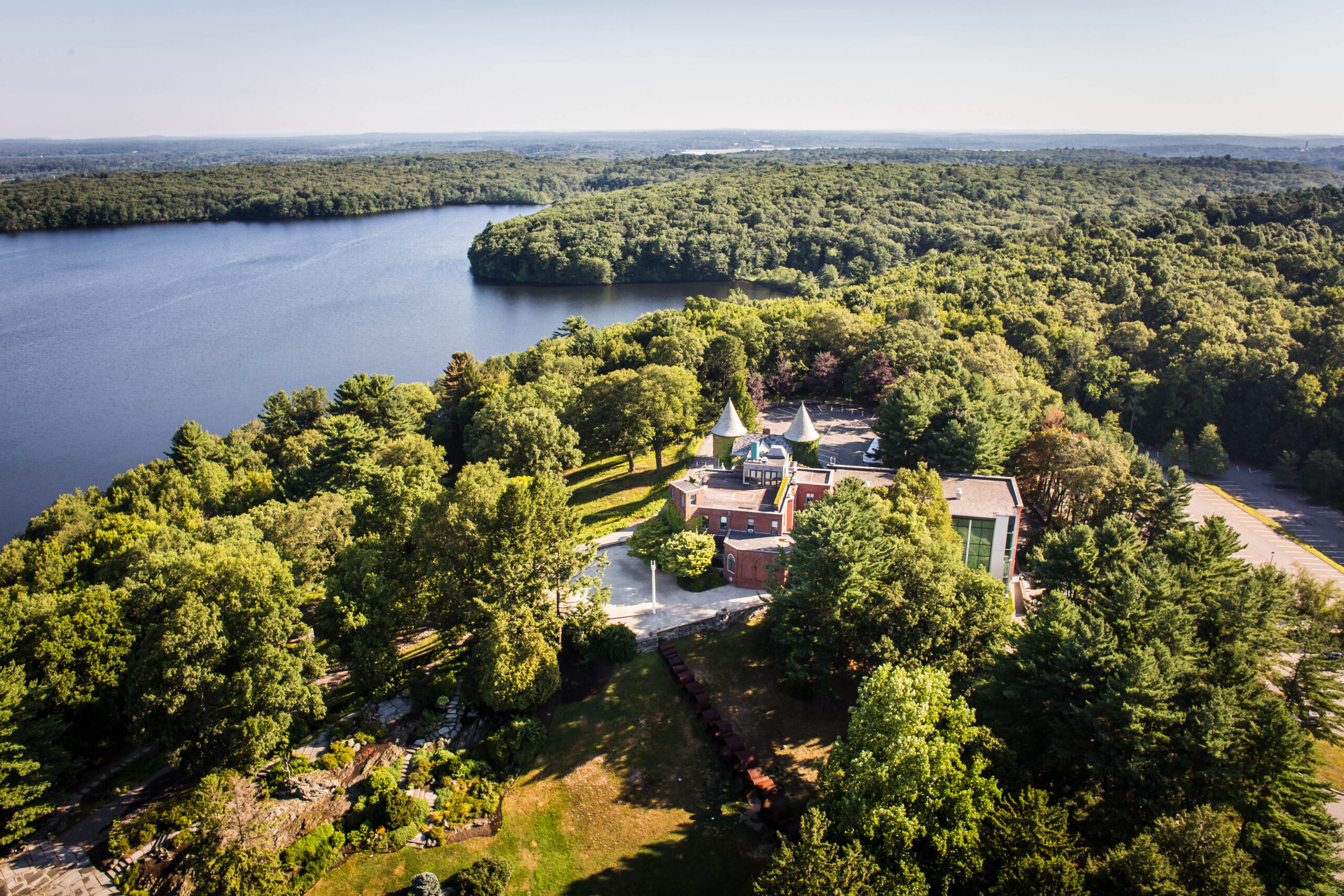 deCordova Sculpture Park and Museum
The Trustees of Reservations announced today that it will temporarily suspend indoor exhibitions at deCordova Sculpture Park and Museum, beginning in mid-March 2023.
DeCordova's Sculpture Park will remain open and no other facilities, programs, events, or operations are affected. The temporary indoor suspension will allow The Trustees to make upgrades to its HVAC and climate control systems that ensure that deCordova's exhibition spaces meet The Trustees' and the museum industry's stringent standards. During this time, curatorial and other Trustees staff will engage in focused and intensive planning for future exhibitions, programs, and educational offerings that explore the intersection of art, nature, and climate. Following the conclusion of its current exhibitions, New Formations, Downstream and Carolina Caycedo: Apparitions/Apariciones on March 12, 2023, deCordova will cease its indoor exhibition program for approximately two to three years but continue to bring exciting new commissions, acquisitions, and exhibitions to the sculpture park.
"While we will miss welcoming the public to indoor exhibitions during this time, the temporary suspension will allow us to fast-track important improvements and focus our creative energies on developing the exciting vision for art and nature that initially brought our two organizations together," explained Nicie Panetta, Trustees Interim President and CEO.
The nation's first and state's largest land conservation organization, The Trustees became custodians of deCordova after a 2019 integration that was designed to help both organizations further amplify the role that art can play in connecting people to nature, culture and history. Since then, The Trustees has realized this shared vision by investing in deCordova's landscape; elevating the curatorial program by attracting leading national artists like Jeffrey Gibson and Sonya Clark, significantly increasing visitation, and expanding events and community outreach.
In 2022, The Trustees activated a robust planning process for the renewal of deCordova's accreditation and to assess and fund upgrades to the Museum facilities. As the assessment and recommendations from that process were being finalized, concerns about the consistency of climate controls in the main building emerged, and The Trustees concluded that the temporary suspension of indoor exhibitions was warranted.
At deCordova, and across Trustees properties during this time, the arts program will continue to thrive with new outdoor commissions and lively public programs that foreground urgent dialogues between art and our changing natural world, following a throughline established by deCordova in such recent commissions and acquisitions including Alyson Shotz' Temporal Shift and Rosemary Laing's Prowse, among others. Andy Goldsworthy's Watershed, a site-specific commission that interacts with deCordova's natural environment, opened shortly after the integration in 2019.
"We have a hugely ambitious program for the Sculpture Park and for exhibitions across the state of Massachusetts. We believe doing this necessary work in the galleries will ensure our ability to deliver an exciting and comprehensive vision centered around artists engaging with the environment for generations to come," said Jessica May, Vice President, Art and Exhibitions& Artistic Director, deCordova Sculpture Park and Museum.
This spring and summer, additional Trustees sites will be alive with the arts: Fruitlands Museum opens two exhibitions with textile artist Rachel Hayes. The first, opening March 11, is called Transcending Space and showcases several large, color-block fabric hangings alongside a new body of work that combines dried flower bouquets with patches of vibrant fabric. A new outdoor commission, Rachel Hayes, The Edge of Becoming, opens June 21 and features bright colors that both relate to Shaker textiles found in the museum's collection and evoke a sense of optimism sought by the site's Transcendentalist founders.
Art programming at deCordova will feature a more robust outdoor exhibition schedule, and all other deCordova operations will continue as normal. The property will continue to be a prime location for lectures, concerts, dining, summer camp, weddings and other event rentals, and other public- and community- engagement activities. The decision also will have no impact on the Lincoln Nursery School, which operates on deCordova grounds.
The Trustees will continue to update our communities and supporters via our website, social media platforms and newsletters.
About deCordova Sculpture Park and Museum
deCordova Sculpture Park and Museum is the largest park of its kind in New England. Providing a constantly changing landscape of large-scale, outdoor, modern and contemporary sculpture and site-specific installations of more than 60 works. In July of 2019, deCordova Sculpture Park and Museum officially integrated with The Trustees of Reservations.
About The Trustees
Founded by landscape architect Charles Eliot in 1891, The Trustees has, for more than 130 years, been a catalyst for important ideas, endeavors, and progress in Massachusetts. As a steward of distinctive and dynamic places of both historic and cultural value, The Trustees is the nation's first preservation and conservation organization, and its landscapes and landmarks continue to inspire discussion, innovation, and action today as they did in the past. We are a nonprofit, supported by members, friends, and donors and our 120 sites are destinations for residents, members, and visitors alike, welcoming millions of guests annually. thetrustees.org.
###