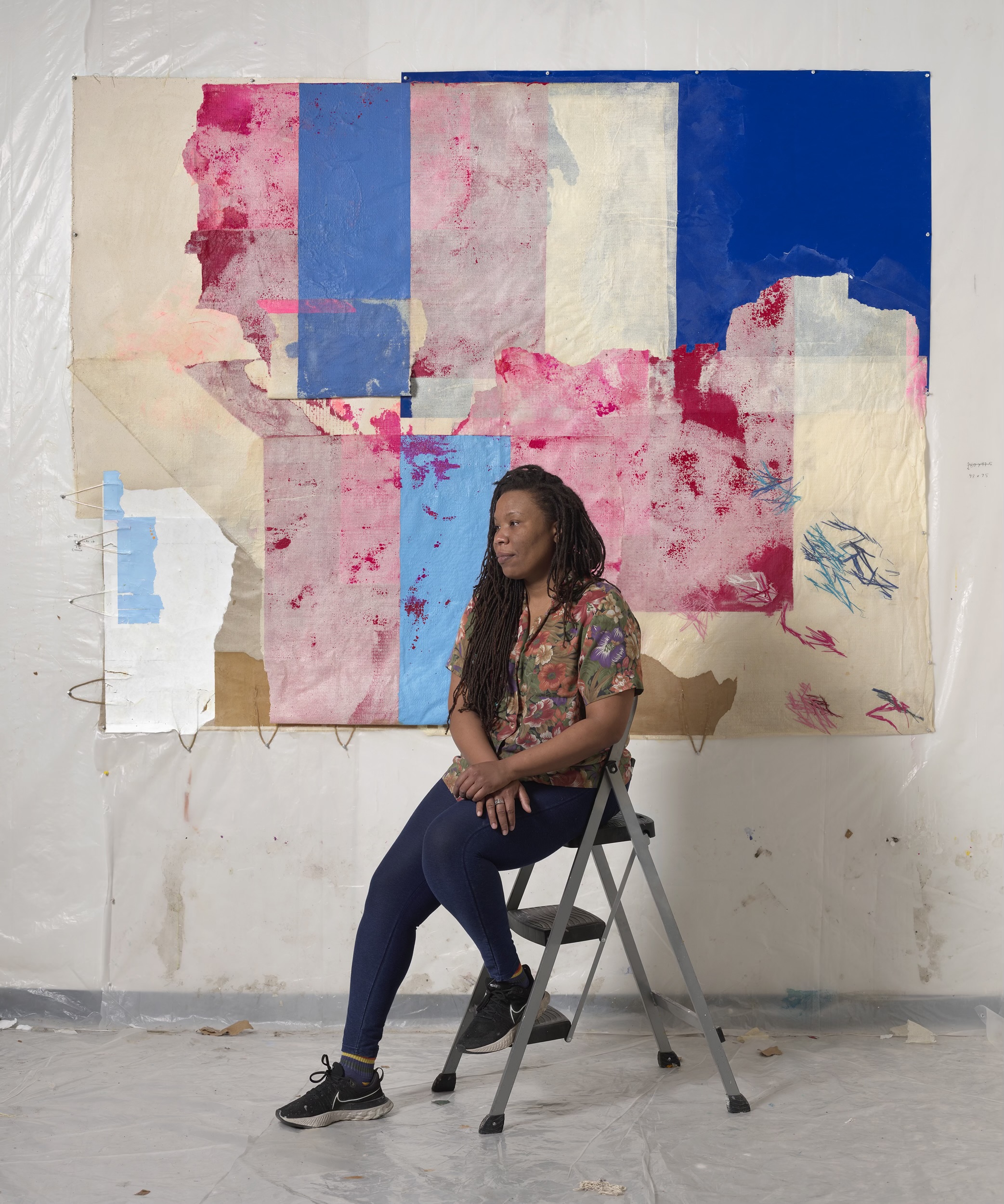 Tomashi Jackson. Photographer Julia Featheringill. Courtesty of artist and Tilton Gallery, New York
Lincoln, MA – August 28 2023- deCordova Sculpture Park and Museum is proud to announce Massachusetts- and New York-based artist Tomashi Jackson as the recipient of the 24th Rappaport Prize.  Established in 2000 and endowed in perpetuity in 2010, the prize was established by The Phyllis and Jerome Lyle Rappaport Foundation to celebrate the achievements of contemporary artists in New England. An in-person lecture is planned for May 2024.
About Tomashi Jackson
Tomashi Jackson (b. 1980, Houston) works across painting, textiles, sculpture, and video. Her artwork often features compositions of exuberant color, bold geometries, and intricate layering of material. Jackson currently has a mid-career survey exhibition on view at the Museum of Contemporary Art, Denver, curated by Miranda Lash and entitled Tomashi Jackson: Across the Universe. Her 2021 commission and residency at the Parrish Art Museum in Water Mill, New York, resulted in the exhibition Tomashi Jackson: The Land Claim. Jackson has also had recent exhibitions at the Harvard Radcliffe Institute, Cambridge, MA, and at the Neuberger Museum of Art, Purchase, NY.  She earned her BFA from the Cooper Union for the Advancement of Science and Art and her MFA from MIT's Program for Art, Culture and Technology. A committed educator, Jackson has taught at Harvard University, Massachusetts College of Art, Boston, and Rhode Island School of Art among other schools and serves regularly as a curator of contemporary art exhibitions.
"Throughout my life I have been the beneficiary of arts-centered education pedagogies and institutions for the preservation and sharing of visual art in all its forms for the public good," shares Jackson "I am deeply humbled to be acknowledged by committed caretakers of public spaces, arts, and humanities in New England as the 2023 Rappaport Prize recipient. It is an honor to be counted among artists whom I have admired as creators, facilitators, and community members concerned with coming generations of visual artists. I am grateful to the Rappaport Prize and deCordova for folding me into its living art history with this incredible gift."
"It is a great privilege for us to recognize Tomashi Jackson for her talent, insight, and forward-thinking perspective," says Jessica May, Vice President, Art and Exhibitions, The Trustees, and Artistic Director, deCordova Sculpture Park and Museum. "Her commitment to learning about who we are and where we come from, who we can be to each other, infuses her work. I can't think of more important qualities for an artist of this moment."
"Tomashi Jackson is a multidisciplinary artist and abstract painter whose work addresses the displacement and disenfranchisement of people of color," notes Phyllis Rappaport, Chair of the Rappaport Foundation. "Through her art, she challenges our perspectives, perceptions, and politics. We are proud to welcome her into the Rappaport community as the 24th recipient of the Rappaport Prize."
About the Rappaport Prize
Since its inception in 2000, the Rappaport Prize has been an investment in both individual artists and the broader art community. Founded and funded by the Phyllis and Jerome Lyle Rappaport Foundation, the Rappaport Prize follows the Foundation's mission of promoting leadership in art, public policy, and medical research. Endowed at, and selected annually by, deCordova Sculpture Park and Museum, the Rappaport Prize supports artists while educating the public about developments in American contemporary art. In 2022, the prize was raised from $35,000 to $50,000.
The prize celebrates the achievement and potential of an artist who has demonstrated significant creativity and vision and encourages the recipient to continue a career of innovative art making. Together, deCordova and the Rappaport Foundation hope to create a community of accomplished artists whose careers have been enhanced by the recognition of the Rappaport Prize.
Each year, deCordova invites art professionals from around the country—museum directors, curators, collectors, and artists—to submit nominations for the Prize based on established criteria. After reviewing the nominations, as well as suggesting their own nominations, the deCordova convened a jury to consider twelve finalists. This year's jurors are:
Daniela Rivera
Artist
Rappaport Prize Winner 2019
Professor of Art, Wellesley College
Theresa Secord
Artist
Founder of Maine Indian Basketmakers Alliance
theo tyson
Penny Vinik Curator of Fashion Arts
Museum of Fine Arts, Boston
Visit thetrustees.org/program/rappaport-prize.
Past Rappaport Prize Winners
2022 Steve Locke
2021 Katherine Bradford
2020 Sonya Clark
2019 Daniela Rivera
2018 Titus Kaphar
2017 Sam Durant
2016 Barkley Hendricks
2015 Matt Saunders
2014 Liz Deschenes
2013 Ann Pibal
2012 Suara Welitoff
2011 Orly Genger
2010 Liza Johnson
2009 Dave Cole
2008 Ursula von Rydingsvard
2007 Maria Magdalena Campos-Pons
2006 Abelardo Morell
2005 Sarah Walker
2004 Debra Olin
2003 John Bisbee
2002 Lars-Erik Fisk
2001 Annee Spileos Scott
2000 Jennifer Hall
About deCordova Sculpture Park and Museum
Established in 1950 and located just twenty miles west of Boston, deCordova Sculpture Park and Museum is dedicated to fostering the creation and exploration of contemporary sculpture and art through a dynamic slate of rotation exhibitions, innovative learning opportunities, a constantly changing thirty-acre landscape of large-scale, outdoor, modern, and contemporary sculpture, and site-specific installations. In March of 2023 deCordova announced a temporary suspension of indoor exhibitions, while we make important updates to our HVAC and climate control systems. To learn more, visit thetrustees.org/decordova.
About The Trustees
Founded in the city of Boston by landscape architect and open space visionary Charles Eliot in 1891, the Trustees is the nation's first and the Commonwealth's largest preservation and conservation non-profit. For more than 125 years, we have worked to preserve and protect dynamic natural and cultural sites – from beaches and community gardens to farms, historic homesteads, designed landscapes, and hiking trails – for public use and enjoyment. Today we are working to engage a larger constituency of Massachusetts residents, members, visitors, and public and private partners in our work to help protect our beloved and fragile natural, ecological, cultural, and coastal sites for current and future generations. To learn more, visit thetrustees.org