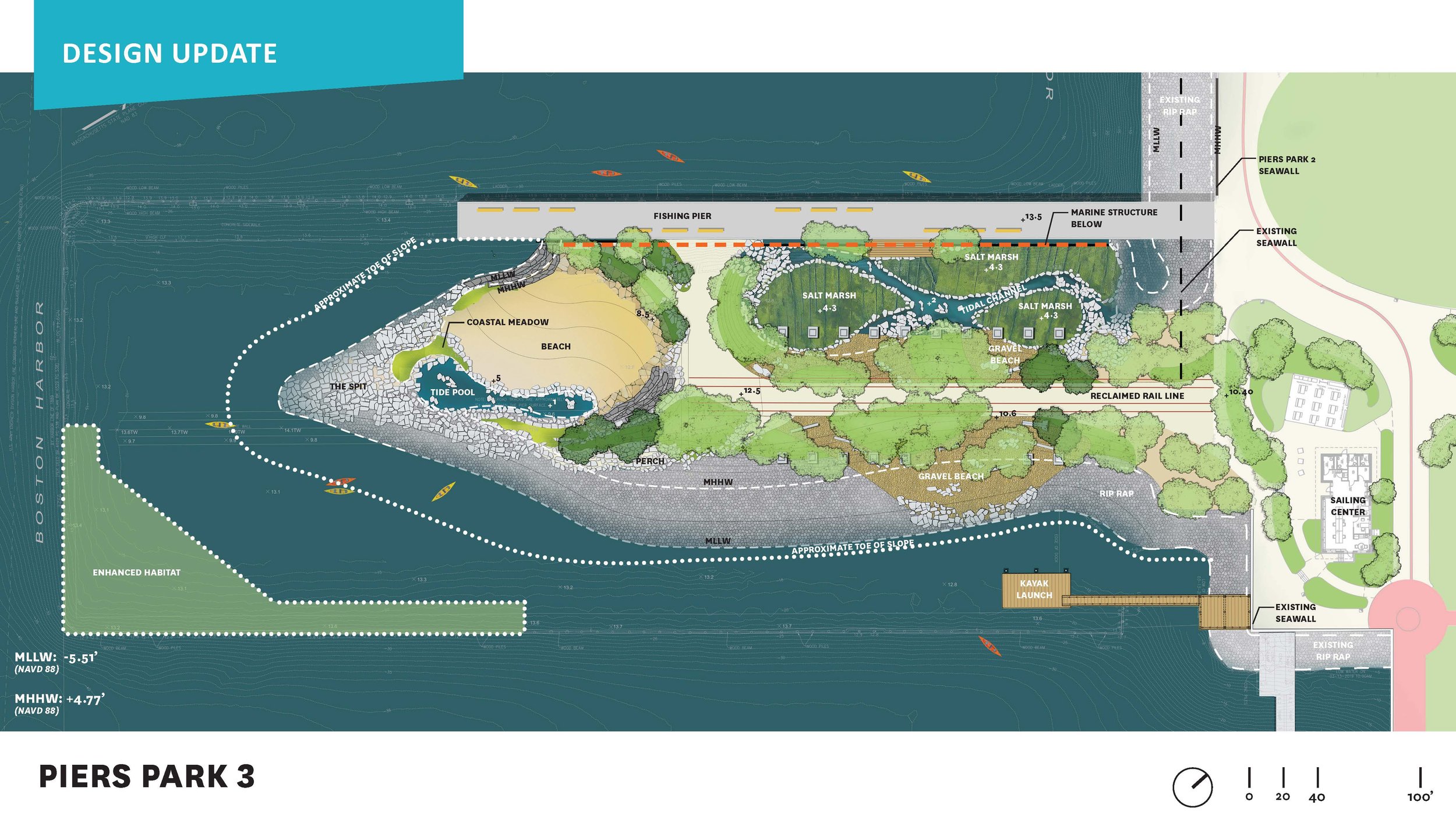 Piers Park III design
The Trustees of Reservations (The Trustees) today announced it received $3.25 million in additional funding for the future Piers Park III in East Boston from five corporate partners—Massachusetts Mutual Life Insurance Company (MassMutual), Liberty Mutual, State Street Corporation, Converse, and Blue Cross Blue Shield of Massachusetts (BCBSMA).
The organizational funding stems from support by members of The Trustees One Waterfront CEO Roundtable, a task force of senior executives from Boston-based companies helping shape the vision for the City's vulnerable waterfront. Roundtable members act as strategic conveners between public, social, and private sectors to ensure that the Boston Waterfront Initiative, One Waterfront rises to the challenges faced by our vulnerable harbor city for current and future generations. The Roundtable is chaired by Ronald P. O'Hanley, Chairman and CEO of State Street Corporation.
For Liberty Mutual, giving back to local communities is a priority, and the $1 million investment in the future park aligns with a belief in the critical importance of equity, access and inclusion.
"All of us at Liberty Mutual place extraordinary value on inclusivity, the preservation of land, and the dynamic role we share as stewards of this planet we call home," said Melissa MacDonnell, President of Liberty Mutual Foundation and Vice President, Community Investments at Liberty Mutual Insurance. "One Waterfront's focus on accessibility aligns with our commitment to making Boston's green space welcoming for all people and creating resilient communities for present and future generations."
MassMutual's pledge of $1 million speaks to their commitment to building a better future.
"MassMutual is proud to join other area businesses who share a deep commitment to providing beautiful, open and accessible space for residents and visitors to enjoy," said Roger Crandall, Chairman, President, and CEO of MassMutual. "The Trustees of Reservations shares MassMutual's vision for building a thriving, sustainable community, and we are thrilled to support ongoing efforts to improve Boston's climate resiliency."
Pledging $750,000 to the resilient waterfront park, State Street Corporation supports a more resilient Boston waterfront, recognizing the importance of bolstering both its climate resilience and also its social resilience, through the creation of new public green space, investments in workplace development, and a commitment to racial equity.
"Each of us and our companies are committed to working with policymakers and great civic organizations like The Trustees to help build a more climate resilient Boston." said Ronald P. O'Hanley, State Street Corporation Chairman and CEO. "We believe these new spaces will accelerate Boston's climate adaptation and at same time provide accessible, attractive public spaces for all Boston residents."
BCBSMA and Converse have each pledged $250,000 to build the iconic public space, a park that will connect directly to a commitment to support public health and a belief that strong, resilient cities start with strong, resilient communities.
"The new Piers Park in East Boston creates accessible, climate-resilient open space that serves the needs of diverse communities and brings value to our vulnerable coastal city," said Andrew Dreyfus, BCBSMA President and CEO. "At Blue Cross we're focused on providing access to affordable, quality health care and eliminating health inequities. The Trustees' One Waterfront initiative connects directly to our commitment to public health and environmental justice."
"At Converse, our core values are geared toward being a valuable part of the communities in which we live, work, and play—to be useful, to elevate, and to empower," said CEO Scott Uzzell, Converse President & CEO. "We believe that strong, resilient cities start with strong, resilient communities who celebrate diversity and improve the quality of life for others, by providing equal access to vital services and amenities such as educational opportunities, arts and culture, and open space."
With official site designation from the Massachusetts Port Authority (Massport), The Trustees is working to design and construct the waterfront park on what is currently an abandoned pier in the environmental justice community of East Boston. The Trustees will build and operate the park—adjacent to the current Piers Park I and future Piers Park II—under a long-term ground lease with Massport. The community design process launched in 2021 and will continue through early 2023 to finalize the landscape, programming, and park features.
The $3.25 million will contribute to the construction of the park – an estimated $40 million project that is being funded largely through philanthropic contributions The Trustees is raising contributions from a mix of private individuals, foundations and corporations. To date, more than $30.1 million has been committed to build Piers Park III, including $2 million in recent Congressional Directed Spending (CDS) federal funding, part of the bipartisan omnibus federal budget signed by President Joseph R. Biden.
Altogether, Phases I, II, and III of Piers Park will provide a network of green space along Boston's harbor, including more than a mile of accessible waterfront trails for walking or jogging. A new drafted design for Piers Park III, created by The Trustees and Michael Van Valkenburg Associates, Inc., was shared in February, incorporating community feedback gathered throughout 2021. The next design update is slated for public release and feedback in November.
"Piers Park III will enhance the quality of life in East Boston by responding to the community's desire for beautiful open space that allows residents to get right to the harbor's edge for recreation and exploration. This resilient and creative design will offer visitors the important wellness benefits of the outdoors," said Nicie Panetta, Interim President & CEO of The Trustees. "We are proud to partner with community groups, state and local government, and our corporate supporters to advance a bold shared vision for equitable access to iconic open spaces on Boston's waterfront."
ABOUT THE TRUSTEES
Founded by landscape architect Charles Eliot in 1891, The Trustees has, for more than 130 years, been a catalyst for important ideas, endeavors, and progress in Massachusetts. As a steward of distinctive and dynamic places of both historic and cultural value, The Trustees is the nation's first preservation and conservation organization, and its landscapes and landmarks continue to inspire discussion, innovation, and action today as they did in the past. We are a nonprofit, supported by members, friends and donors and our 123 sites are destinations for residents, members, and visitors alike, welcoming millions of guests annually. Learn more at thetrustees.org. To learn more about Piers Park III visit onewaterfront.org/pp3