A thunderstorm transformed dimples on the ground into muddy puddles, so the children came to Castle Hill in rain boots. The lingering drizzle might have kept their parents indoors, but since the kids were still game for hiking along the marsh and the back dunes, entire families embarked on a journey of simple pleasures along Cedar Point Trail, scouring for worms, splashing in puddles, running through a pine grove wide-open for exploration. One parent whispered to another: I never would have taken my kids outside today by myself, but this is great.
"So many families are afraid to get outside, especially when it's muddy like that, but that's a kid's dream," says Victoria Sindorf, The Trustees' Education Manager for the Crane Estate, who led the two-hour sojourn as part of a series of Monday school holiday hikes. "Honestly, that rainy-day hike was one of the best ones we've ever done."
Guided Adventures
No matter the weather, hiking—the basic act of setting one foot in front of the other to get a better look at where you are—is perhaps the most accessible way to experience the outdoors. And whether you're a parent sharing your passion for the world outside or you're just looking for ways to spend more quality time with your kin, The Trustees offers a range of guided hikes and programs aimed at helping families get acquainted with the easy wonders of hiking. Properties across Massachusetts host Trustees Trekkers, a series of ranger-led family hikes for all ages and abilities. And with 100+ reservations spread across the Commonwealth, most families are within a half-hour of a hike on a Trustees property. "Our goal isn't to have families come out and do every single one our family hikes, even though that would be amazing," Sindorf says. "The goal is to have them go out together and hike on their own."
Hiking is an ideal vehicle for children's first forays into the outdoors, with a pace suited to stop-and-start exploration, low physical and financial barriers to entry, and health bene ts that transcend low-impact exercise. "You're disconnecting from technology. You're using your senses and really being present in a given place," says Kristen Swanberg, Director of Education and Public Programming for The Trustees. "It can provide a good opportunity to strengthen that family bond, and it can be a little bit of an adventure."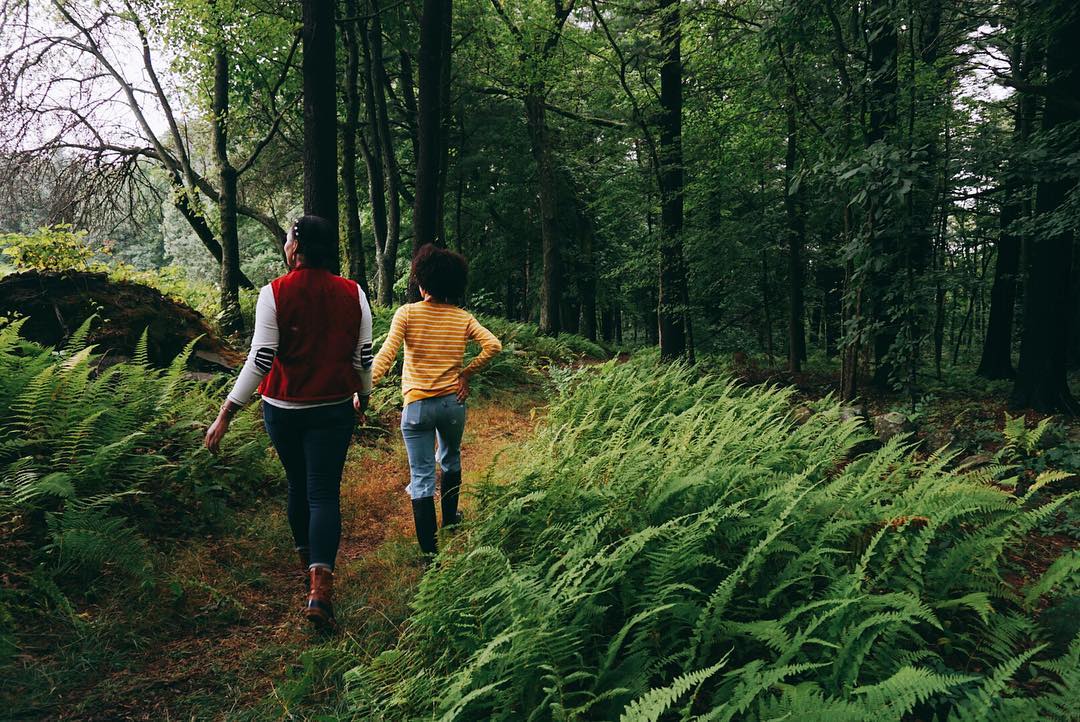 Ward Reservation by @Anderky
Laurie Nehring, a naturalist who has led family hikes at various Trustees properties, specializes in such mini-adventures. At Fruitlands Museum, she leads nighttime "owl prowls," demonstrating the proper hoo-hoo call to attract barred owls and shepherding families through the dusk. "I try to help them feel comfortable getting their kids out," she says. "A child might be talking while we're trying to be quiet, and I'll try to get them involved by saying, 'Can you sit with me and we'll watch for owls together?'" (If they have binoculars, she deputizes them as her assistants.) "They come away being a little more knowledgeable, and they have a little bit of a sense of awe," Nehring says.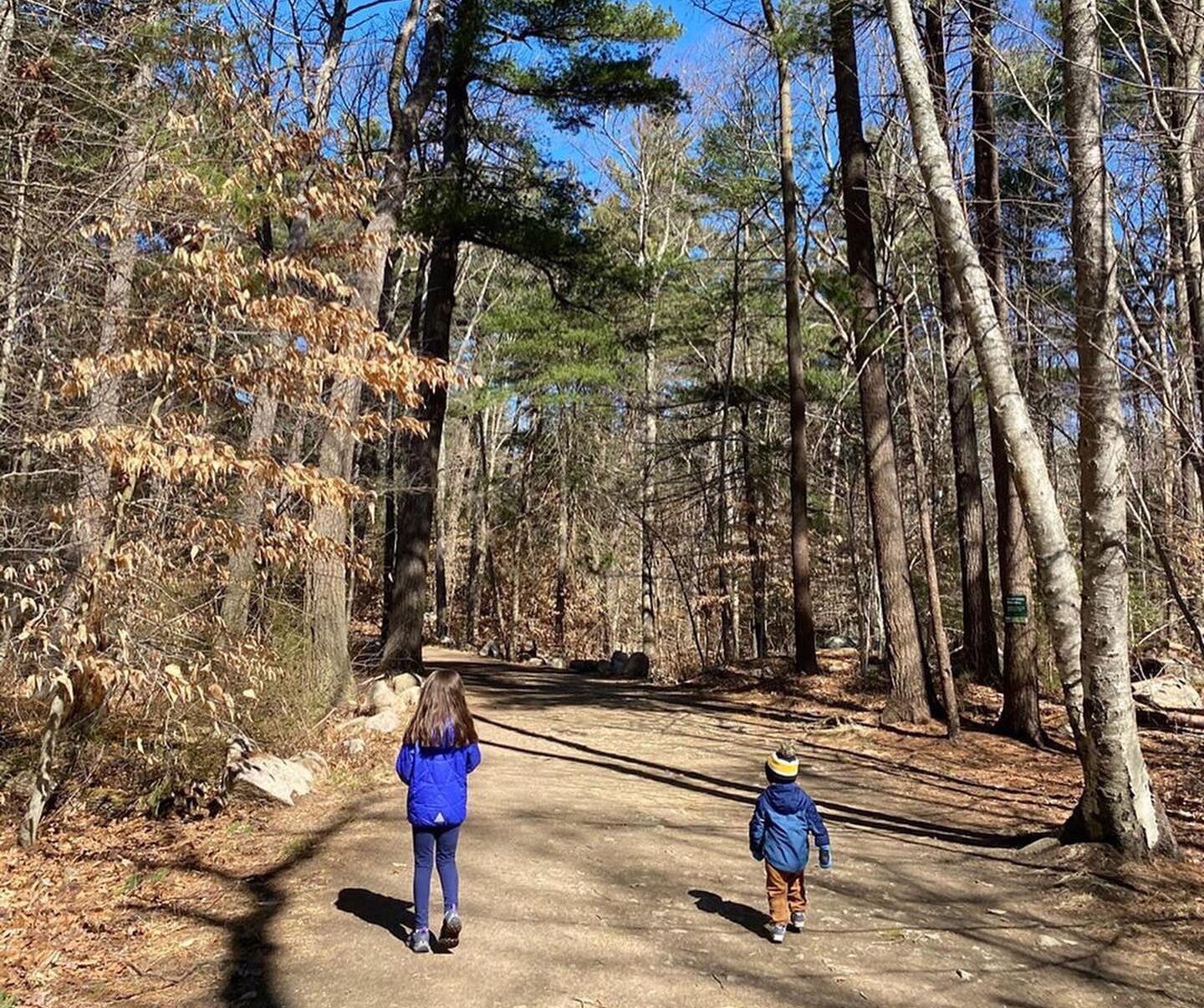 Ravenswood Park by @katiecakesbythesea
Natural Curiosity
With the guidance of experts, The Trustees' family hikes help demystify parents' most frequent reasons for trepidation in the outdoors—ticks, mosquitos, poison ivy—and provide a textbook-free, fun-first education in ecology. "One of the things I try to drive home is that you don't have to be a naturalist to teach your children to love nature and develop their scientific curiosity," Sindorf says. To make things interesting and keep kids engaged, she'll organize hikes around simple scavenger hunts—for instance, what do you see that birds might like to eat, or where might they like to hide out? What things are on the trail that weren't there last time? "That gives a bit of structure to what you're doing, so it's not just like, 'we're hiking.'"
And when parents set out on their own, taking a few easy steps can help keep smiles on kids' faces. Always bring snacks and water. Stay toward the center of the trail. If you're heading out alone, take a hard copy of the trail map or snap a picture on your phone in case you lose service. Before buying high-priced hiking accoutrements, stock up on tick repellent, bug spray, and footwear that can keep you going. Instead of setting out to finish a five-mile loop, pick an out-and-back route where you can encourage spontaneous wandering.
Ultimately, Nehring says parents' enthusiasm might be the most important influence on their children's attitudes toward the outdoors. "When parents jump right into the activity and demonstrate their natural curiosity—even when they have no idea of the name of the beautiful flower or metallic looking beetle—their kids do the same." Follow their lead, and before you know it, their natural curiosity becomes a natural love of the outdoors.