'Extraordinary Birder' and author Christian Cooper joined The Trustees, Martha's Vineyard Book Festival, and 20 visitors at Long Point Wildlife Refuge on Saturday, August 5, for a bird walk around one of the Islands' special places. Cooper was on the Island as part of the book festival, having recently published his memoir, Better Living Through Birding: Notes from a Black Man in the Natural World.
Upon his arrival at Long Point, Cooper humbly told visitors he is "just a birder" and wasn't the one who picked the title of his new National Geographic series, Extraordinary Birder with Christian Cooper. But in spending three hours walking the trails of Long Point with Christian, it was apparent just how extraordinary he is – there is enthusiasm and passion he brings to birding that is contagious.
"It was invigorating to put together this event in collaboration with the Martha's Vineyard Book Festival. I'm a fledgling birder, pun fully intended, and being able to chat with Christian about the difference between green herons and night herons was a real delight," notes Caroline Drogin, Coastal Engagement Manager. "It's a priority for me to create future programs modeled off this event. I think of it like making soup: start with a beautiful location like Long Point Wildlife Refuge, draw in experts from off Island to share their knowledge, and finish with an inclusive community of people from all walks of life who appreciate the beauty of the natural word. Serve al fresco and enjoy with love in your heart."
Cooper and visitors began their bird walk by visiting Great Tisbury Pond, where the group spotted a Green Herson, a Killdeer, American Oystercatchers, and many Gulls. Cooper was quick to call out that there is no such thing as a "seagull," but rather that there are several species of gull, and the many gulls spotted at the pond were Herring Gulls. The group went on to see four different species of gulls during the walk.
Black Bellied Plovers, Barn Swallows, and Song Sparrows breezed overhead as the group made their way to the barrier beach that is part of the refuge. Common and Least Terns were spotted flitting around near the pond, and the group observed a Willet feed as the waves crashed into the beach.
As the group walked through the Sandplain Grassland habitat and the Oak Woodland, a Black Racer snake was spotted as it slithered down a tree, a testament to the work being done on the refuge to protect the Racers and ensure that they are not run over as visitors enjoy the property.
As each new songbird called out, Cooper would tell of his many mnemonic tools used to identify the different songs. The group heard and saw over 26 species during the bird walk, with a favorite of the group being a lone Prairie Warbler spotted near the end of the hike.
"He had great mnemonics," said Luanne Johnson, Director and Wildlife Biologist at Biodiversity Works. "It's always great to bird with other people and hear what they have to say."
Shea Fee, Coastal Ecologist for the Islands, reflected on the experience of birding with Cooper: "It was great giving someone so enthusiastic a platform to speak about birds and his experiences. He sparked enthusiasm with every sighting, even of the most common bird. It was a great way to introduce people to birding."
The experience allowed each visitor to see birds through fresh eyes and enjoy several hours in nature on a picture-perfect day. Each walked away with a signed copy of Cooper's memoir, Better Living Through Birding, and hopefully, with an appreciation for the experience, the refuge, and Cooper's passion and expertise. Cooper's awe is palpable each time a new bird is found, a deserving holder of the title, 'Extraordinary Birder.'
The Trustees would like to extend our thanks to our partners at the Martha's Vineyard Book Festival for making this bird walk possible.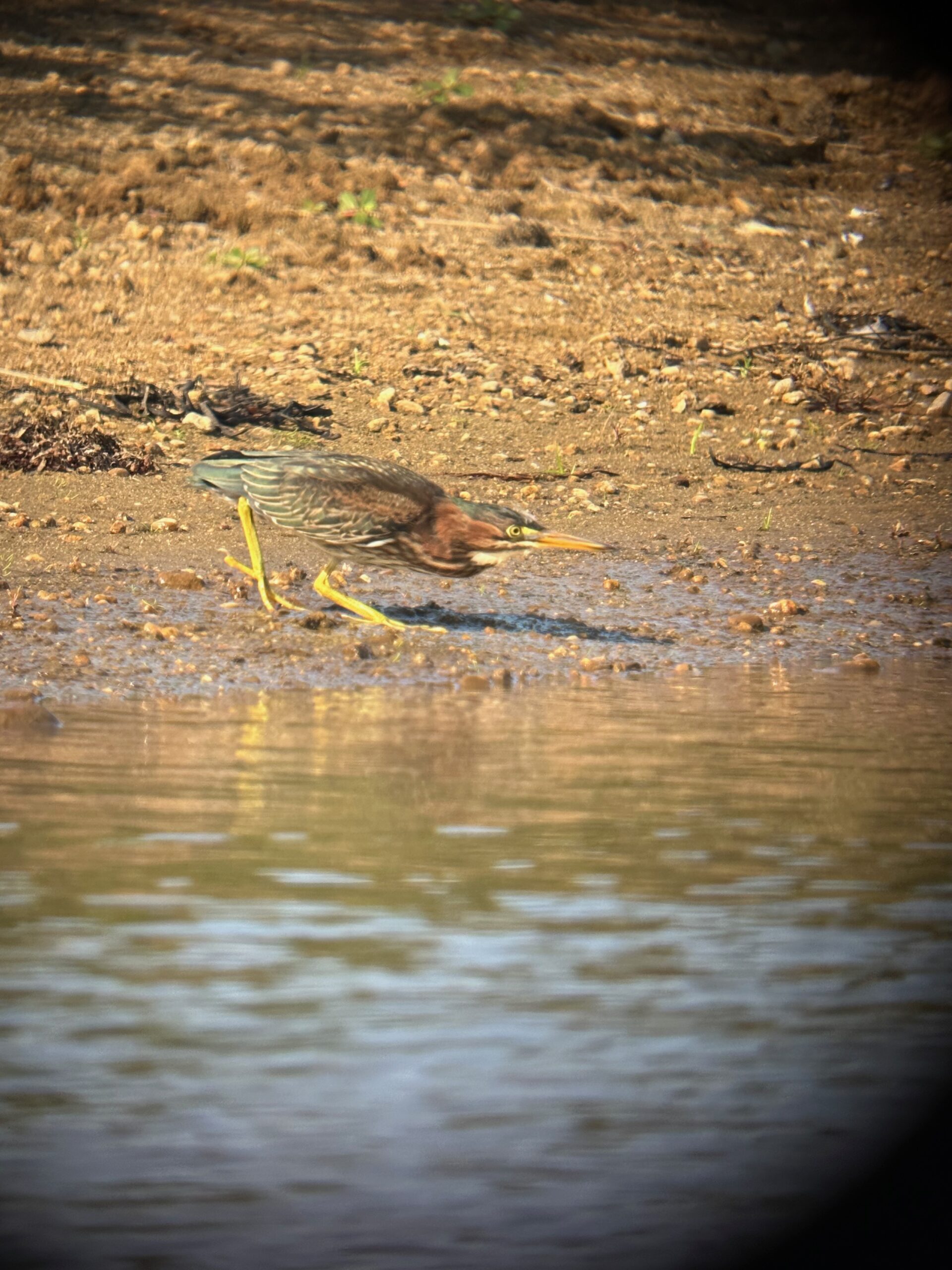 Green Heron