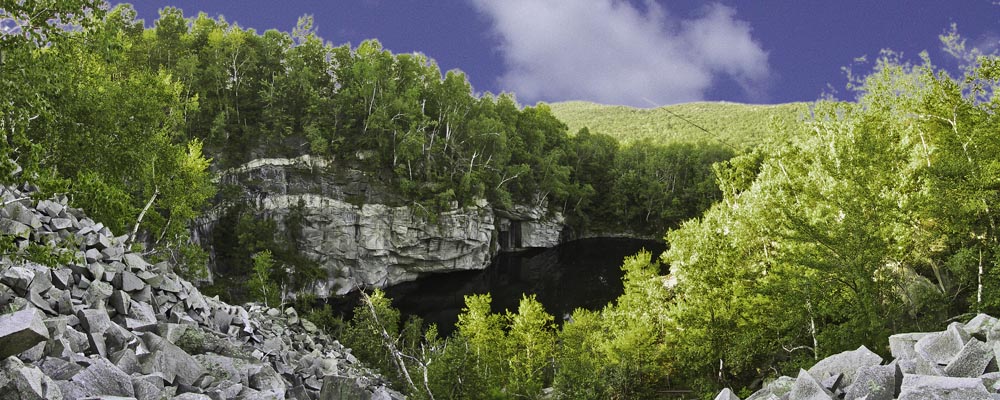 Photo credit: H. David Stein
A recent partnership between The Trustees and the Becket Land Trust has brought the Becket Historic Quarry and Forest property into our care, ensuring a place for this unique natural and cultural landscape among our many woodland properties.
This 300-acre property is the former site of the Chester-Hudson Granite Quarry. It was acquired by the Becket Land Trust more than 20 years ago, when the quarry was proposed to be re-activated to provide crushed stone for use in the Big Dig project. Visited by more than 14,000 people in the last year, Becket Quarry's popularity and stewardship challenges led the Land Trust to seek a partner entity to take over the management of the property.
After more than 100 years of operation, the Chester-Hudson Granite Quarry ceased full operation in the late 1940s, and a variety of vehicles and industrial equipment were abandoned. These artifacts from a bygone age are still there, and slowly being reclaimed by the forest. Planned improvements to Becket Quarry under Trustees stewardship include work on the extensive trail system which laces the interior of the property, signage updates, and upgrades to the main access trail (the former railbed for the quarry railroad).
The transfer follows a $270,000 capital campaign jointly undertaken by the Becket Land Trust and The Trustees to provide a modest endowment and to fund property stewardship costs. The capstone gift to the campaign was a bequest by the Estate of Helen Brackett. Helen, who resided in New York City and passed away in 2019, loved spending time in the Berkshires and had a strong commitment to conservation during her lifetime. In addition to Helen's gift, many generous contributions were made by the friends of the Becket Land Trust, including the Central Berkshire Fund and the Barbara and the Gunther Stuhlmann Fund of the Berkshire Taconic Community Foundation.
As we settle into our new stewardship role, we will be evaluating the potential to hold events and provide public programming at Becket Quarry and Historic Forest. An official opening ceremony will be planned for 2022.