As the harvest season draws to a close, we sat down with Emily Larson from the Boston Area Gleaners to learn about the work the organization does to prevent food waste and support local communities. 
Tell us about gleaning and the work you do at Appleton Farms?
Gleaning is the act of collecting surplus fresh produce to provide it to those in need. Our focus when we glean on local farms is to reduce on-farm food waste by harvesting excess produce with volunteer teams and distributing it to various regional food access partners, but gleaning more broadly can include rescuing food that might otherwise become waste from grocers, restaurants and farmers markets.
We have a very strong relationship with Appleton Farms and have been out to the property nearly 30 times this season with volunteers for gleaning trips. These kinds of strong regional partnerships are what sustain our operations, and it's truly remarkable that even during a difficult growing season like this one, Appleton has maintained such an obvious commitment to our organization and the work we do.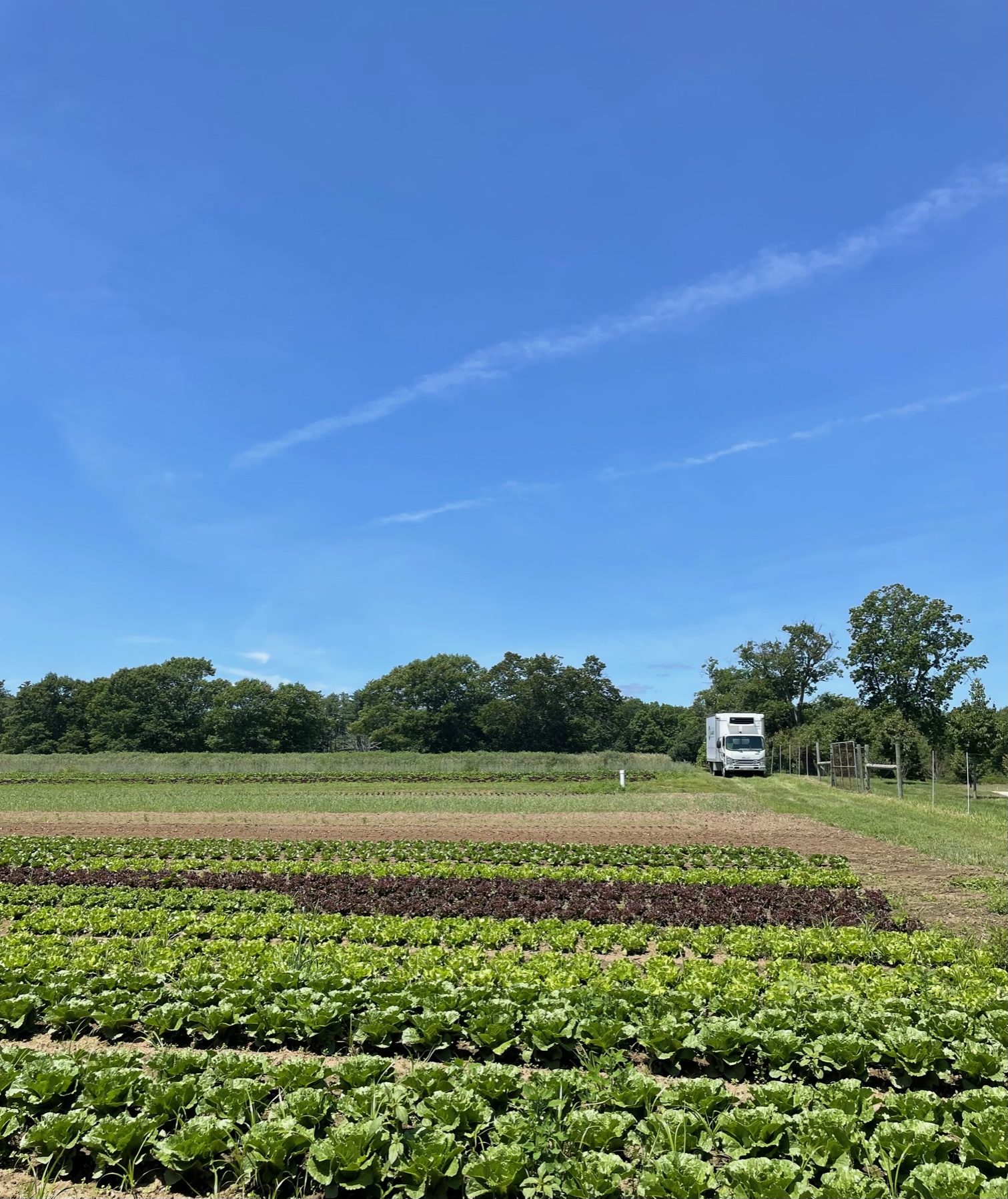 The fields at Appleton Farms
What do you do with the food you glean?
A core tenant of our mission is to provide fresh, high quality produce to vulnerable populations in our community and region. All of the produce we glean is donated to our network of local food pantries, food banks and meal programs. One of the key services we can provide is transportation to and from farms and our partner organizations so the issue of "how to move the food from here to there" isn't a concern when farmers want to donate surplus crops to us. We are able to take care of the whole operation from beginning to end.
Have you ever been able to visit / glean at any other Trustees properties?
This season, we also maintained a gleaning relationship with Powisett Farm in Dover.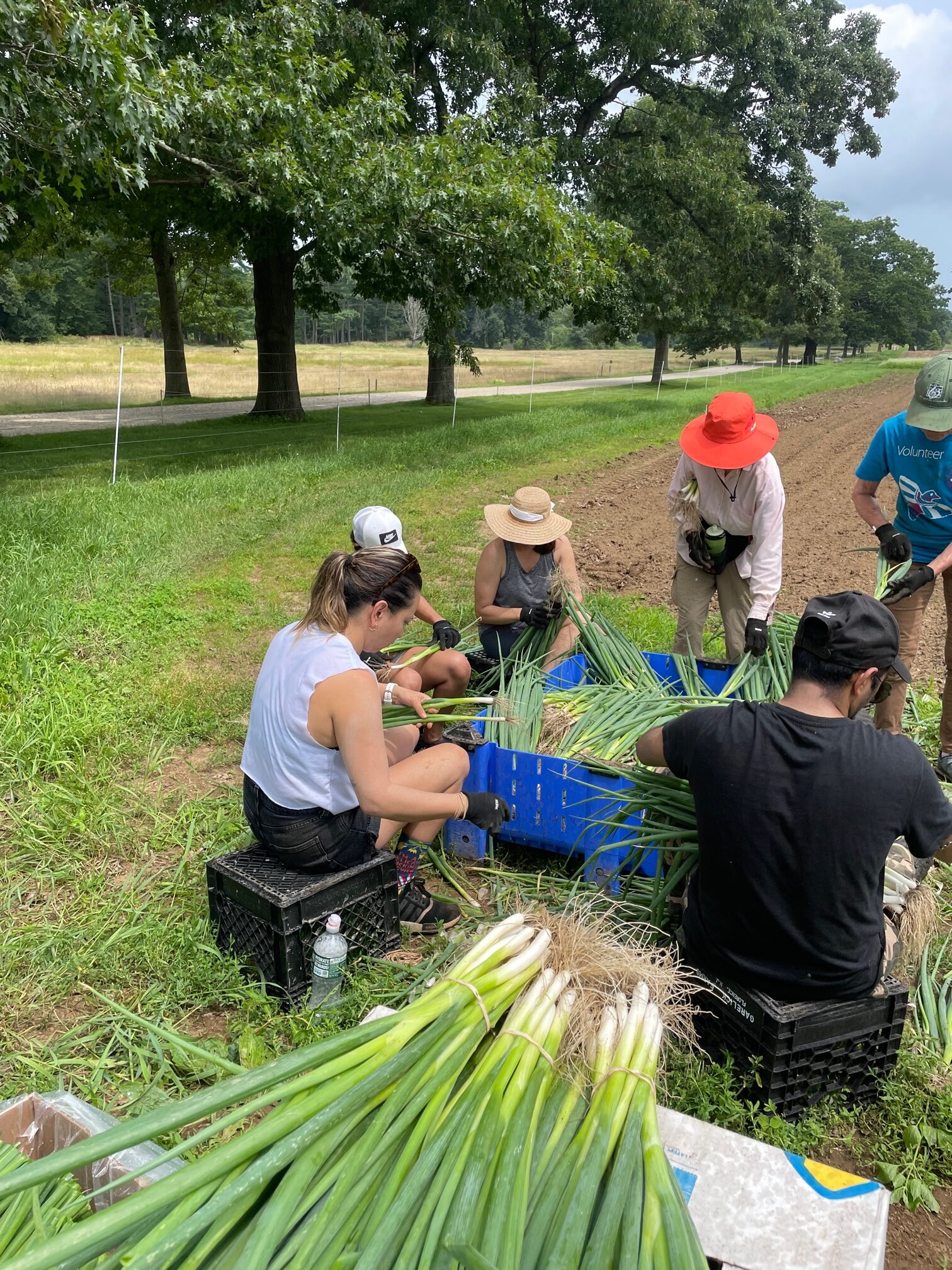 The gleaning crew harvests scallions
Can you tell me more about your background and how you got into this field?
Before starting to work with Boston Area Gleaners as a Harvest Leader this season, I was cobbling together an existence as a self-employed theater artist. When CoVid hit, my entire industry vanished overnight, and I quickly found myself relying on food stamp benefits to make ends meet. It was not a position I had ever expected to be in, and I really struggled to maintain my dignity during that time. I was so grateful that there were programs in the state of Massachusetts that allowed me to use my food stamps at local farmers markets so I could continue to participate and give back to local farmers and my community in that way. During CoVid, I read a lot of material about issues of access, food justice & food waste in our country.
The more I read, the more I realized my experience was a privileged one. I never needed to visit a food pantry or a food bank to supplement my monthly benefit, for instance, but that is the everyday reality of many families with young children in this country. I wanted to give back to a system that had sustained me during a particularly difficult time in my life and help make access to fresh produce even more equitable for others in my community. It was a serious pivot for me to start working in the agricultural sector, but I've learned an incredible amount this season and built invaluable relationships.
Anything else you want to share?
I've experienced firsthand what a labor of love the gleaning process is. Andrew Lawson, the field crop manager at Appleton, has been such a gracious host. We try to make things as easy and smooth as we can for farmers while we are onsite at farms, but there are invariably some logistical aspects to take care of, and every farmer we work with is giving of their time and energy to communicate with us and help set up a successful glean. Their generosity is so inspiring!