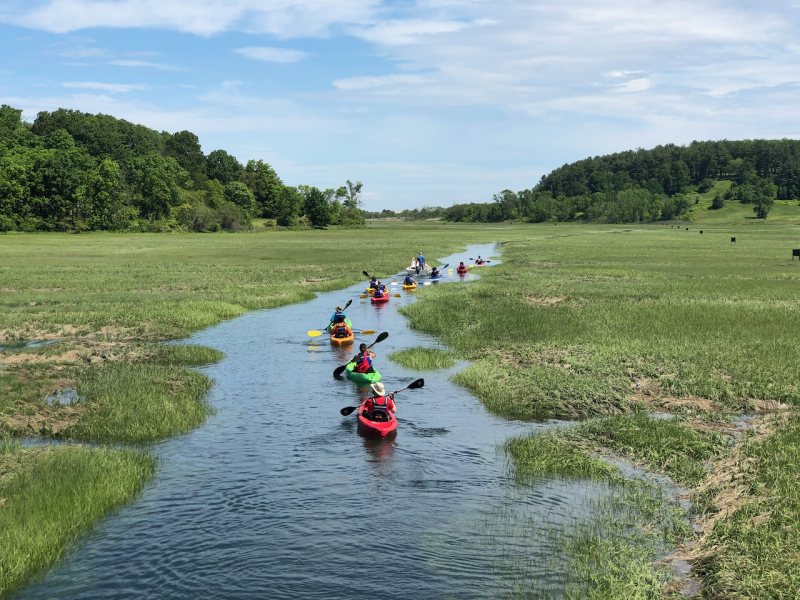 Fox Creek Kayaking
We get lots of questions from kayak beginners and those who are new to kayaking — wanting to know how soon they can get out on the water.
So we asked Matthew Mackenzie, our CraneOutdoors Manager to walk us through the process of getting on the water, what to expect on the tours, which tours are best for beginners and what you need to bring.
Browse Kayak Tours
I've never kayaked before, is this something that I can do?Yes, we have a fleet of very stable and easy to paddle Wilderness Systems Ocean kayaks. We also have a highly trained guide staff that will walk you through paddling techniques, safety and assist you along the way.
Is kayaking hard for beginners?Not really, kayaking is all about being relaxed. Balance and entering the water with a positive attitude is all you need. Our staff is there for you throughout the adventure and great at giving tips and tricks to make kayaking easy and a great experience for even beginners.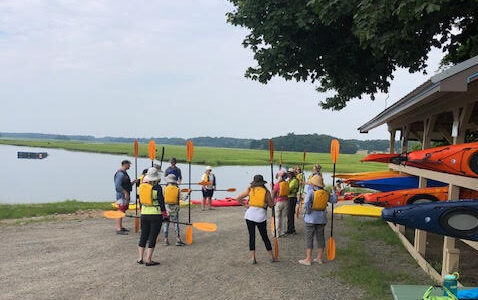 Kayakers getting their gear before the paddle.
How fast can I start kayaking if I've never done this before?Our highly trained guide staff will run all guests through a paddling and safety briefing prior to the trip. They will assist with getting the group on the water and most first-time kayakers will be paddling on their own within the first 15-20 minutes of the trip. Guides will assist along the way if needed with tip and tricks and help with kayaking form to make sure the guest is enjoying themselves to the fullest. Our kayaks are easy to paddle, and we do not run trips when the weather is not idea.
Do you show us how to kayak?Yes, our guides have many years of experience between them and conduct a paddling demonstration and safety briefing before each trip. They will assist guests with paddling techniques on land as well as on the water when the trip gets underway.
Is there anything that I should bring or purchase for kayaking? We provide a list of items to bring and not to bring on our pre-event communication email that every guest receives prior to the trip. The most important thing to bring is a great attitude and willingness to learn. We recommend bringing enough water for the trip to stay hydrated. Sunscreen and bug lotion are among the things we recommend but we also have a variety of those items at the Paddle Center. A dry bag is good to have for your cell phone if you wish to take photos while on the trip. We also recommend a change of clothes for after just in case you do get a little wet. Walking or hiking shoes are good to bring for our kayak and hiking combo events. A sun hat and glasses always help on those bright days.
Any first-time tips for beginners?Come with an open mind and willingness to learn. You will not only learn about kayaking but about all the area has to offer and history of the property. Listen to the guides instructions and if there is an issue just remain calm, there is nothing we haven't trained for. Most first-time kayakers return from the trips with excitement in their eyes and the desire to get back out and do it again.
Are any of your kayak tours especially good for beginners?The Kayak Adventure on the Castle Neck River is our easiest tour. This one is just a paddle to the end of Castle Neck where the guests will land and take a short walk to stretch their legs. The tour then heads back up the Castle Neck River and back to the Paddle Center. This would be the easiest of the tours we offer. I would recommend the Once Around the Islands Tour. This one is the most beautiful tour, especially in the early mornings and just a bit longer than the Castle Neck River Trip.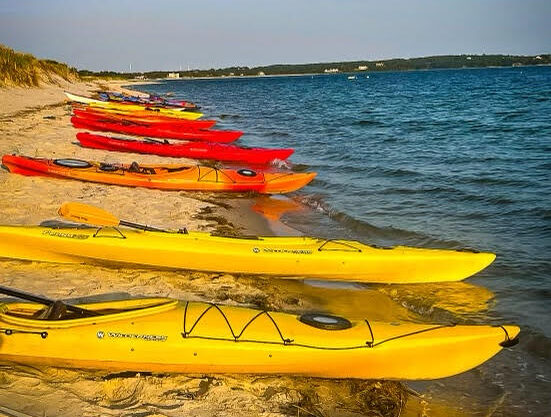 Kayaks on the beach
How do I get in and out of a kayak?That is the questions that everyone wants to know. It's not like you think, you are not stuck in the kayak and entry and exit is quite easy. The cockpits of our kayaks are large compared to most ocean kayaks. Guests do not wear a kayak skirt, so they are free to move around a bit in the kayak and will be able to pop right out if an issue occurs. Our Highly trained guides will fit each guest into their kayaks and match guests with the best fitting options. Our guides will assist with launching the guests onto the water and helping them back out of the kayaks when they return.
Is it safe?CraneOutdoors prides itself on safety. We have a team of highly training guides who have been doing this for years and their open water kayaking skills are top notch. For all our tours, the guides are constantly in communication and watching over the guests. We start training in February for each season and train on the water for rescues as soon as possible before each season and throughout the season. Guides are equipped with rescue equipment and radios that give them direct contact to the Rangers, Ipswich Police and Coast Guard if needed. The waters we operate in are calm and none of our trips go out into the open ocean. We operate in the sheltered estuary of the Crane Wildlife Refuge. Our only concerns are weather events and those are monitored closely by the CraneOutdoors Manager and all the guides.
What athletic level is this activity? Who is this for and who isn't this forKayaking with CraneOutdoors takes moderate athletic ability. We will be on the water and actively kayaking for 2-2.5 hours with a break in the middle to stretch our legs. We have people of ages 15-82 years old on our trips before so, this activity covers a broad range of people. We have a few kayaks that can accommodate larger sized paddlers, but all guests will need to be competent swimmers and be able to keep up a moderate level of physical activity for at least two hours. This does not mean you have to be a runner or in tip-top shape, but you should be comfortable with the activity of paddling which is much less strenuous than running or hiking.
What can I expect to do?You can expect to arrive at the CraneOutdoors Paddle Center and be greeted by our Guide Staff. They will set you up with all the gear needed and fit you into a kayak that best suits you. You can then expect to get on the water and take a nice leisurely paddle into the Essex River Basin. Our guides will take you out on the specific route that you are signed up for and coach you along the way if needed. You can expect to take a break and get out of the kayak to stretch halfway through the trip. If you are on a kayak and hike combination trip, you can expect to hike on Choate Island for about an hour of the time out there. Guides may stop and see if anyone in the group wants to swim at some pint as well. I would prepare for a swim and or a hike and bring the appropriate gear for those activities.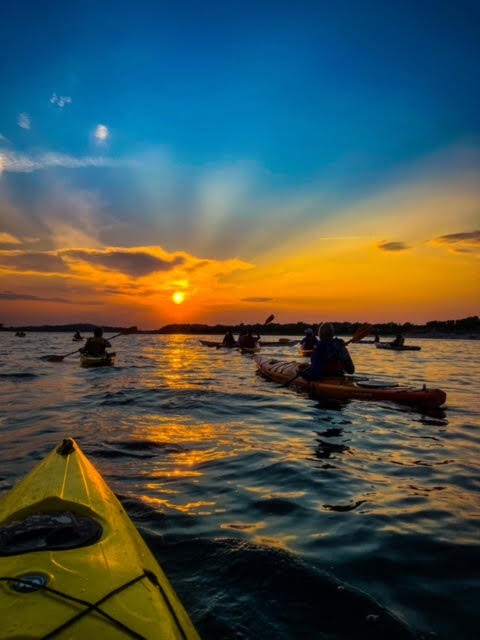 Sunset Paddle
What can I expect to see?Beautiful sights abound!! You will be kayaking in the pristine Crane Wildlife Sanctuary and can expect to see everything from Deer to waterfowl, including Bald Eagles and Osprey. Shore birds are abundant, and seals have also made their appearance. The ocean life will be all around you with Green Crabs, Horseshoe Crabs and the occasional Ocean Sunfish to see. Cormorants are also in the area and actively diving for meals or drying their wings on the rocky shoreline.
I have a group! Do you do group excursions?We run a wide variety of group tours that can accommodate large groups up to 40 people. We do small private events and larger corporate events that can be coupled with a catered lunch or fire pit on the beach with S'mores for the kinds. Some of the larger events will consist of a hike and kayak combination and then the group with switch activities as we can only accommodate around 30 kayakers on the water at one time. The private group request form can be found here: https://forms.office.com/r/99mcG9rt5P
Browse Kayak Tours