The Trustees was thrilled to serve on the Host Committee for the Second Annual Earthshot Prize, celebrated in Boston last week. The prize aims to discover and scale innovative solutions to help repair the planet within a decade. As part of the Host Committee, we are excited to highlight Boston's commitment to innovation and sustainability, and invest in young people as well as new initiatives to support climate resilience and more.
I am honored to join The Earthshot Prize Host Committee and partner with my fellow leaders and activists to tackle the defining issue of the 21st century," said Vidya Tikku, Vice President of Urban Outdoors at The Trustees of Reservations. "As the globe becomes increasingly urban—more than 70 percent of the earth's population will live in a city by 2050—it is especially important that we find innovative ways to reduce carbon emissions, fund sustainable development and transportation, and create new urban green spaces to reduce food, heat, and flooding threats and protect our most vulnerable populations.
While in town, The Prince and Princess of Wales joined Vidya, and others at Piers Park in East Boston to discuss climate resilience work on and around Boston's Harbor. Over the past few years, The Trustees has been working to advance a bold vision for iconic, public open space on the City's waterfront, through our Boston Waterfront Initiative, One Waterfront.
Beginning in East Boston with Piers Park III, One Waterfront will create and manage a series of equitable, resilient, and iconic public parks. For Piers Park III, The Trustees has hired world-renowned landscape architect Michael Van Valkenburgh Associates, Inc. (MVVA) to lead the park design process, prioritizing input from the community. The proposed waterfront park will create welcoming public open space on what is currently an abandoned pier adjacent to Piers Park I. The Trustees will draw on over a century of expertise in public open space management to deliver this new signature destination—for all to enjoy. To learn more visit onewaterfront.org/pp3.
About The Earthshot Prize
Founded by Prince William and The Royal Foundation in 2020, The Earthshot Prize is a global environmental prize to discover, accelerate and scale ground-breaking eco-solutions to repair and regenerate the planet. Inspired by President John F. Kennedy's Moonshot, which united millions of people around the goal of reaching the moon, The Earthshot Prize aims to catalyze an Earthshot challenge to urgently encourage and scale innovative solutions that can help put the world firmly on a trajectory towards a stable climate, where communities, oceans and biodiversity thrive in harmony by 2030. The five challenges are: Protect and Restore Nature; Clean our Air; Revive our Oceans; Build a Waste-free World; and Fix our Climate.
The Prize aims to turn the current pessimism surrounding environmental issues into optimism but championing inspiring leadership and helping to scale incredible cutting-edge solutions. It will discover 50 winners over 10 years with the power to repair the planet. More than a prize, The Earthshot Prize works in partnership with a Global Alliance of Partners to support the scaling of the solutions discovered and selected each year.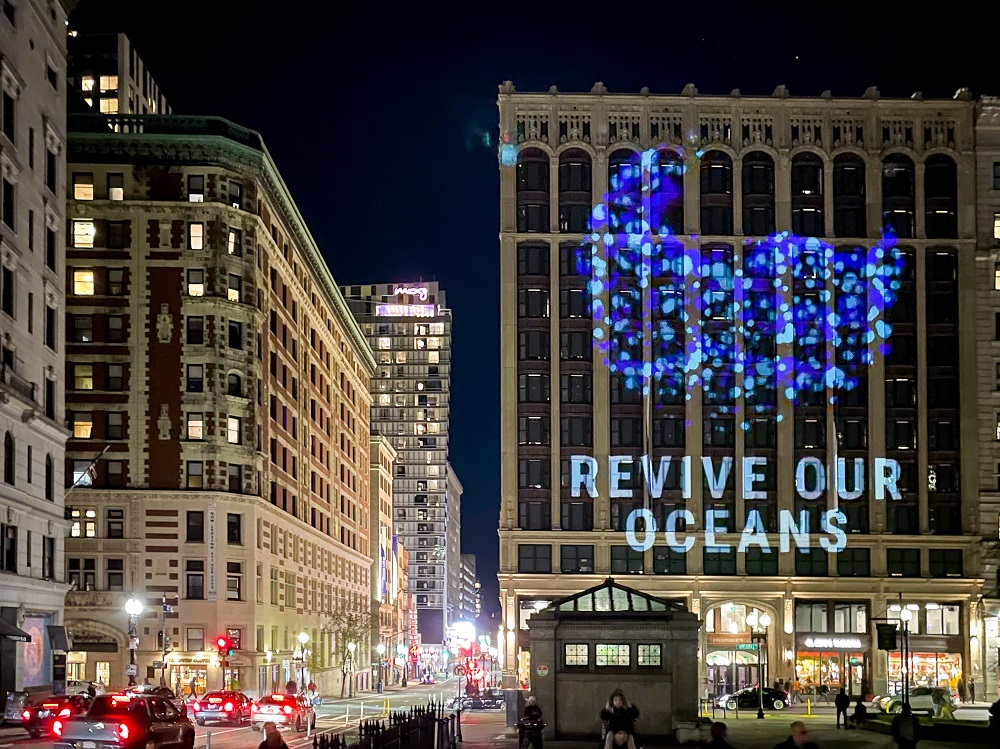 Projection as part of Earthshot 2022
Sharing Boston's beautiful Piers Park with @KensingtonRoyal alongside leaders & partners working in coalition to meet the moment with strong climate action. Together, we're shaping a green, resilient & sustainable future for our city. pic.twitter.com/32o4hlQpyc

— Mayor Michelle Wu 吳弭 (@MayorWu) December 1, 2022