Massachusetts is now the 18th U.S. state to create such an entity.
"The Trustees applauds the creation of the Massachusetts Office of Outdoor Recreation. We are eager to work with this office to promote the benefits and joys of getting outside because people who love nature will join forces to care for it," said Trustees Interim President and CEO Nicie Panetta. "Residents who regularly spend time outdoors are more likely to become lifelong stewards of our state's precious landscapes, helping to ensure their beauty and ecological health for generations to come." 
The creation of the new office follows more than six years of administrative and legislative advocacy on its behalf.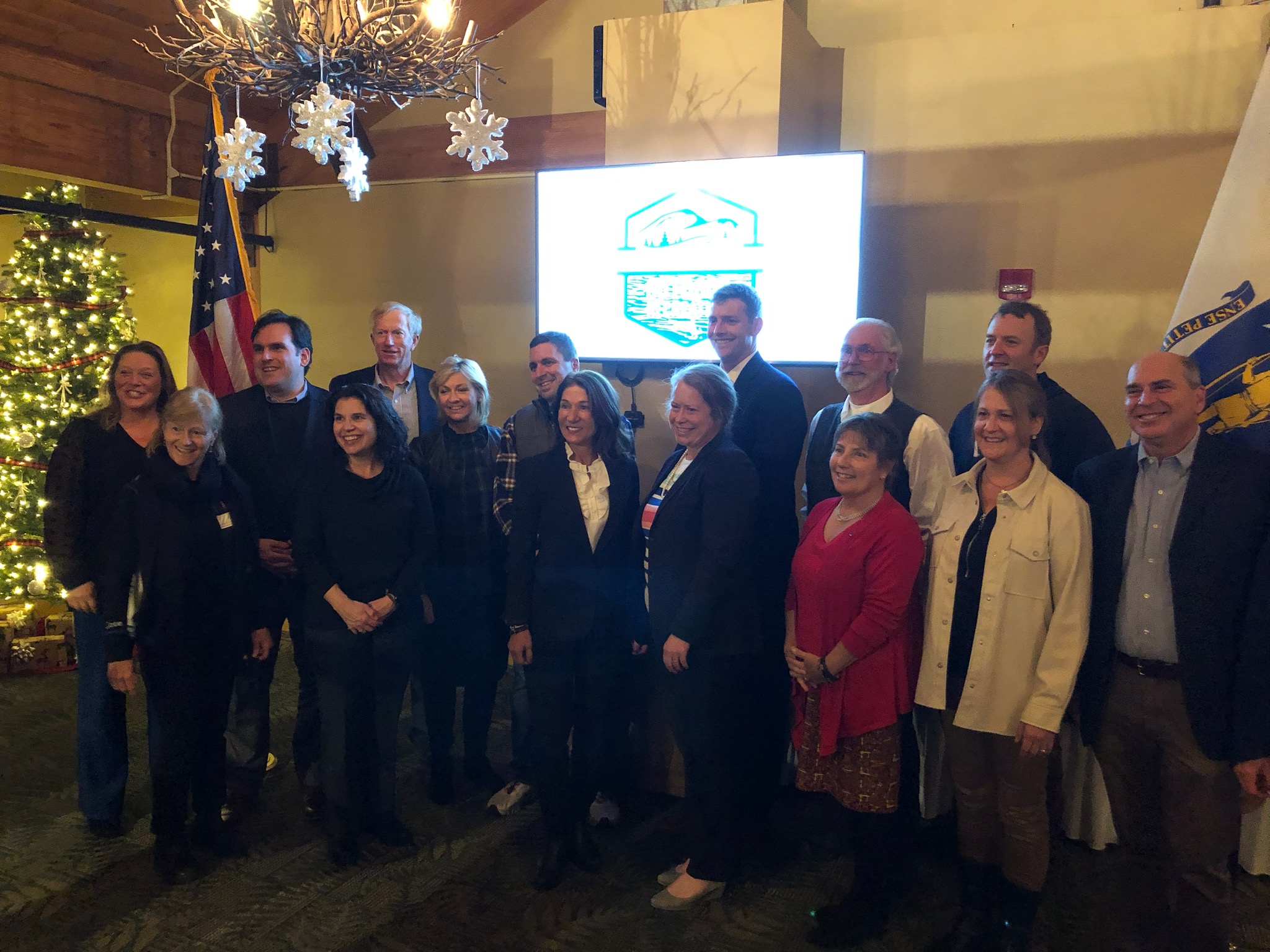 The Trustees, the Appalachian Mountain Club and American Whitewater joined Lt. Governor Karyn Polito, Environmental Secretary Beth Card, Fish and Game Commissioner Ron Amidon, Senator Anne Gobi, Senator John Cronin, Representative Natalie Blais, Representative Kimberly Ferguson, former Environmental Secretary Matt Beaton and Jeff Crowley, operator of the Wachusett Mountain Ski Area on December 5, for an event announcing the creation of the Massachusetts Office of Outdoor Recreation.
Outdoor recreation plays a significant role in the overall economy of Massachusetts, adding $9.5 billion to the state's GDP and directly supporting 93,000 jobs in 2021, according to a report from the U.S. Bureau of Economic Analysis. The outdoor recreation economy grew 24.4% in Massachusetts between 2020-2021, and OREC will be tasked with growing it further. 
"Outdoor recreation can improve our well-being, allow us to experience the many varied landscapes of our beautiful state, and bring us closer together," said Trustees Director, Recreational Enterprise Matt Krumme. "We look forward to working with OREC to broaden and enhance the reach of these benefits and opportunities–not just for some, but for all." 
An event was held Monday at Wachusett Mountain to announce the new office and share its goals of further stimulating economic development and improving the quality of life, health, and well-being of residents and visitors. A new director of outdoor recreation will work alongside state agencies, including the Department of Fish and Game (DFG), the Department of Conservation and Recreation (DCR), the Massachusetts Marketing Partnership (MMP), and the Massachusetts Office of Travel and Tourism (MOTT). 
"The Trustees stand ready to partner with the Healey-Driscoll Administration to help grow the new office to increase and improve outdoor experiences for all Massachusetts residents and visitors," said Trustees Senior Director of Government Relations Linda Orel. "Thank you to Governor Charlie Baker, Lieutenant Governor Karyn Polito, and Environmental Secretary Beth Card for their commitment in seeing this important and exciting initiative through to its creation." 
To enhance outdoor recreation throughout the state, the OREC will:  
Coordinate outdoor recreation policy; 

 

Identify funding opportunities for programs and infrastructure; 

 

Enhance public access and recreation infrastructure; 

 

Support the outdoor recreation economy; 

 

Advance equity and access to outdoor recreation opportunities; and, 

 

Promote Massachusetts as a great place to work, live, and enjoy outdoor recreation.

 
"Whether it's a weekend camping trip with the family, a bike ride with friends, or a hike through a state park, spending time outdoors is beneficial to our physical and mental wellbeing," said Secretary of Energy and Environmental Affairs Beth Card in a press release announcing the new office. "Importantly, the Massachusetts Office of Outdoor Recreation will be a vital asset that will work to ensure these types of opportunities, and more are widely available to all residents and visitors in the Commonwealth, focusing especially on our Environmental Justice communities." 
The Trustees is especially grateful to our partners at the Appalachian Mountain Club for helping to create this new office. We were also joined in our advocacy and support of the OREC creation by: Aventure East, American Whitewater, Big City Mountaineers, Connecticut River Conservancy, East Coast Greenway Alliance, Environmental League of Massachusetts, Friends of the Blue Hills, Friends of the Mystic to Charles, Kestrel Land Trust, L.L. Bean, Lowell Parks and Conservation Trust, Mass Audubon, Massachusetts Bicycle Coalition, Massachusetts Environmental Education Society, Mass Central Rail Trail Coalition, Massachusetts Conservation Voters, Massachusetts Land Trust Coalition, Mass Rivers Alliance, New Balance, New England Mountain Bike Association, Outdoor Afro, Rails-to-Trails Conservancy, REIRising Tide Associates, Seven Hills Wheelmen, The Nature Conservancy, Upper Housatonic Valley National Heritage Area, Vibram, Western Massachusetts Climbers Coalition, WalkBike Springfield, Wareham Land Trust, Zoar Outdoor Adventure Resort. 
To learn more about the new office, click here